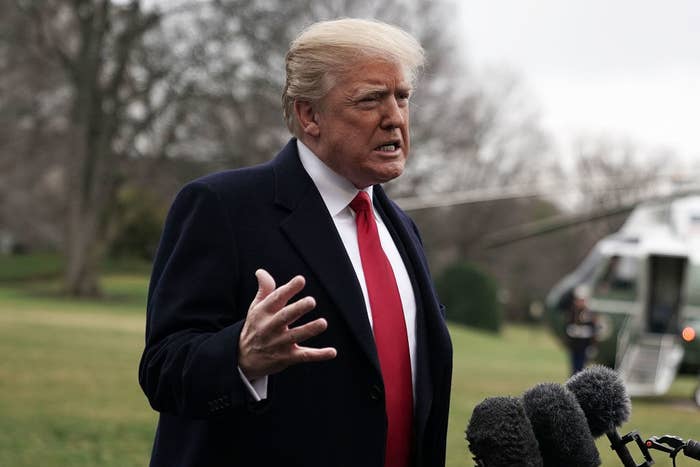 The Pentagon sent recommendations to the White House on Friday about how to handle transgender people in the US military — two days later than had been expected, and still leaving most questions unresolved.
President Trump had requested the recommendations so he could develop a final policy on carrying out his order from last summer to ban transgender service.
But it's unclear what advice Trump got.
Maj. Dave Eastburn, a Pentagon spokesperson, told BuzzFeed News, "The recommendations made by the secretary was a private conversation between he and the White House, so details of that conversation will remain private."
The White House also did not divulge those recommendations. Hogan Gidley, deputy press secretary for the White House, said only that they're "currently under review."
Another US official, who is familiar with the recommendations, told BuzzFeed News that Defense Secretary James Mattis advised the president to continue allowing transgender people in the armed forces. That jibes with a Washington Post report on Thursday that cited two unnamed US officials.
For now, the situation raises bigger immediate questions than it answers: Will Trump actually adopt the recommendations from Mattis? And if Trump seeks to continue the ban, moreover, can he actually enforce it given that federal courts suspended Trump's underlying transgender service ban months ago?
Without a comment from the White House about how Trump would respond by a March 23 deadline, or a court's opinions on whether a future policy is legal, the answers to those questions are up in the air.
The Justice Department had placed significant stock in this announcement, according to a federal judge in Maryland, who said the department claimed a new policy would be "disclosed" on Feb. 21 — which was Wednesday.

The Justice Department, according to the judge, also said the new policy would be so different from Trump's previous ban that officials didn't need to hand over certain documents about its origins.
The Justice Department did not reply to questions from BuzzFeed News about the policy's whereabouts.
The Justice Department's greatest challenge in defending the policy, up to now, has been that federal courts said it singled out transgender people and would likely be ruled an unconstitutional violation of due process rights under the Fifth Amendment.
Given those past setbacks, there has been widespread speculation that the Trump administration's new policy would be designed to avoid legal snags — much the same way Trump issued permutations of the travel ban, each one redrafted to evade challenges that doomed the one before.
The Pentagon on Tuesday announced a new "deploy or out" policy that applies across the military, which could affect up to 286,000 service members who have been non-deployable for a year or more. Those troops would be separated from the military or referred to the disability evaluation system.
It was not immediately clear if — or how — the deployment policy may factor into the administration's defense of the transgender ban.
But critics of transgender troops, including Trump, have raised concerns that transgender service members burden the military because they are undeployable while they recover from gender-transition surgeries and other treatments.
In June 2016, the Obama administration lifted a decades-long ban on transgender service, citing research that found transgender people would not bog down the military.
But Trump reversed that decision, saying on Twitter in July 2017 that transgender people would render the military "burdened with medical costs and disruption." He made the decision to end their service, he said, "after consultation with my Generals and military experts."
Trump formalized the policy in a memorandum last August that instructed the secretary of defense to provide policy recommendations on Feb. 21, 2018, about recruitment, retention, and health care.
Questions about the provenance of Trump's position have received significant scrutiny, since judges have said Trump's decree did not appear to be based on a legitimate national security interest or stem from a policy-making process.
As one federal judge wrote in November, "President Trump's tweets did not emerge from a policy review," adding, "A capricious, arbitrary, and unqualified tweet of new policy does not trump the methodical and systematic review by military stakeholders."
BuzzFeed News reported on Tuesday that newly obtained emails cast questions about whether Trump did, in fact, consult with top officials before the July tweets, as he'd claimed. Gen. Joseph Dunford, the chair of the Joint Chiefs of Staff, said in emails on July 27 that Trump's announcement "was unexpected" and that he intended to say he was "not consulted."