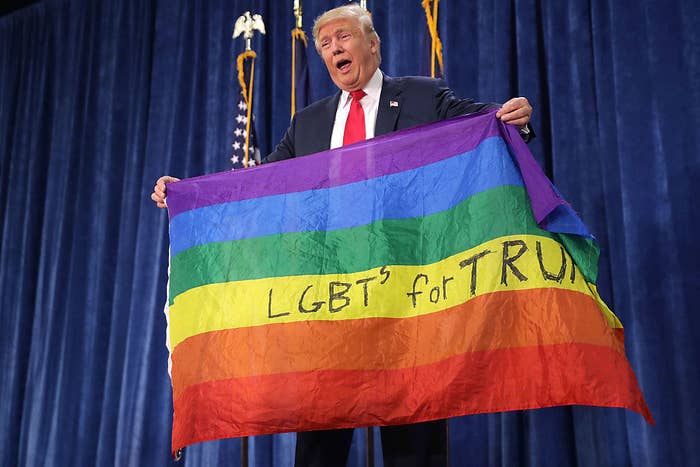 President Trump's transgender military ban is okay because trans service members should be "in the background." The administration's support for a Christian baker who turned away a gay couple was good because it's "sending power back to the free market." And when the Justice Department argued against protections for gay and transgender workers, that was, supposedly, "pushing us toward a federal LGBT nondiscrimination law."

Leading gay Republicans activists raised these defenses in interviews with BuzzFeed News this week, saying Trump remains an LGBT ally, despite a barrage of recent actions that push against or curtail LGBT civil protections.
"The media is overhyping it," one gay Trump supporter said of concerns about what his administration has been doing.
Gregory T. Angelo, who runs the Log Cabin Republicans, the country's largest gay conservative group, insisted this spring that Trump was a "real friend" to the LGBT community. He said liberals were trying to "twist" the president's pro-gay stance to smear him. "I am all for calling out Republicans when they do anti-gay things," Angelo said at a forum in April. "In fact, it's my job."
Since then, the Trump administration has issued a volley of orders, court filings, and policies aimed at rolling back LGBT protections and rights — many stemming from Attorney General Jeff Sessions at the Justice Department.
The federal government took an unusual step this summer by injecting itself into two private federal court cases to argue against gay plaintiffs, and later reversed a policy that protects transgender workers and issuing a ban on transgender troops.
Last week, Sessions released religious liberty guidance that critics fear could let federal workers and contractors sidestep LGBT nondiscrimination policies.
But Angelo, like some other gay Trump supporters, is largely unmoved.
"I can't tell you anything has changed since spring," Angelo told BuzzFeed News this week. He said Trump's military ban isn't scheduled to take effect until next March, adding, "I believe we largely are where we were at the beginning of the president's term."
Angelo said his group sent letters to the White House opposing the military ban and criticizing the administration for repealing a policy to protect transgender students. Other than that, he said, "I do not see a tremendous shift on LGBT equality landscape from Trump's first year in office."
"It is a pro-LGBT administration," said the head of Gays For Trump.
Pressed on activity at the Justice Department, he said that was "cause for concern," yet speculated it will have a silver lining. "I think what Sessions is pushing us toward, whether he wants to or not, is a federal LGBT nondiscrimination law."
Peter Boykin, the head of the Gays For Trump, said he remains loyal to both the president and Sessions.
"I met Jeff Sessions, and I don't think he's a transphobe or anti-gay," Boykin told BuzzFeed News, referring to a meeting before the election. But he is "questioning" the Justice Department's support for a Colorado baker who refused to make a custom wedding cake for a gay couple, he said. "If it's a Christian bakery, I think they should have to serve everybody. But I still think that Jeff Sessions in a pinch will support us."
"It is a pro-LGBT administration," Boykin continued, saying that he agrees with Trump's transgender military ban. "Transgenders could operate in the background work, but not on active soldier duty."
Boykin said last fall that Sessions "supports #MAGA for everyone including #GaysForTrump."
Boykin thinks top Democrats — who have roundly blasted the administration's recent moves as bigotry — are crying wolf about Trump's latest LGBT stances, saying, "I don't really see anything beyond normal liberal LGBT people being triggered."

Boykin, along with several other gay Republican activists who spoke to BuzzFeed News this week, holds deep faith that Trump is staunchly pro-LGBT in his heart.
They point out that Trump carried a rainbow pride flag on stage at a campaign rally last year, and Trump wasn't hostile to LGBT people in his private business practices. Once in the Oval Office, they note, Trump said he would leave an Obama nondiscrimination order in place, and issued a statement that said he is "supportive of LGBTQ rights."
Convinced of Trump's true feelings, the activists say the administration's actions can be attributed to subordinates who are out of sync with the president — or worse, appointees who've gone rogue. This would not explain, however, why Trump ordered an end to transgender military service on his own. Nor does it explain why Trump would remain silent about insubordination, if that's what it is, given his demonstrated eagerness to publicly denounce cabinet members — including Sessions — when they cross him.
"I trust Donald Trump on these issues," Chris Barron, who led the online group LGBT for Trump last year, told BuzzFeed News in an interview last October. "Maybe I will be proven wrong, but I will trust him for now."
Barron said this week he still trusts Trump, and the president holds none of the responsibility for the Justice Department's actions.
"The problem with the federal bureaucracy is that you can't control everything that's happening in the agencies," he said. "I'm concerned the Justice Department is going rogue on these issues, and I hope the president does step in, because I think there is a whole lot of unnecessary ill will being created within the LGBT community."
"I'm concerned the Justice Department is going rogue on these issues."
Barron did say he hopes the military ban will be rescinded. Still, he argues the president is very much pro-LGBT, particularly compared to past Republican presidents. "You don't see President Trump out there talking about the sanctity of marriage, convincing religious people that gays are coming for their kids."
The hubbub in recent weeks was created by the media, according to Lucian Wintrich, who ran a project called Twinks for Trump and now writes for the conservative site Gateway Pundit.
"The war on the LGBT community is just as fictitious as all of the phantom Nazis that seem to haunt your dreams," he told BuzzFeed News, adding "the media is overhyping it."
If there are problems, only Sessions can take the blame, Wintrich added. "I personally turned an eyebrow up," he recalled, when the Justice Department argued in court that Title VII of the Civil Rights Act of 1964 does not protect gay workers from discrimination.
But he supported the department arguing in favor of the Christian baker. "The administration is sending power back to the free market."
Gay conservatives had been quite optimistic about influencing Trump last winter, and that optimism isn't significantly waning nine months into his presidency. Angelo, from the Log Cabin Republicans, said LGBT Republicans still hold an advantage over their liberal peers to influence LGBT rights in the Trump administration.
"I'm not someone who says advocates of religious liberty are motivated by anti-LGBT animus," he said of the guidance issued by Sessions last week.
"I'm not letting them the off the hook. I am calling them out," Angelo said this week, pointing out Log Cabin Republicans had asked Trump to reverse his transgender military ban. "I see no hypocrisy, and I sleep very well at night knowing there is no LGBT group on the left or right as good at engaging with the Trump administration to keep them accountable if it's necessary."