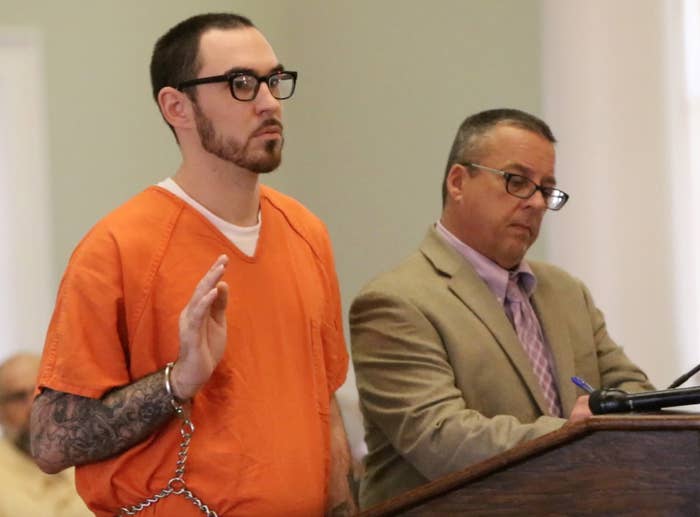 The US Justice Department has used a federal hate crimes law for the first time to bring criminal charges against someone for targeting a victim on the basis of gender identity, according to documents unsealed on Wednesday by a federal court in Mississippi.

Joshua Brandon Vallum pleaded guilty Wednesday to violating the Matthew Shepard and James Byrd, Jr. Hate Crimes Prevention Act by killing Mercedes Williamson in 2015 because she was transgender.
Court records show he was charged Dec. 14.
Federal prosecutors say Williamson was 17 years old when Vallum beat her with a hammer, shocked her with a stun gun, and stabbed her repeatedly.
Vallum had already pled guilty to murder in a Mississippi state court case in July. Local prosecutors said Vallum did not want his fellow Latin Kings gang members to know about the couple's relationship, but the state lacks its own hate crimes law.
In an interview with BuzzFeed News, Vanita Gupta, head of the Justice Department's Civil Rights Division, argued that the state's murder conviction alone was not enough, saying, "For this Justice Department, it is important for us to send an unequivocal message that violence based one's gender identity constitutes a hate crime. It is important for us to have spoken out on the bias motive."
In the federal case, with records that were hidden from public view until now, federal prosecutors charged Vallum for allegedly violating the hate-crimes act, passed by Congress in 2009. It expanded existing law to include crimes motivated by a victim's actual or perceived sexual orientation or gender identity. However, prosecutors had never used it to bring charges against someone for targeting a victim for being transgender.

Gupta acknowledged that this was the first prosecution for anti-transgender crime under the law, which has been on the books seven years, despite a rash of transgender homicides around the US the last several years.

"I don't think the law is necessarily operating as it should, simply because we have a lot of work to do in this country around recognition of bias motivation," Gupta said, noting that many bias crimes go undetected. "They are often being investigated as run-of-the mill crimes."
Vallum faces up to life imprisonment and a $250,000 fine. His guilty plea was accepted by US District Judge Louis Guirola Jr. of the Southern District of Mississippi.
Vallum knew Williamson was transgender when they started a relationship in 2013, according to a statement released Wednesday by the Justice Department. However, he kept their meetings secret from fellow members of the Latin Kings gang because the group's manifesto prohibits homosexual activities.

But after a member of the gang found out about the relationship, Vallum arranged to meet Williamson in his car, the Justice Department statement continued. He then "delivered what he believed to be a fatal stab to Williamson's head, as he thought he 'hit brain' with a blow from the pocket knife."

Still, Williamson tried to escape, and Vallum chased her with a hammer. "He caught up with Williamson and hit her on the back of the head with the hammer," the department reported. "Williamson fell to the ground and Vallum used the hammer to hit her in the head several more times until Williamson died."

Although Vallum told law enforcement officials that he only killed Williamson when he realized she was transgender, the Justice Department said that in his plea, he "acknowledged that he had previously lied about the circumstances surrounding Williamson's death and that he would not have killed Williamson if she was not transgender."
BuzzFeed News reported in 2015 that the George County Sheriff's Office said in an incident report that Vallum told his father he'd "killed someone and the body was in the field" located behind his dad's house in the town of Lucedale. After the father contacted police, officers surveyed the property and found a partially decomposed body in the woods.
A spokesperson for the sheriff told BuzzFeed News at the time the case was "murder first" and "the fact that this person is transgender is an element in the case."