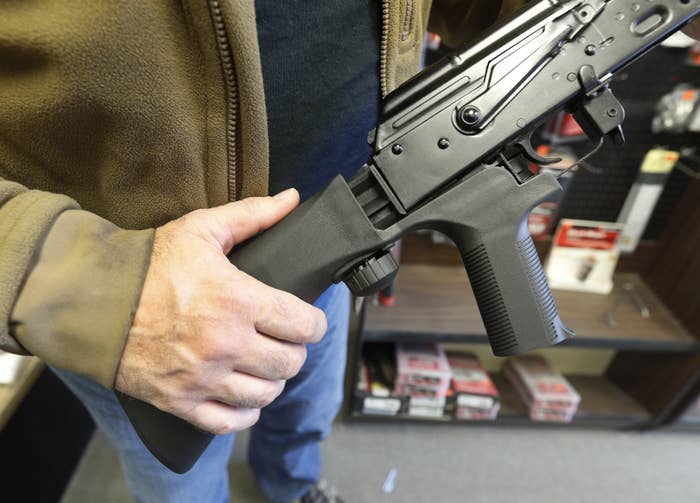 The Trump administration's ban on bump stocks amounts to an illegal "about-face" that "smacks of agency abuse," according to a lawsuit filed by gun rights activists on Tuesday, hours after officials released a final rule to prohibit the devices, which allow semi-automatic weapons to fire like machine guns.

Legal challenges have been widely expected since officials indicated a new regulation was forthcoming in the aftermath of the 2017 mass shooting in Las Vegas, where a bump stock was used and 58 people were killed. Given that both the Obama and Trump administrations found that the devices cannot be prohibited under federal law, a sudden policy reversal appeared particularly vulnerable to a court battle.
The suit from three gun rights groups on Tuesday points out that the Bureau of Alcohol, Tobacco, Firearms and Explosives — a division of the Justice Department known as ATF — has repeatedly found that the devices cannot be banned by the National Firearms Act and Gun Control Act.
"ATF's Final Rule is the product of serious, multi-dimensional legal violations rendering the process and the rule invalid," says the complaint in US District Court in Washington, DC, which alleges violations of both federal law and constitutional rights under the Fifth Amendment.
The plaintiffs say the ban also circumvents authority that belongs to Congress, while skirting requirements for new regulations, and that it was approved by an illegitimate acting attorney general, rendering the rule invalid. (Despite bipartisan talk in Congress about banning bump stocks after the Vegas shooting, that legislation has stalled.)
A judge should block the rule before it takes effect in 90 days, the complaint argues.
Just hours before the lawsuit was filed, Justice Department officials released the 157-page regulation that would require destroying tens of thousands of the devices currently in circulation.
"We will be ready to defend no matter who files [a lawsuit]," a Justice Department official told reporters Tuesday.
The final rule declares "these devices convert an otherwise semiautomatic firearm into a machine gun by functioning as a self-acting or self-regulating mechanism that harnesses the recoil energy of the semiautomatic firearm in a manner that allows the trigger to reset and continue firing without additional physical manipulation of the trigger by the shooter."
White House press secretary Sarah Huckabee Sanders added that people "in possession of bump-stock-type devices must turn those devices to an ATF field office or destroy them by March 21st."
In a swift response, three gun rights advocacy organizations — the Firearms Policy Coalition, Firearms Policy Foundation, and Madison Society Foundation — joined with Damien Guedes, a Pennsylvania man who bought a bump stock in 2014, to "prevent ATF from enforcing this new rule."
"ATF's abrupt about-face on this issue in promulgating and implementing the Final Rule to criminalize that which it had for years expressly deemed legal under the law of Congress inherently smacks of agency abuse or dereliction of duty in following the law," the complaint says.
The suit alleges that acting attorney general Matthew Whitaker — who is sued in his "purported capacity," according to the complaint — lacks authority to oversee the new rule because he should never have been appointed. There have been questions about the legality of Whitaker's appointment since he took over. (A federal law says that after an attorney general departs, the deputy attorney general assumes the acting role — in this case, Rod Rosenstein — although the Justice Department has argued that another law allows the president to name an acting attorney general himself, as long as that person is sufficiently high-ranking and has been there longer than three months.)
Since Whitaker shouldn't be in the post, the complaint contends, the bump stock rule "must be struck down as invalidly enacted."
The complaint goes on to allege violations of the Administrative Procedure Act, which mandates standards for creating regulations. The Justice Department didn't turn over documents under open-record laws, while appearing to cut short a public comment by five days by posting "comment period closed" on a web page for comments, the complaint alleges.
The complaint also says the rule denies bump stock owners their Fifth Amendment rights under the Takings Clause, which says property cannot be seized without financial compensation and that such bans cannot be applied retroactively.
On a more mechanical level, the plaintiffs insist a bump stock simply isn't a machine gun, citing the ATF's past statements.
"Experts opining on behalf of ATF have consistently concluded that commonly used bump-stock-type devices manufactured by Slide Fire and Bump Fire Systems do not function so as to convert the associated firearm into a 'machinegun' because, in fact, the shooter must still separately pull the trigger to fire each successive shot," the court filing says.
Even if bump stocks did produce a machine-gun effect, it continues, the rule is too sweeping because it could be applied to any device or technique with that effect — "such as through certain fashioning of rubber bands or belt loops, or by simply training one's trigger finger to fire more rapidly."
As BuzzFeed News reported in March, the Trump administration asserted in 2017 that bump stocks must be allowed. In a letter dated April 6, 2017, to a bump stock manufacturer, ATF said the product was not prohibited. "Since your device does not initiate an automatic firing cycle by a single function of the trigger, FTIB finds it is NOT a machinegun."
Trump sought to change the legal status of bump stocks after political pressure grew in the aftermath of the 2017 mass shooting in Las Vegas. Even the National Rifle Association said at the time that lawmakers should review the devices to see if they "comply with federal law."
A spokesperson for the Justice Department did not immediately respond to BuzzFeed News's request for comment about the allegations in the lawsuit.