Gov. Jindal Issues Order On Religious Freedom And Same-Sex Marriage
The Louisiana Republican with presidential ambitions is taking action after a bill he supported stalled in the legislature.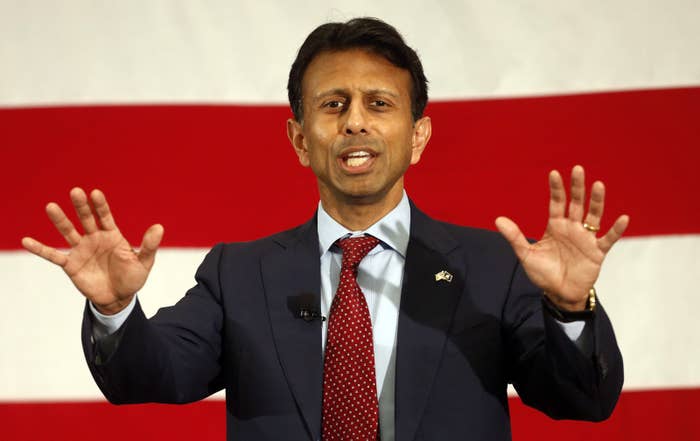 Trying to regain ground after a setback in the legislature, Louisiana Gov. Bobby Jindal issued an executive order Tuesday to protect people who exercise their religious beliefs on matters related to same-sex marriage.
Jindal outlined the order in a statement: "This Executive Order will prohibit the state from denying or revoking a tax exemption, tax deduction, contract, cooperative agreement, loan, professional license, certification, accreditation, or employment on the basis the person acts in accordance with a religious belief that marriage is between one man and one woman."
The order — which comes a day after Jindal formed an exploratory committee to seek the GOP nomination for president — is posted in full below.
Jindal issued the rule just hours after lawmakers essentially killed the Marriage Conscience Act, a bill similar to the executive order that he now seeks to impose using his authority as governor.
The legislation was a priority for Jindal, he said at the beginning of the year's legislative session. He said he would "fight" to pass it amid an uproar over religious freedom bills in Indiana and Arkansas that critics said would allow LGBT discrimination. He authored an op-ed published in the New York Times in defense of his support, declaring, "As the fight for religious liberty moves to Louisiana, I have a clear message for any corporation that contemplates bullying our state: Save your breath."
Jindal defended the bill at home as well, saying, "All this bill does is provide necessary protections for individuals to prevent adverse treatment from the state based on religious beliefs regarding marriage. This legislation does not allow a restaurant or industry to refuse service to a gay or lesbian person."
But Fred Sainz, chief spokesperson of the LGBT-rights organizations Human Rights Campaign, said the order amounted to divisive political posturing.

"This executive order falls into category of unnecessary, gratuitous and discriminatory," Sainz told BuzzFeed News. "On the same day that Louisiana legislators had the good sense to turn back discrimination, Governor Jindal, who's facing one of the lowest approval ratings in state history, decided to promote his presidential fortunes by championing ignorance. He's on the wrong side of this issue and will no doubt be on the wrong side of history."
In his statement Tuesday afternoon, Jindal said, "We are disappointed by the committee's action to return the Louisiana Marriage and Conscience Act to the calendar. We will be issuing an Executive Order shortly that will accomplish the intent of HB 707 to prevent the state from discriminating against persons or entities with deeply held religious beliefs that marriage is between one man and one woman."
Both state and federal court decisions on marriage equality are on appeal in Louisiana. The U.S. Supreme Court is expected to issue a decision in June settling questions about whether same-sex marriage bans are unconstitutional.
Jindal said his action will "prevent the state from discriminating against people, charities and family-owned businesses with deeply held religious beliefs that marriage is between one man and one woman."
BuzzFeed News asked Jindal's office how the order would apply to charities, adoption agencies, and businesses — for example, how could they act based on religious convictions around same-sex marriage while being exempt from adverse action by the state? Could a state-funded adoption agency refuse an otherwise-qualified gay or lesbian couple on moral grounds without losing state money? Jindal's office was also asked whether the order would provide the same legal defense as a law passed by the legislature.
Mike Reed, a spokesperson for the governor, said, the new rule "doesn't change anything to allow or disallow any action by private business, individuals, or charities." Rather, he said, "It just means if an entity acts in accordance with a religious belief in traditional marriage, then the state can't take away its license to operate."
Additionally, BuzzFeed News has asked Jindal's office under what authority his office purported in Tuesday's order to change the definition of "person" to be used by state officials in applying the 2010 Preservation of Religious Freedom Act from a narrow definition that was included in the law itself to a more broad definition that would include "individuals, non-profit, or for-profit corporations."
[UPDATE at 11:00 p.m.: Gov. Jindal's spokesperson, Shannon Bates Dirman, told BuzzFeed News, "The language used in the definition of 'person' in Louisiana's RFRA [Preservation of Religious Freedom Act] is illustrative, not restrictive."
In the 2010 law, it states, "'A person' includes an individual and also includes a church, association of churches or other religious order, body or institution which qualifies for exemption from taxation under Section 501( c )( 3 ) or ( d ) of the Internal Revenue Code of 1986 (Public law 99-514, 26 U.S.C. Section 501)."

Further, Dirman added, "Often in Louisiana law, when the text intends to be restrictive, typically the words 'shall' or 'shall not' are used. Here, the law says a person 'includes,' and goes on to list specific examples, such as non-profits. This is simply illustrating who or what can be considered a person under the statute, but doesn't restrict the interpretation to include others that are not specifically itemized within the statute."]

Chris Geidner contributed to this report.