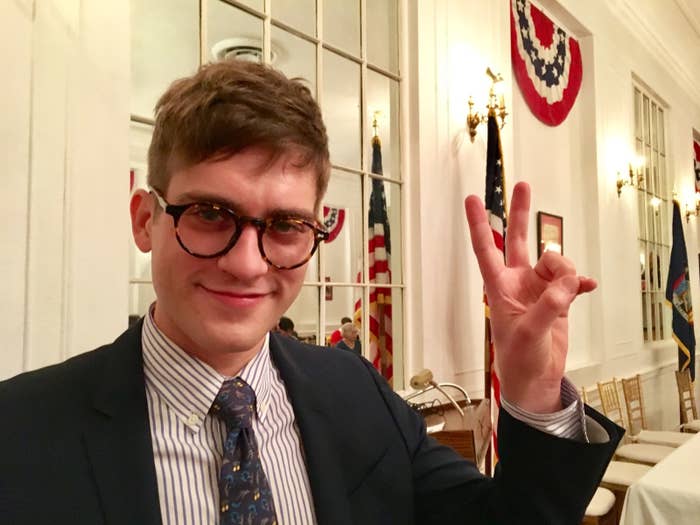 A forum at the Metropolitan Republican Club in New York City on Thursday night was billed as an "all-star" collection of activists in the "new gay movement in the Republican Party." And indeed, panelists inside the tony brownstone on Manhattan's Upper East Side were among the country's most notable conservative gay-rights activists.
But rather than detail how they were building a new movement — or discuss their influence in the nascent Trump administration — the gay men on stage spent most of two hours ridiculing the left while peppering their speeches with cheap cracks about transgender people.
They mocked President Obama's LGBT liaison as "the most unattractive tranny," joked that Caitlyn Jenner hadn't had "the operation," and said Obama-era rules to protect transgender students were "horrifying."
People of color and women fared little better with the all-white, five-member panel. One claimed the gender wage gap was "a total fucking myth," while another opined that black people don't face oppression because they aren't enslaved. Then he laughed about adopted Asian babies.
Above it all, the panelists — who ranged from journalists to political operatives — chastised a culture of political correctness and "fetishizing" identity, arguing that liberals have cried wolf at the Trump administration and lost credibility. They praised a clear cultural shift among conservatives to be more tolerant of LGBT people. And while they shrugged off legal protections for transgender people, they were confident guys like them are at home in the Republican fold.
Over the past year, BuzzFeed News has chronicled the rise of gay conservatives, from a frenzy during the Trump campaign to their cocky attitudes during the transition. They clinked champagne glasses at a "Gays for Trump DeploraBall" on Inauguration Day. They were faithful Trump, who has both supported and opposed marriage equality, could lay out a welcome mat for gay Republicans unlike any president before.
This week, nearly 100 days into Trump's term, these gay Republican activists had a chance to assess their success.
Or they could make fun of people.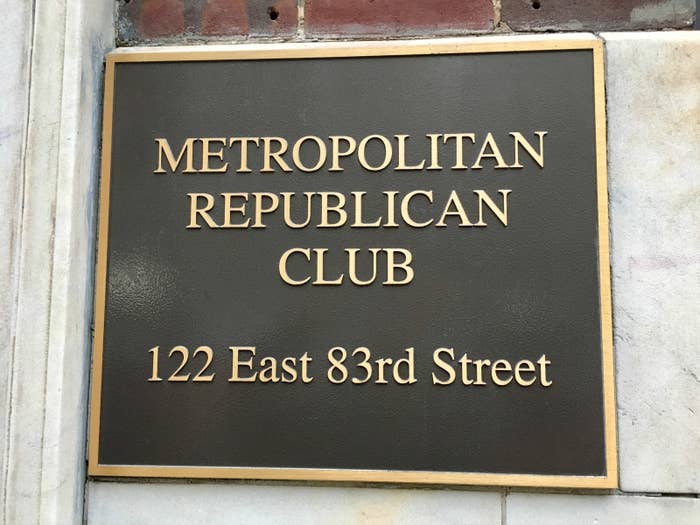 Jeff Goolsby, the forum's moderator and the secretary of the Metropolitan Republican Club, kicked off the night with a few jokes. "Some people might say, 'Hey, you have four white, maybe rich, guys on your panel,'" he said. "Listen, I am not going to assume any of their genders. Just kidding."

"Caitlyn Jenner said she can't do it until after the operation," he continued, to hoots of laughter.
To illustrate the left's knee-jerk histrionics over Trump, Lucian Wintrich, who led a project during the campaign called Twinks for Trump, blasted Obama's LGBT liaison — a transgender woman named Raffi Freedman-Gurspan.
"Begrudgingly, I'll say 'she,'" said Wintrich, implying that he didn't consider her a woman. He went on to call her "the most unattractive tranny," a line that cast the packed room of Republicans into guffaws under golden chandeliers and star-spangled bunting.
His point was that Freedman-Gurspan only held the position for a few months, he said, so progressives were overreacting when Trump didn't appoint a replacement liaison. "A lot of people will say, 'I guess we had this bureaucrat who was fighting for a couple weeks before Obama left office.'"
But Wintrich, who is also a White House correspondent for the alt-right site Gateway Pundit, neglected to mention that Obama actually had an LGBT liaison since 2014 — which undermines his claim the position had only been around "a couple weeks."
"Now we have to talk about trans bathrooms," jumped in Chadwick Moore, a former writer for Out magazine who was excoriated online for writing a soft-focus profile about Milo Yiannopoulos last year. Afterward, he came out as a Republican in the New York Post.
Moore said guidance to protect transgender students issued by the Obama administration was "horrifying" because, he claimed, "it turned every bathroom and every locker room in the country gender-neutral."
"So of course Donald Trump took that away," said Moore, lauding the president for reversing the policy. "It shouldn't be there. We're going have trans kids taking dumps in the streets? What were they doing before Obama did this?"
Rather than criticize the president — as groups on the left did when he withdrew the transgender guidance — the men argued that Trump has been a paragon for LGBT rights, in large part because he carried a pride flag on the campaign trail and said after the election that marriage equality is settled law.
Gregory T. Angelo, the head of the venerable Log Cabin Republicans, sought to demonstrate that he was a Republican above all else by condemning "radical Islamic terrorism" and Obamacare.
"Who told gay people that the only issues you can care about are marriage and LGBT nondiscrimination laws?" he said, pivoting to his political priorities. "If you are a gay individual, you should be very concerned about the Second Amendment rights to protect yourself by bearing firearms. Be concerned about radical Islamic terrorism and the threat that it poses to LGBT individuals…and Democrats ignore that."
Angelo smiled through much of the panel, yet he sat stoically amid the anti-transgender comments, but he never condemned them. However, he also boasted that Trump has given license for Republicans to speak more freely.
"We have Donald Trump to thank for eviscerating this politically correct culture," he said. The Republican Party — not Democrats — "value people of all sexual orientations and gender identity."
Wintrich added, "Islam inherently hates gay people. They hate Christians. They hate Western culture. They don't understand why every woman in here isn't wearing a polyester blanket."

Sweeping criticism of Islam is familiar ground for gay Republicans, including Peter Boykin, the head of Gays for Trump, which tweeted recently that gay men should abandon transgender people politically and that "Islam is a cancerous cult of murder."
Yet the panelists didn't bring up examples of Trump or the Republican-controlled Congress making strides on LGBT rights this year, nor did they cite making inroads with Trump's team. Angelo briefly mentioned he was trying to meet with Trump, an acknowledgment that he's been unsuccessful so far.

"That request is already in to the White House, so stay tuned," he said.
Nor did they explain an emerging strategy for this all-star gay movement or what, exactly, they were moving toward. Lacking those elements for discussion, they instead framed their conversation around the donkey in the room.
The Democratic Party lost Moore when he "started looking into the gender wage gap," which he said is a key plank for Democrats. "I started realizing this is complete bullshit. The gender wage gap is a total fucking myth."
On race, Wintrich blamed Democrats for trying to "segregate" people. "They are saying, 'Black people, even though slavery is over, you're oppressed. Vote for us. Or, gays, the right hates you.'"
"None of that is true," he countered. "We are battling against a party that functions on lies and has no grasp of true reality."
They repeatedly derided identity politics, which Wintrich mocked by describing his own identity — a gay man with a small bladder.
The underlying theme seemed to say: If these gay men, as ambassadors for a gay minority, could speak this way, their fellow Republicans in the room could also abandon political correctness on LGBT issues.
"I don't give a shit about gay marriage," said Wintrich, who contended that legal marriage made gay couples behave like nuclear families in the 1950s. "We want to adopt, maybe Asian children — that's popular now. And the entire thing is just so ridiculous. It's a side conversation."
The most reserved, moderate panelist was Fred Karger, who has worked on numerous Republican campaigns, including for President Reagan, and made a longshot presidential bid himself. He argued that the left should try to embrace Trump on LGBT issues, rather than antagonize him.
"We need to cozy up and work with him, and meet with him, and get him on our side," he said. "Get on the bandwagon, because Republicans are running the show right now."
"The Republican Party is going to come back like gangbusters with the younger community," he said before fawning over the rest of the panel. "Chad, Lucian, Gregory, and the kind of people coming to Log Cabin — I am forever impressed with the caliber."
BuzzFeed News followed up with Karger about whether anti-transgender slurs and comments from other panelists would actually entice young voters to the party.
Karger said he'd tuned out those comments.
CORRECTION
Lucian Wintrich is a White House correspondent for the Gateway Pundit. A previous version of this post misstated the site's name.