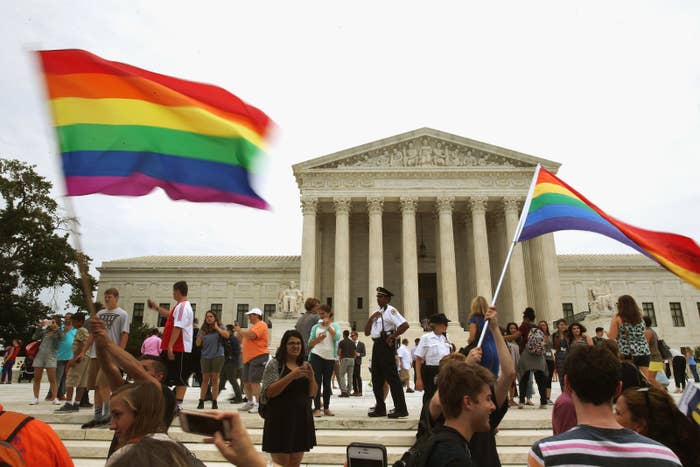 The Washington State Supreme Court on Thursday ruled unanimously against a Christian florist who had refused to sell flowers for a gay couple's wedding, despite the florist's claim that her religious objections provided legal cover.
Along with the gay couple, Washington State Attorney General Bob Ferguson had sued Arlene's Flowers in 2013 for violating the state's nondiscrimination law and consumer protection act.
The court wrote in its 9–0 decision that the law is constitutional because it is a "neutral, generally applicable law that serves our state government's compelling interest in eradicating discrimination in public accommodations." As such, the court ruled, "We affirm the trial court's rulings."

Lawyers for Baronnelle Stutzman, who owns Arlene's Flowers, vowed Thursday to take the case to the US Supreme Court.
The government argued that since the shop sold flowers to opposite-sex couples getting married, she must provide the same service for gay couples.
The case exemplifies a tug-of-war between religious freedom and LGBT rights that has escalated since same-sex marriage was legalized by several states, and later by the US Supreme Court. Religious conservatives insist they reserve the right to withhold endorsement of those marriages by refusing wedding-related goods and services.
The year after Washington state's marriage law took effect, Rob Ingersoll attempted to buy flowers at Stutzman's shop in Richland, Washington, for his ceremony with Curt Freed.

But Stutzman, who had served the couple previously, turned him away that time, explaining in a deposition, "I just put my hands on his and told him because of my relationship with Jesus Christ, I couldn't do that, couldn't do his wedding."
The dispute has attracted leading lawyers from the left and right. Ingersoll and Freed are backed by the American Civil Liberties Union, while Ferguson — who is also challenging President Trump's travel ban — filed his own suit against Stutzman under authority of enforcing state consumer protection laws.
They argued Stutzman violated the state's Washington Law Against Discrimination, which prohibits places of public accommodation, including stores, from providing unequal treatment on the basis of sexual orientation and other characteristics.
However, Stutzman and her legal team countered in court briefs that due to her Christian faith — which holds marriage is confined to a man and woman — she should be exempt from the policy. She further argued floral arrangements were constitutionally protected forms of free speech that she cannot be compelled to create.
A lower court rejected those defenses in early 2015, when Benton County Superior Court Judge Alexander C. Ekstrom ruled, "In trade and commerce, and more particularly when seeking to prevent discrimination in public accommodations, the courts have confirmed the power of the legislative branch to prohibit conduct it deems discriminatory, even where the motivation for that conduct is grounded in religious belief."
The case was appealed by Stutzman's lawyers at the Alliance Defending Freedom (ADF), a national legal group that is currently challenging LGBT nondiscrimination laws around the US by arguing they restrict Christians from freely exercising their faith.
Meanwhile, the US Supreme Court is expected to decide soon whether it will consider a similar ADF case involving Masterpiece Cakeshop in Colorado, which turned away a same-sex couple who wanted a wedding cake.