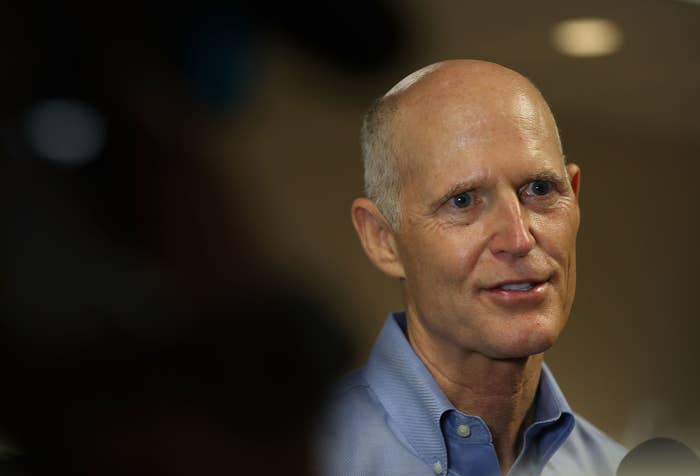 TALLAHASSEE, Florida — A federal judge has ruled that Republican Gov. Rick Scott can continue to oversee the state election system that validates his own race for US Senate, saying Scott's "campaign-trail bombast" hasn't amounted to a constitutional violation.
"Scott has toed the line between imprudent campaign-trail rhetoric and problematic state action," says an order issued late Thursday night by US District Court Judge Mark Walker, who cited issues like Scott standing at the governor's mansion and asking law enforcement agents to investigate Democratic election supervisors. "But he has not crossed the line."
"Though sometimes careening perilously close to a due process violation, Scott's most questionable conduct has occurred in his capacity as a candidate rather than as governor," Walker writes in an order, declining to issue an injunction that voter advocacy groups request on Monday.
"He has not suspended any election official," the order continues, noting that on Thursday, Scott recused himself from the state canvassing board that will certify election results. "He has not ordered any investigation. He has not interfered with the recount so far."
As his lead shrunk after last Tuesday's midterm election, Scott filed lawsuits against Democratic county election officials tallying ballots and threatened them with criminal investigations, leading to the complaint that alleged Scott was overstepping the constitutional rights of voters.
The ruling did not grant Scott and his Republican backers any leeway, however.
Phillip Spector, co-founder of the Rule of Law Clinic at Yale Law School, told BuzzFeed News, "The court has instructed Governor Scott that he is on notice — that he cannot use his powers as governor to influence the results of his own election, that his actions to date have toed the line, and that if he proceeds any further, he could be subject to a court order forcing his recusal."

"The fact that the court drew a constitutional line in the sand right in front of the Governor is what is important here," he added.
Standing outside the governor's mansion on Thursday, Scott insisted he would "not sit idly by while unethical liberals try to steal this election." Yet state police later declined to investigate, saying there is no report of misconduct, and a state judge on Monday said he'd seen no evidence of fraud.
"Scott merely requested law enforcement investigate possible untoward conduct," says Walker's order. "If Scott ordered the FDLE to investigate, then a stronger case could be made for unconstitutional intimidation — a witch hunt, to use the parlance of the era."
Florida's race for US Senate has transfixed the country as Scott's tiny lead has shrunk against incumbent Democratic Sen. Bill Nelson. A statewide machine recount began Saturday, as required by law in such close races. The race to replace Scott as governor — between former Republican Rep. Ron DeSantis and Democrat Andrew Gillum — as well as the state agriculture commissioner race are also in the recount. Democrats have filed lawsuits that allege legitimate votes are being tossed out, while Republicans have insisted that thousands of votes must be disqualified under state law, even though they were cast by registered voters on or before Election Day.
Several pivotal deadlines were approaching in which Scott could hold sway over the election, including Thursday at noon, when county officials had to complete a machine recount and the state had to decide if a more scrutinizing hand recount is necessary. By Sunday, counties must report final vote totals to the state. That will lead to the state election canvassing board — on which Scott sits and whose members he appoints — to certify the result on Tuesday, Nov. 20.
This led a group of Florida voters and organizations to file a lawsuit on Monday that alleges Scott illegally abused his power as governor to swing the outcome of his own high-profile race for US senator, wielding the threat of a crackdown and controlling state government in order to stop legal votes from being counted.
The complaint filed in the Northern District of Florida alleges that Scott had violated the constitutional due process rights of voters to have their votes counted fairly, while also overstepping their rights by intimidating election officials based on their party affiliation. The plaintiffs called on the court to issue a restraining order that blocks Scott from using his position as governor in any way relating to the election recount.
"Scott's continued interventions in the race violate the basic notion of fairness that no man should be a judge in his own cause," says the suit filed by a voter in Broward County, the League of Women Voters of Florida, and Common Cause Florida. The groups are government transparency organizations that say they have members who backed both Scott and Nelson. Another plaintiff is Joanne Lynch Aye, a voter in Broward County. The group Protect Democracy filed the lawsuit for the plaintiffs.
But Walker's order counters their complaint, saying, "This Court recognizes the demarcation between typical campaign-trail puffery and the words and actions of a public official acting in an official capacity. While campaign-trail rhetoric is increasingly bombastic, imprudent, and not necessarily rooted in objective facts, there is a critical line between campaign rhetoric and that rhetoric transforming into state action that requires judicially imposed recusal."
In addition to sitting on the state canvassing board that certifies elections and appoints its members (from which he recused himself on Thursday), Scott appoints the Florida secretary of state, who must determine later this week if Scott's race must also be subjected to a hand recount of the ballots, and he oversees the Florida Department of Law Enforcement.
Officials across Florida started a machine recount of the midterm vote Saturday, as mandated by law when the margins whittle below 0.5%. A hand recount will be required if, after the machine recount is complete, candidates are separated by less than 0.25%.