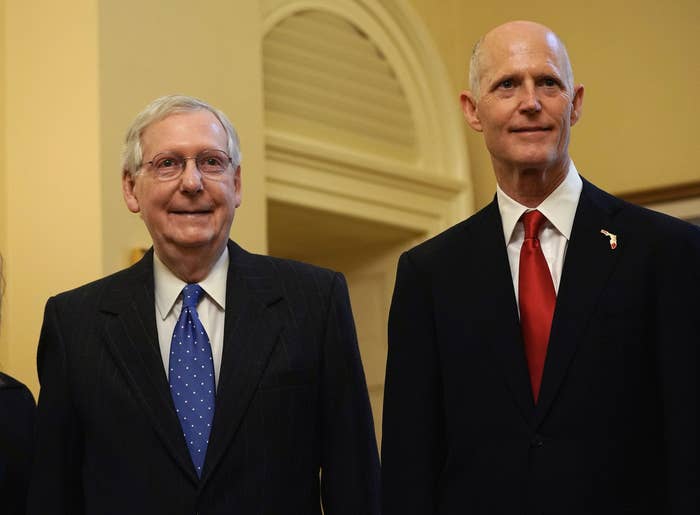 TALLAHASSEE, Florida — Thousands of Florida voters whose ballots were set aside uncounted must be allowed time to fix problems with the signatures on their ballots so they can be considered in close races amid a statewide recount, a federal judge ruled on Thursday morning.
US District Court Judge Mark Walker found a state law has been applied unconstitutionally, issuing a decision that sides with Democrats, giving voters until 5 p.m. on Saturday to "cure" their ballots by offering proof of their identity. The state faces a Nov. 20 deadline to certify the midterm election results.
The order may give Democrats — who argued the rule disproportionately disenfranchised young and minority voters — a chance to close gaps in tight races against Republicans, who have narrow leads in closely watched races for US Senate and governor.
"The precise issue in this case is whether Florida's law that allows county election officials to reject vote-by-mail and provisional ballots for mismatched signatures — with no standards, an illusory process to cure, and no process to challenge the rejection — passes constitutional muster," says the order from Judge Walker in the Northern District of Florida. "The answer is simple. It does not."
Republican Gov. Rick Scott's Senate campaign announced soon after the decision that they plan to "immediately" appeal the order, which the campaign called "baseless." The campaign appealed the decision on Thursday afternoon, asking the US Court of Appeals for the 11th Circuit to delay Walker's order while the appeal proceeds. But the 11th Circuit denied the Scott campaign's request for an emergency stay on Thursday evening, meaning voters will still be able to try to fix signature mismatch issues while the appeal is pending.

The Democratic Executive Committee of Florida and Sen. Bill Nelson, the incumbent Democratic US senator, filed a complaint in federal court last week alleging Florida Secretary of State Ken Detzner would ignore votes — from legal, registered voters — due to an overzealous system that tosses out mismatched signatures. The Florida attorney general's office and the National Republican Senatorial Committee, who are backing Gov. Rick Scott's senate campaign, joined the case on Friday.
While Democrats contend the policy fails rights to equal protection, Republicans and Detzner contend the law was applied uniformly to everyone.
But Walker did not go as far as requested by Democrats, who wanted officials to count all ballots with signature mismatch problems.
Walker said at a Wednesday hearing that doing so would be "the equivalent of hunting squirrels with a bazooka."
Instead, Walker's order issues a preliminary injunction against the policy and instructs Detzener to tell county election supervisors that voters have a new window to cure their ballots — by providing a signature that does match or showing proof of identity — by Nov. 17 at 5:00 p.m.
Florida law says that when election workers find mismatched signatures, they must try to notify the voter and give them until 5 p.m. the day before Election Day to fix the problem. Democrats contend that that rule violated the First Amendment and 14th Amendment, because many voters may not know their vote isn't being counted and that they have an opportunity to fix the problem.
In the five-hour court hearing Wednesday, Republicans defended the policy of tossing out the ballots, saying that intervention now would require starting the vote count over from scratch. They asked Walker to suspend any order blocking the policy, so they could ask the 11th Circuit Court of Appeals to reverse the decision. Yet Walker denied that request in his opinion.
Leon County Elections Supervisor Mark Earley testified in court Wednesday that some ballots with mismatch problems were obviously signed by someone other than the voter — such as signing with a different name entirely — though he said it was unclear if those were people attempting to act as power of attorney for a voter (which is still not a valid vote under Florida law).
It's unclear exactly how many ballots are at stake. Maria Matthews, director of the Florida Division of Election, testified that out of 45 counties reporting so far, the state has rejected 3,688 vote-by-mail ballots and another 93 provisional ballots. Another 22 counties have yet to report, including the populous Miami-Dade County.
"Let this Court be clear: it is NOT ordering county canvassing boards to count every mismatched vote, sight unseen," Walker said. "Rather, the county supervisors of elections are directed to allow those voters who should have had an opportunity to cure their ballots in the first place to cure their vote-by-mail and provisional ballots now, before the second official results are fully counted."
UPDATE
This story was updated after the 11th Circuit denied Scott's request for an emergency stay to halt Walker's ruling.