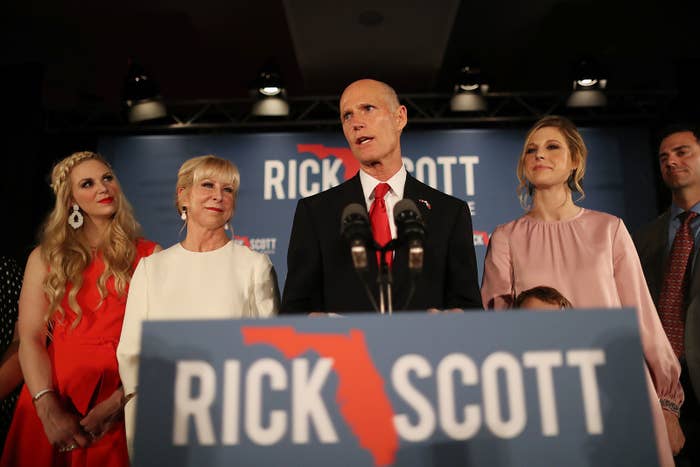 "Lock her up!" yelled a throng of protesters Friday, who'd gathered outside the office of Brenda Snipes, the Democratic Broward County Elections Supervisor. Republicans had sued Snipes the night before, accusing her of hiding records and committing "fraud" in tallying midterm election results.
That lawsuit is one of at least three in Florida this week over Tuesday's vote — including one from Democrats, who say the votes from racial minorities are being illegally ignored — as state officials careened toward a Saturday noon deadline to figure out if they must conduct a recount. There were a string of court hearings on Friday, with judges issuing orders related to ballot reviews and public access, but none conclusively resolving the controversies around the election.
Two nationally significant statewide races, the contests for US Senate and governor, have transfixed the country's attention in a state plagued by years of partisan litigation over how votes are counted in the days after elections. Slim leads by Republicans in Florida have shrunk since the vote count began, especially as votes are counted in more urban counties, leading Democrats to believe they could overcome their rivals and snatch razor-thin victories.
Powerhouse lawyers from both parties have been scrambling to Florida to deal with the litigation. Veteran election lawyer Marc Elias is taking up Nelson's cause: A lawyer from his firm is representing Nelson and Florida Democrats in court. Elias represented Hillary Clinton and the Democratic National Committee during the 2016 campaign. The National Republican Senatorial Committee and Scott have retained the firm Gibson Dunn, veterans of Bush v. Gore.
The Democratic Executive Committee of Florida and Sen. Bill Nelson, the incumbent Democratic US senator, filed a complaint in federal court Thursday night alleging the Florida secretary of state's office will ignore votes — from legal, registered voters — due to an overzealous system that tosses out mismatched signatures. The Florida attorney general's office and the National Republican Senatorial Committee joined the case on Friday.
At a court hearing on Friday, lawyers for the Florida Democrats and the Florida secretary of state's office both advocated for an immediate ruling on a request by Democrats for an order blocking state officials from rejecting ballots and also delaying the Saturday deadline for counties to submit unofficial tallies. US District Judge Robert Hinkle questioned the urgency, however, asking why he couldn't enter an order next week that would require the ballots at issue to be included in any recounts, assuming he ruled in favor of the Democrats. The lawyers argued that a ruling was needed before the Saturday deadline because the county-by-county numbers were used to decide if there should be any recounts at all.
The Democrats' concern is with votes cast by mail and provisional ballots. If the signatures on the ballots don't match the ones on file, they said, local election canvassing boards toss out the ballots and state officials don't consider them.
"[U]nreliable signature matching process that has been shown to result in the disproportionate rejection of VBM and provisional ballots cast by ethnic and racial minorities, as well as young, first-time voters," the complaint argued.
Florida law requires a machine recount when a race's margin reaches 0.5%; a recount by hand is necessary when the margin is less than 0.25%.
On Friday, the Florida Division of Elections reported the Senate race was split by just 0.18%, putting Republican Gov. Rick Scott slightly ahead of Nelson. The governor's race was split by 0.44%, giving an edge to Republican Ron DeSantis in his race against Democrat Andrew Gillum. A lawyer for DeSantis listened in on Friday's hearing before Hinkle — lawyers were allowed to call in — but said DeSantis would not be joining the case.
"The State has already confirmed they are eligible and registered to vote," the Democrats said in their lawsuit, arguing that the practice of tossing out votes with mismatched signatures violates the First and Fourteenth Amendments while denying those voters their constitutional rights to equal protection.
"This entirely standardless, inconsistent, and unreliable signature matching process, which has a disparate impact on People of Color and young, first time voters, violates the prohibition against undue burdens on the right to vote," the complaint adds.
The outcome may rest on two populous counties north of Miami, which have become the target of two more lawsuits.

Scott sued both Broward and Palm Beach County election officials Thursday in his campaign's capacity, while using his power as governor to call for a law enforcement investigation.
In a complaint joined by the National Republican Senatorial Committee, Scott alleged in state court that Snipes, in her capacity as the Broward County Supervisor of Elections, has been hiding information.
"The Supervisor Of Elections is unwilling to disclose records revealing how many electors voted, how many ballots have been canvassed, and how many ballots remain to be canvassed," the Republicans said, asking for an emergency hearing and copies the records — including how many votes remain to be counted. "The lack of transparency raises substantial concerns about the validity of the election process."
A judge on Friday reportedly granted Scott's request for access to ballot information, ordering Snipes to provide the records later in the evening.
Snipes has been beleaguered by accusations of mismanagement before, and this year, as Politico reported, there are curious anomalies in the results posted so far: "About 24,000 more people voted for governor than for U.S. Senate — even though the Senate race was at the top of the ballot and top-of-the-ballot races usually rack up the most votes. More Broward voters cast ballots in the state's agriculture commissioner, chief financial officer and attorney general races as well — a phenomenon seen in none of the other 66 counties."
In another lawsuit filed Thursday, Scott's Senate campaign alleged that Susan Bucher, the election head in Palm Beach, has refused to let witnesses observe the vote count, as required by law. Of particular concern to Scott are the duplicate ballots the elections office must create when the original ballot has been damaged or voters "overvote" or "undervote" — that is, when they vote for too many or too few options in a single race.

Scott claimed that Bucher "has made determinations regarding voter intent herself (through her staff), and has withheld a portion of 'overvoted' and 'undervoted' absentee ballots from the Palm Beach County Canvassing Board."
On Friday, the judge in that case ordered Bucher to turn over the "overvoted" and "undervoted" ballots for a public review by the canvassing board.
The fracas has become a must-comment item for politicians, from Sen. Marco Rubio of Florida to President Donald Trump, who tweeted Friday, "Thank you @marcorubio for helping to expose the potential corruption going on with respect to Election Theft in Broward and Palm Beach Counties. The WORLD is now watching closely!"
UPDATE
Updated with additional information about court proceedings on Friday.