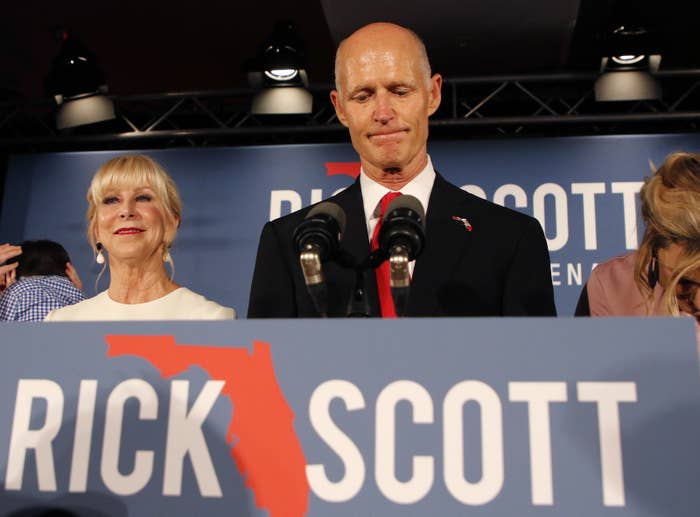 FORT LAUDERDALE, Florida — A Florida judge on Monday rejected Republican Gov. Rick Scott's request to have state and local police oversee ballots and election equipment in a mostly Democratic county, saying Scott and Republicans backing his Senate campaign haven't presented evidence of fraud or misconduct, while also signing off on a plan for more security at the Broward County Election Supervisor's Office.

"I don't think I have any evidence to enter a mandatory injunction right now," said Judge Jack Tuter in response to a lawsuit Scott filed Sunday. "If someone in this county has evidence of fraud or irregularities, they should report it to a law enforcement office."
But Tuter also asked partisan lawyers to "ramp down the rhetoric" amid a Florida recount that has transfixed the nation, and as Republicans have leveled accusations that Democrats are trying to "steal" the election.
Impounding ballots — essentially having law enforcement officials monitor ballots and equipment when they're not being used in the recount — isn't that unusual. But winning this case would have given Republicans, President Donald Trump, and Scott more fuel for their repeated claims there's malfeasance in the counting process.
In a hearing with more than a dozen lawyers representing a multitude of agencies and candidates, Tuter proposed the parties could agree to let three sheriff's deputies monitor Broward County election headquarters for "an additional layer of confidence." The lawyers came back with a deal: one deputy to monitor security cameras, another to watch a storage room with election data and ballots, and a third deputy to supervise them.
Lawyers for the county had argued that ballots at the election office are already under lock and key, with check-out systems, and everything is guarded by sheriff's deputies and private security.
"Hopefully things over there will calm down," Tuter said about the elections office, where dozens of protesters have been demonstrating since last week. He indicated an order was forthcoming, but said he wanted the deputies, who would report to the sheriff's office, posted within an hour.
Despite the legal wrangling — which involves a multitude of lawsuits from Scott and other Republicans — the hearing took on political overtones in court.
The main argument Scott's campaign lawyer, Jason Zimmerman, made wasn't evidence of ballots being unsecured or of fraud. "We have a trust issue in this county. We need something so we can have trust in this process," he said.
Zimmerman argued that the public lacks confidence in Broward County Elections Supervisor Brenda Snipes because she's botched elections in the past and didn't hand over records until a judge ordered her to do so Friday. "A public wrong is preventable by an injunction."
"There needs to be some protection of the vote," he said.
But Eugene Pettis, lawyer for Snipes, said confidence is shaken because Scott has misled the public, such as Scott's claims that liberals are trying to steal the election. When faced with a request to hand over records, he continued, Snipes had 24 hours. He said she was busy counting the election — and ultimately complied, disclosing even more information than required.
"You know what undermines voter confidence is claiming some sort of behavior without any evidence," Pettis said.
Moreover, Pettis contended that a court order impounding the ballots would lend credence to the idea that there was malfeasance by Snipes, without evidence, and Republicans would manipulate a decision to argue Snipes was breaking the law.
Tuter appeared sympathetic to that argument, while sensitive that the public wanted more transparency from an office that has been opaque.
"I hope you could emphasize to the supervisor that more transparency is better," Tutor told Pettis, suggesting updates posted every few hours.
"I am not casting any aspersions on any officials right now," Tuter said before he sent the parties out to reach a security enhancement deal. "We need to be careful of what we say. Words mean things. I urge everybody to wait till the counts are over."