WASHINGTON — Florida Secretary of State Ken Detzner on Thursday ordered election workers to recount all ballots by hand in the state's tight race for US Senate, a move that Democrats hope will uncover thousands of votes in urban areas that tabulating machines may have missed.
That scenario could be a windfall for incumbent Democratic Sen. Bill Nelson, who trails his Republican challenger, Republican Gov. Rick Scott, by fewer than 12,603 votes, or 0.15%. That puts their race within a 0.25% margin that automatically triggers a manual recount.

About 25,000 ballots in Broward County showed votes for the governor's race but not the Senate race, according to preliminary returns last week. Typically, Senate races, which are at the top of the ticket, receive more votes than other contests in midterm elections. Democrats hope these "undervotes" — in which no candidate is selected on a ballot in a given race — are the result of machines simply failing to register votes, while a human inspector could see the voter's intent.
Marc Elias, the lead attorney for Nelson and Democrats, told reporters Thursday evening that the hand recount "will not only narrow the margin but may reverse it entirely."
He added that a combination of lawsuits — while none of them are a "silver bullet" — may also yield enough votes to close the gap against Scott.
Of the Senate ballots counted in Broward County, voters broke for Nelson by a margin of more than two-to-one, suggesting that any votes uncovered by hand could also tilt heavily in Nelson's favor.
One analysis found 38,593 undervotes statewide in the Senate race.
There are other explanations, however, for voters skipping the Senate race in the overwhelmingly Democratic county.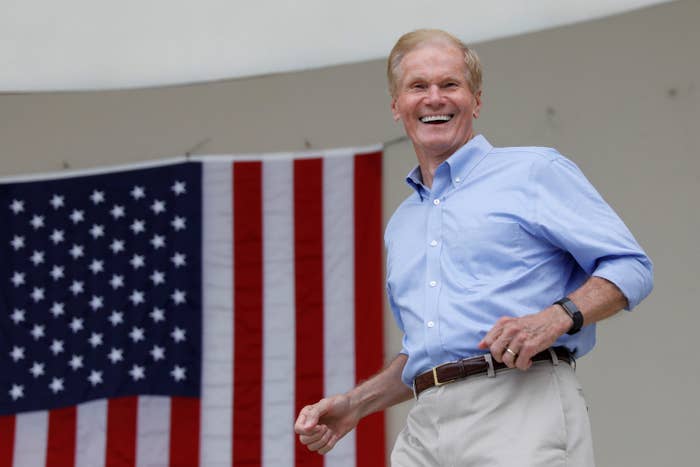 An unusual ballot design in Broward County may have caused voters to pass over the Senate race without realizing it, since it was in the bottom left corner of the first page. The Scott campaign has also noted Nelson underperformed in Broward County in 2012, the last time he was on the ballot there.

On Saturday, Detzner had ordered a statewide machine recount in three races within a 0.5% margin, as required by law, including the Senate race and the governor's race between Democrat Andrew Gillum and Republican Ron DeSantis. Any races found within half that margin — 0.25% — require a recount by hand.
Meanwhile, Democrats have advanced a raft of legal strategies to include more votes cast for Nelson when the vote is certified next week, including asking courts to give voters a chance to fix ballots that were tossed out for signature mismatch problems. They have also asked a federal judge to accept ballots that were mailed on time but received after Election Day.
On Thursday, Nelson also sued Detzner and Palm Beach County, which had stopped its machine recount before finishing. Nelson's complaint in state court says that if Detzner does call for a manual recount statewide in the Senate race, a judge should order the county to ensure the manual recount is completed regardless of any deadline set by state law.
Two deadlines are approaching. Sunday at noon marks a deadline for county election boards to submit the results of the hand recount to state officials — a deadline many worry can't be achieved in major counties, where hundreds of thousands of votes must be visually inspected. And the state's elections canvassing board is required to certify the election by 9 a.m. Tuesday.