Florida GOP's "Stunning" Blockade Of Anti-Gay Legislation
In an unexpected turnaround, state Republicans blocked one of their members who was trying to keep a gay adoption ban on the books. After victories dialing back religious freedom bills in Indiana and Arkansas, LGBT advocates hope this indicates other anti-gay legislation could be killed as well.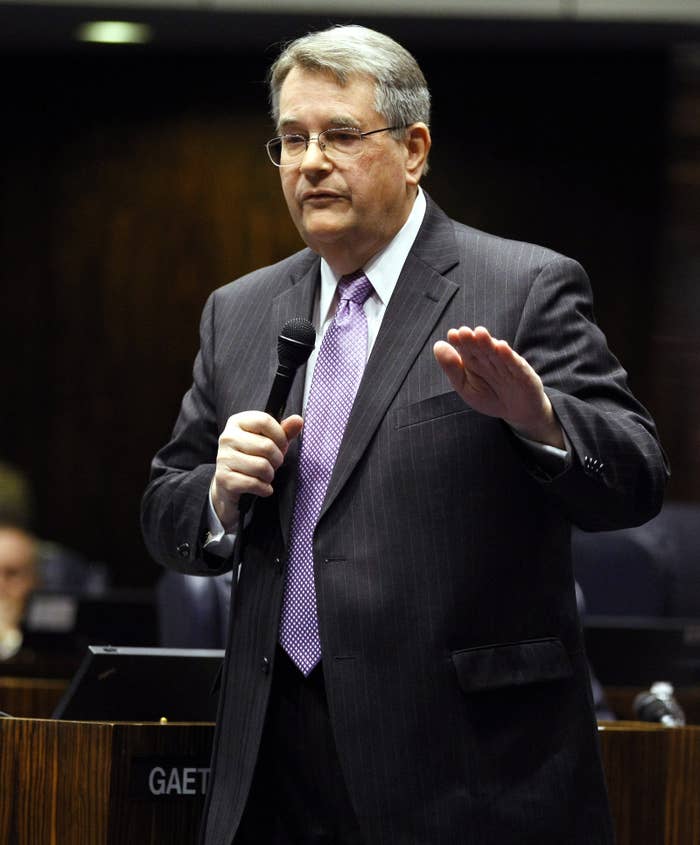 State Senator Don Gaetz, a Republican from the politically conservative Florida Panhandle, is not who LGBT activists would expect to be their prime defender, much less be the one to stymie an advance within his party and berate an anti-gay law as a throwback.
Yet it was Gaetz, the former Senate president, who marshaled votes from both parties Wednesday to kill legislation that was widely expected to pass.

"We don't need to turn back the social clock in this state to 1977," said Gaetz, pacing and gesturing for effect.
The legislation, at least technically, was an amendment to formally scrub Florida's statutory language that bans gay parents from adopting, language that was effectively nixed by courts in 2010 and widely considered moot.
"It wasn't too many years ago when interracial adoptions were illegal and frowned upon," Gaetz argued before calling the gay adoption statute both a "sleeping, comatose dead dog" and "that archaic, dusty, dead law."
Gaetz's comments and strategy, observers said, were also about a bigger struggle over Republicans' relationship there with the LGBT movement. Looming largest was another amendment on the Senate agenda to let adoption agencies turn away otherwise capable gay parents from adopting children by claiming a moral or religious objection. But by helping kill the gay adoption ban language, Gaetz showed the state's mainstream Republicans are distancing themselves from anti-gay policy.
And after Gaetz's comments about the gay adoption ban as a "dead dog" — an excoriation by a standard-bearer of Florida's GOP — a coalition of Republicans and Democrats rejected the gay adoption ban amendment by a decisive voice vote.
The same senator who was trying to keep the adoption ban on the books, Senator Kelli Stargel, was shot down again minutes later on another amendment. Apparently cowed by her own party, Stargel withdrew a final amendment that would have let religious objections be used to refuse adoptions.
Equality Florida was exuberant, issuing a statement that called it a "stunning turnaround."
Joe Saunders, the Southern regional field director of the national Human Rights Campaign, told BuzzFeed News on Thursday that Gaetz's "emergence yesterday as an unlikely ally to LGBT parents was a groundbreaking moment in the Florida legislature."
Saying the vote "marks a sea change in conservative leadership in Florida," Saunders, who is also a former Florida state representative, added, "Yesterday one of the most powerful members of the Florida Senate built a coalition of Democrats and Republicans who fought together for the kids in our state who need loving homes and the LGBT families who are ready to care for them."
The timing cannot be ignored. The fracas in Florida comes one week after capitols in Arkansas and Indiana became targets for national protest over religious freedom bills there, which critics vilified as surreptitious attempts to legalize discrimination.
The legislation ending the gay adoption ban, which is part of a larger adoption bill, appears destined for the governor's desk later in April, barring an unexpected development.
However, Florida's LGBT advocates are still embroiled in the fight over LGBT parents' ability to adopt.
Like Stargel's amendment, a bill in the Florida house is expected to pass on Thursday to allow privately run, publicly funded adoption agencies to discriminate against parents — including LGBT parents — based the agencies' moral convictions. It would then go to senators.
BuzzFeed News asked state Senate Majority Leader Bill Galvano whether yesterday's maneuvers indeed represent a "sea change" on LGBT issues and whether his Republican majority was likely to support or oppose the religious adoption bill.
Senator Galvano hedged, saying simply, "Yesterday's floor debate illustrates the fact that Republicans come from many different personal and faith backgrounds that result in a variety of opinions about how to best reach a common goal of helping children in foster care find loving, forever families."
Many are hopeful that the senators scuttling anti-gay legislation Wednesday indicates they will also kill the house bill — but they aren't counting chickens.
"While the Senate proved yesterday it has no appetite for anti-gay legislation, this religious refusal bill is far from dead," HRC's Saunders said. "The fact that the bill is moving at all does damage to Florida and our reputation."
Still, some Republicans are already losing appetite for religious freedom bills — or at least attempting to inoculate themselves from attacks that they promote LGBT discrimination.
For instance, Michigan Governor Rick Snyder vowed to veto his state's Religious Freedom Restoration Act (RFRA) unless it did not allow LGBT discrimination.
That could be a harbinger for a trio of bills in Michigan that also apply religious refusal to adoption. On the other hand, Sam Inglot, a spokesperson for Progress Michigan, warns those religious freedom adoption bills could fly low enough below the radar that legislatures can pass them without public outcry.
"It's likely that the conservatives in the legislature will see the adoption bills as an easier target to continue their crusade against LGBT equality," Inglot told BuzzFeed News. "Gov. Snyder has refused to acknowledge where he stands on the issue, which only gives fuel to the anti-gay members of the legislature."