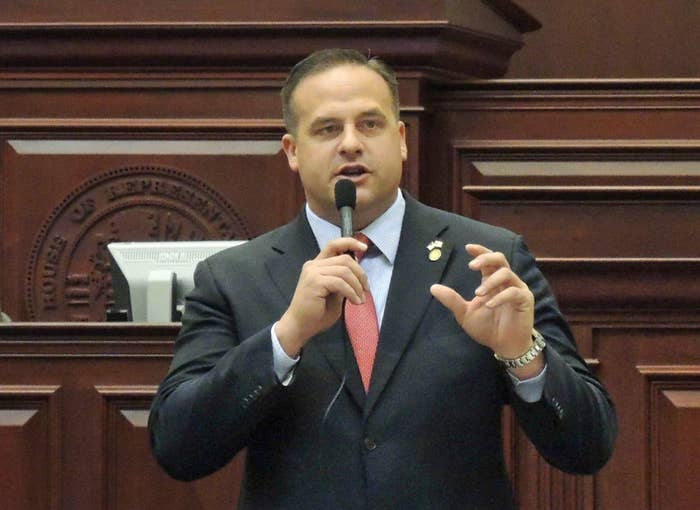 A bill introduced Wednesday in the Florida Legislature by Representative Frank Artiles of Miami would make it a crime for transgender people to use single-sex public facilities — including restrooms in businesses that are open to the public, workplaces, and schools — that correspond with their gender identity.
Violators would be guilty of a misdemeanor, punishable by up to a year in jail or a $1,000 fine.
The bill would also empower people in a single-sex restroom during any "unlawful entry" to sue the alleged interloper and owner of the facility for attorneys fees and damages.
"The purpose of this act is to secure privacy and safety for all individuals using single-sex public facilities," House Bill 538 states. "Single-sex public facilities are places of increased vulnerability and present the potential for crimes against individuals using those facilities, including, but not limited to, assault, battery, molestation, rape, voyeurism, and exhibitionism."
The bill says single-sex facilities designated for males or females would be restricted to those with a corresponding "biological sex, either male or female, at birth." It makes no accommodation for people who have transitioned to a different gender since birth, and would also apply to non-transgender people who use the restroom of the opposite sex.
Not limited to restrooms, the measure also concerns dressing rooms, fitting rooms, locker rooms, and showers "that are maintained by an owner of public accommodations, a school, or a place of employment."
Florida law defines public accommodations as businesses including restaurants, hotels, movie theaters, stadiums, gas stations, and various other businesses open to the public.
The bill from Representative Artiles, who represents a district in eastern Miami-Dade County, would supersede any local law that "purports to permit or require owners of public accommodations, schools, or places of employment to permit use of single-sex public facilities by persons whose biological sex is different from the sex for which such facilities are designated."
The Miami-Dade County Council expanded an anti-discrimination law in December to include transgender people, including protecting them from discrimination when using restrooms that reflect their gender identity.
Artiles did not respond to a call and email from BuzzFeed News seeking comment.