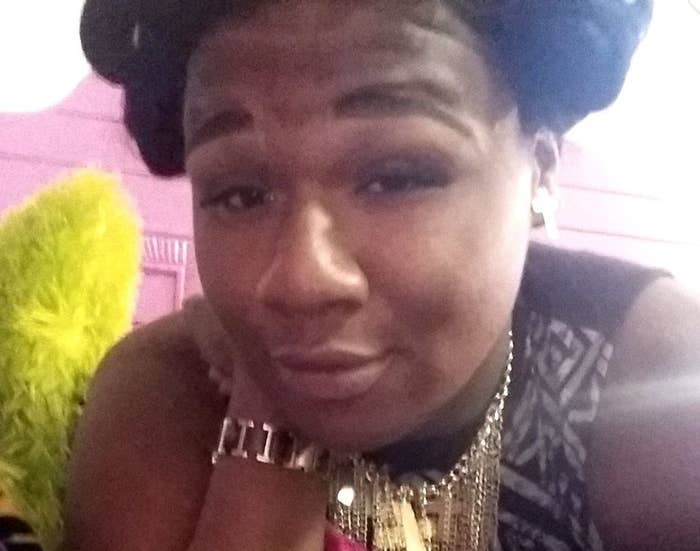 Penny Proud, who was fatally shot early Tuesday in New Orleans, is the fifth transgender woman of color in the United States to be killed within the past month, according to anti-violence and LGBT organizations mourning her death.
A vigil for Proud on Tuesday was promoted on Twitter, where many mourned the accelerating succession of homicides with the hashtag #BlackTransLivesMatter.
The homicide rate of transgender women in the first weeks of this year outpaces 2014, when 13 transgender Americans were killed in homicides.
Chai Jindasurat, who coordinated programs with the National Coalition of Anti-Violence Programs (NCAVP), called the killings "an epidemic and an outrage."
"With the loss of four black transgender women and one Latina transgender woman, 2015 has begun in absolute tragedy," he said in a statement.
Proud's death also reinforced other common trends when transgender women are killed: Police misgendered Proud and media coverage dwelled on prostitution, even though it had no apparent connection to the homicide.
"He was pronounced dead on the scene," said a statement from the New Orleans Police Department, which said the victim died from multiple gunshot wounds at about 1:30 a.m. Police continue to search for a suspect and motive.
Police Officer Garry Flot told BuzzFeed News he could not confirm the victim was a transgender woman, referring questions to the New Orleans coroner's office, which did not take a call seeking additional information.
An article and video posted on Nola.com called the victim "male" and a "man."
In the video, reporter Prescotte Stokes III focused on the area Proud was killed, recounting neighbors' complaints about "drug addicts and transsexual prostitutes hanging out around their homes late at night."
Stokes added that prostitutes sometimes hide from police at a nearby bus stop, and he interviewed a neighbor who opined on the connections between nearby activity and the homicide: "You see the things that happen, and you know this will be the eventuality of some of the things that are taking place."
In a phone call with BuzzFeed News, Stokes explained that he chose how to report his story after speaking to people in the area who may have known Proud.
"They called her a girl but said he was a man," said Stokes "I assume he parades around as a transgender woman, but he is actually a man.
"Based on what the people who knew him said, he was transgender. They didn't say he was a prostitute, but neighbors said prostitution happens in that area. If the guy was actually connected to prostitution, that is anybody's guess — the police did not confirm that."
Stokes repeated that police did not confirm a connection between the killing and nearby sex work.
Similar misgendering by reporters followed the homicides of Lamia Beard, who died Jan. 17 in Virginia, and Ty Unerwood, who died Jan. 24 in Texas. An article in the Virginian-Pilot dwelled on prostitution by "men dressed as women" in the area Beard died — also without presenting facts connecting prostitution to the homicide.
"The harm of the media misgendering and victim-blaming is that it sends a message to the public that these homicides are not as serious, and that somehow transgender people deserve it," Jindasurat of NCAVP said at the time.
Two other transgender women of color killed in homicides in the last four weeks include Taja Gabrielle DeJesus, who was fatally stabbed Feb. 1 in San Francisco, less than two weeks after Yazmin Payne was killed in a stabbing in Los Angeles. In addition to those killings, some also have questioned the circumstances of a recent killing in Kentucky.
"When these deaths were covered, they were often not given the respect they so deserve. Transgender women are often misgendered in news reports and their stories are often riddled with patronization and condescending opinions from reporters," BreakOUT wrote in mourning Proud's death today.
Nationally, transgender women of color were the victims of 67% of all hate-motivated homicides against LGBT people in 2013, according to a report on hate violence last May by NCAVP.