Feds Give Private Employers Clear Guidelines For Transgender Staff Using Restrooms
Transgender employees should have access to restrooms that correspond to their gender identity, according to guidance issued Monday by OSHA.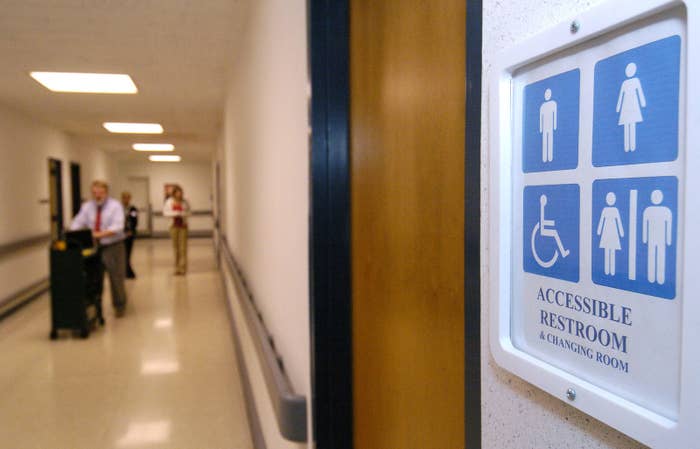 Federal officials removed any question for business owners Monday about which restrooms transgender employees should be allowed to use at work.
"All employees, including transgender employees, should have access to restrooms that correspond to their gender identity," according to a four-page memo issued by the Occupational Safety and Health Administration (OSHA).

The memo makes guidelines clear even for business owners who are generally unfamiliar with transgender issues, stating that "a person who identifies as a man should be permitted to use men's restrooms, and a person who identifies as a woman should be permitted to use women's restrooms."
The guidelines, though, are not binding legal standards.
"The agency has no plans to issue a new standard — OSHA's standard-setting typically takes years," according to a statement to BuzzFeed News from the Department of Labor.

The guidelines do, however, synthesize the way existing rules and laws have been interpreted in recent years by courts and the Obama administration for the workplace, putting expectations in some of the most direct terms to date for U.S. employers.
They also provide a touchstone for businesses and countless trans employees across the country who have legions of stories about being discouraged from using single-sex restrooms, relegated to far flung single-stall bathrooms, or being pressured to simply hold it to avoid a humiliating experience altogether.

In doing so, the federal government has staked out a position similar its stance on transgender students using shared restrooms in public schools, a debate that has erupted in districts across the country. In addition, advocates say, the guidance could encourage aggrieved employees to file legal complaints.

"We certainly think it's a big deal," Harper Jean Tobin, director of policy for the National Center for Transgender Equality, told BuzzFeed News. "Even though most employers are getting it right, this is still one of the most common workplace problems for transgender people."
A survey of transgender Americans conducted in 2011 found more than 21% of respondents were "not able to work out a suitable bathroom situation" at work.
The National Center for Transgender Equality had requested the guidance.

"A lot of employers know that if OSHA puts out anything, they need to pay attention," Tobin said, adding that the OSHA guidance signals "issues that raise liability for employers."
"There are clearly legal issues and legal peril for employers here if they aren't doing the right thing," she said.
The guidance adds that employees — not the bosses they work for — should determine the "most appropriate and safest" restroom to use, and that staff need not provide any documentation, legal or medical, in order to validate their gender identity.

Furthermore, employers should not provide a "segregated facility apart from other employees" or designate a restroom "an unreasonable distance" from the worksite.
Recent court rulings and federal agencies have interpreted Title VII of the Civil Rights Act of 1964 to prohibit employment discrimination based on gender identity or transgender status. In April, the Equal Employment Opportunity Commission ruled a transgender employee cannot be denied access to a common restroom that is used by coworkers of the same gender identity.

Explaining the basis for the guidelines, OSHA stated in its memo: "Restricting employees to using only restrooms that are not consistent with their gender identity, or segregating them from other workers by requiring them to use gender-neutral or other specific restrooms, singles those employees out and may make them fear for their physical safety. Bathroom restrictions can result in employees avoiding using restrooms entirely while at work, which can lead to potentially serious physical injury or illness."
Communications staff at the Department of Labor declined to provide an interview with BuzzFeed News. A statement from the department did say, however, that "if OSHA receives a complaint that an employer is denying a worker access to restrooms, the agency will conduct a full investigation."
While Tobin expects most employers to comply, she said, she hopes the new guidance will encourage workers to file a complaint.
"If we continue to see unaddressed problems, we are going to push OSHA and other state and federal agencies to take further action," Tobin said.