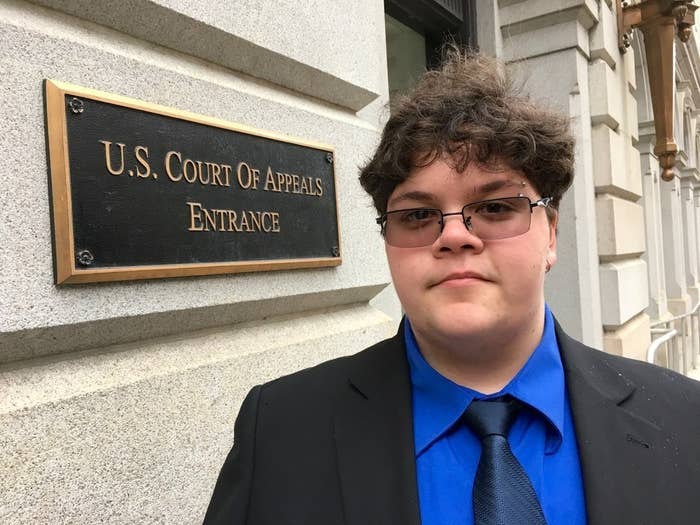 In the country's most watched case over transgender student rights, U.S. District Court Judge Robert Doumar ordered a Virginia school district to let a transgender boy use the boys restroom when he returns to high school classes in September.
"I am elated to hear that I'll be able to attend my senior year of high school with my full rights restored," Gavin Grimm told BuzzFeed News in a statement. "After nearly two years of humiliation and intense struggle, equality has finally prevailed. Now hopefully other transgender individuals will not have to face this type of discrimination."
The case's underlying legal questions have not been resolved, however, and will continue to be litigated in federal courts.
Grimm had sued the Gloucester County School Board in 2015, challenging a policy that bans transgender students from using school restrooms that correspond with their gender identity.
"The writing is on the wall how this case will ultimately end in Gavin's favor," said his attorney.
Represented by the ACLU, Grimm alleged the rule violated Title IX of the Education Amendments of 1972 and the Equal Protection Clause of the 14th Amendment.
Judge Doumar had initially thrown out the Title IX claim, despite the U.S. Education Department's interpretation of the law — that Title IX's ban on sex discrimination also applied to transgender discrimination. Overturning Doumar on that point, the 4th Circuit Court of Appeals found that the Education Department has the authority to establish that interpretation of Title IX.

The school board plans to ask the U.S. Supreme Court to hear an appeal of that decision.

In the meantime, the 4th Circuit had refused to keep the case on hold. And on Thursday, Doumar issued a preliminary injunction in Grimm's favor, stating, "This Court, pursuant to Title IX, hereby ORDERS that Gloucester County School Board permit the plaintiff, G.G., to use the boys' restroom at Gloucester High School until further order of this Court."
Joshua Block, a staff attorney for the ACLU who is representing Grimm, said of the injunction, "The writing is on the wall how this case will ultimately end in Gavin's favor."
"When everything is said and done," he added, "we feel the confident he would have a victory, but this preliminary injunction makes sure that that victory translates into a real difference while he is still at school.:
Asked by BuzzFeed News if the school board would try to appeal the order, Troy Andersen, the board's chair, said in an email Friday, "The School Board understands the implications of the order and will continue to defend its reasonable and nondiscriminatory solution to this issue at the Supreme Court and trial court levels." Andersen declined to clarify whether that means the board would attempt to appeal the order.