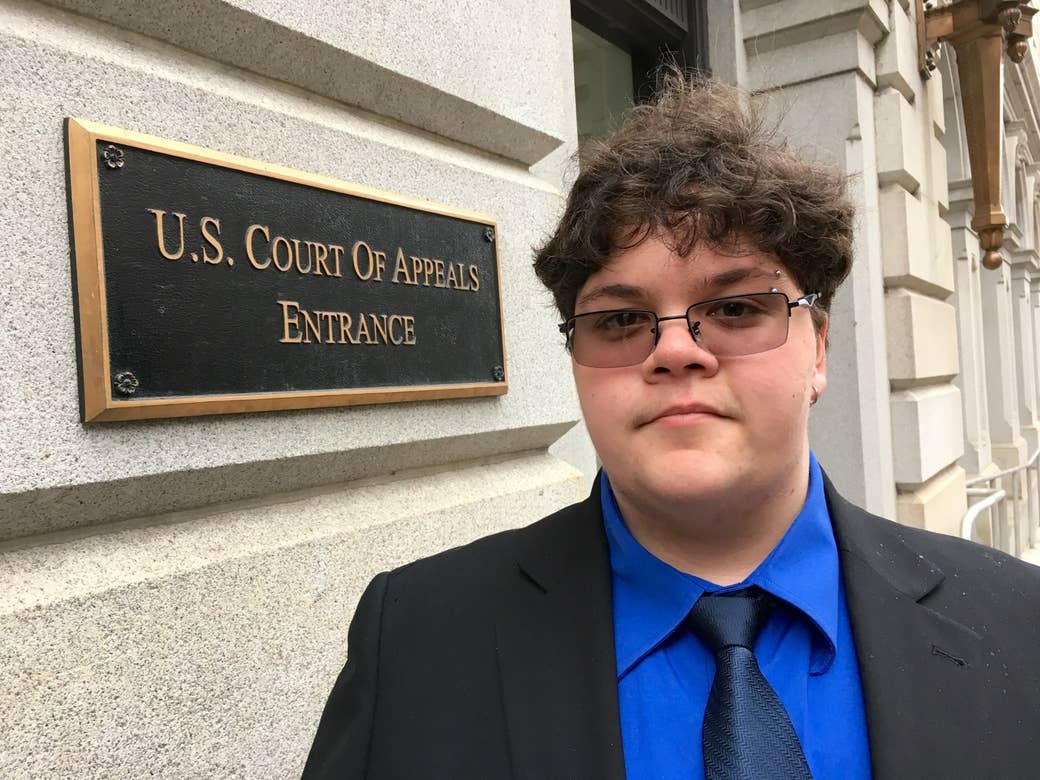 RICHMOND, Virginia — A federal appeals court on Wednesday heard oral arguments in the case of a transgender student fighting to use the boys restroom at his high school — the highest court in the U.S. legal system to hear such a case amid a national debate over transgender access to restrooms.

At the center of the case is Gavin Grimm, a 16-year-old transgender boy who sat in the front row of the gallery, his mother's arm over his shoulder, while a three-judge panel peppered lawyers with questions that ranged from arcane to graphic.
The underlying question before the 4th Circuit Court of Appeals is simple: Do existing laws that ban discrimination on the basis of sex — specifically, Title IX, which bans the practice in publicly funded schools — apply to transgender students? If they do, Grimm could prevail in his lawsuit to overturn a Gloucester County School Board policy that restricts students to restrooms reflecting their "biological gender."
"I was sort of thrust into this," said Grimm.
But to answer that question, judges probed thornier matters about whether sex is solely determined at birth, whether surgeries and hormone treatments can change someone's sex, and if evolving understanding about gender redefines decades-old laws on discrimination.
Although the three judges did not make clear how they would rule, none appeared interested in dismissing the case outright, as requested by the rural Virginia school board.
The panel included two judges appointed by President Obama. The first, Andre M. Davis, seemed most open to the argument that transgender discrimination is banned under existing federal law. The second, Henry Franklin Floyd, was quietest of the group but has sided with LGBT advocates before — writing the majority decision in a case holding that Virginia's ban on same-sex couples' marriages was unconstitutional.
The third judge, Paul V. Niemeyer, was the lone dissenting vote in that marriage case. Appointed by George H.W. Bush, Niemeyer appeared most skeptical on Wednesday of arguments from Grimm's lawyers and concerned with the ramifications for student privacy in locker rooms.
Much of the discussion focused on what constitutes sex-based discrimination given years of evolving court decisions that have broadened the scope of Title IX.
"This is 2016," Judge Davis said. "What is the meaning of 'sex' in 2016?"
Davis was pressing David Corrigan, a lawyer for the school board, who had argued that sex is strictly determined at birth, and that Title IX allows single-sex facilities like restrooms and locker rooms to be segregated by birth sex alone.
Corrigan also argued that cisgender students — that is, those who are not transgender — are entitled to privacy from students born a different sex, and that lawmakers drafting Title IX never intended for "sex" to encompass transgender people.
But Davis retorted that "I thought we were past" interpreting sex-based discrimination on such narrow terms. He cited a 1989 Supreme Court decision that found it was illegal for the firm Price Waterhouse to discriminate against a female employee for failing to meet expectations of feminine behavior.
"If we talk about gender roles," Davis said, "we talk about gender identity."
That echoed a point made by Grimm's lawyers, who said transgender discrimination was based on an individual failing to meet gender expectations, and therefore was sex-based discrimination.
One judge asked whether an "anatomical male" with the gender identity of a female could use a girls locker room.
The Justice Department filed a brief supporting Grimm that made a similar point, noting that the Department of Education and Equal Employment Opportunity Commission respectively have found Title IX and Title VII, which governs sex discrimination in employment, ban transgender discrimination as a form of sex discrimination.
Joshua Block, the ACLU lawyer representing Grimm, said after the hearing that a decision in Grimm's favor could be a "bellwether" that guides future decisions.
But Judge Niemeyer raised concern about the slippery slope of allowing gender identity to determine which facilities a student can use, particularly eroding privacy in locker rooms. He pressed Block on whether an "anatomical male" with the gender identity of a female could use a girls or women's locker room.
Block confirmed that gender identity, not birth sex or anatomy, should be the deciding factor.
"It is a much more exposed environment," Niemeyer said.
Indeed, the debate around Grimm has long been about more than him and a restroom — it's been about policies around the country.
In the beginning of the 2014 school year, Grimm used the boys restroom with the principal's permission for seven weeks, without complaints from students. But some parents became upset and rallied at school board meetings to ban Grimm, saying that otherwise boys could prey on girls by claiming they were transgender.
In December of that year, the school board passed a resolution restricting single-sex facilities to students with a matching "biological gender." The policy — apparently aimed specifically at Grimm, the only openly transgender student in the district — also provided three one-person, gender-neutral restrooms for students who don't want to use their assigned single-sex restrooms.
Grimm filed a complaint with the Department of Justice that December and a lawsuit against the school board in June 2015, saying the policy was discriminatory and stigmatizing. He has refused to use the girls restroom, pointing out that he looks and presents as a boy, and that using the single-stall restrooms brand him as an outcast.
Last year, however, U.S. District Court Judge Robert Doumar ruled against Grimm's request for an injunction — which would have allowed him to use the boys restroom while the case goes to trial — and tossed out Grimm's claim under Title IX.
Currently, in his appeal to the 4th Circuit, Grimm is asking the judges to reconsider that Title IX question, impose an injunction, and remand the case to a different judge when it goes to trial.
The most immediate matter before the court Wednesday was whether to grant that preliminary injunction. Among other issues, the court debated whether Grimm or the school district would suffer greater harms — one of the questions courts face when granting injunctions.
"What harm was caused in the seven weeks he used the restroom?" Judge Floyd asked the school board's lawyer.
Corrigan said the policy didn't discriminate because it applied equally to everyone assigned male at birth and female at birth.
"Again, what was the harm?" Floyd pressed again.
Corrigan said there had been complaints — raised by parents — and there were concerns about student privacy in the restroom.
But Judge Davis countered that students who want additional privacy could use the single-person restrooms and that dividers in bathrooms prevented unwanted exposure to other students' genitals.
Davis also argued that the status quo was that Grimm used the boys restroom without incident, and that the lower court's failure to grant the injunction reversed the status quo. "It's flipped," Davis said. "There were no incidents, no disruptions … then everything changed."
"There is no stigmatizing impact on anyone but [Grimm]," he said.
"It's hard to be a parent and not want to fight their battles for them," said Grimm's mother.
The judges were also curious with what defined a male or female. "If [Grimm] had a sex change, would you allow him to use the boys restroom?" Judge Floyd asked the school board's lawyer.
Corrigan deferred to the school policy, saying that Grimm could if he "changed his biological" gender — a term with an unclear meaning.
Judge Floyd asked a similar question of Grimm's lawyer. "What restroom would somebody with a sex change use?"
Block replied that it would depend on the individual's gender identity.
Grimm spoke to reporters in a news conference after the hearing.
"I was sort of thrust into this," he said. "At first I was terrified, then I realized I have a platform, and I am going to use that platform to help people."
Deirdre and David Grimm stood off to the side of the room while their son spoke to reporters afterward.
"It's hard to be a parent and not want to fight their battles for them," his mother said. "But we have learned through this process he is his best advocate, and we are proud to be his parents."