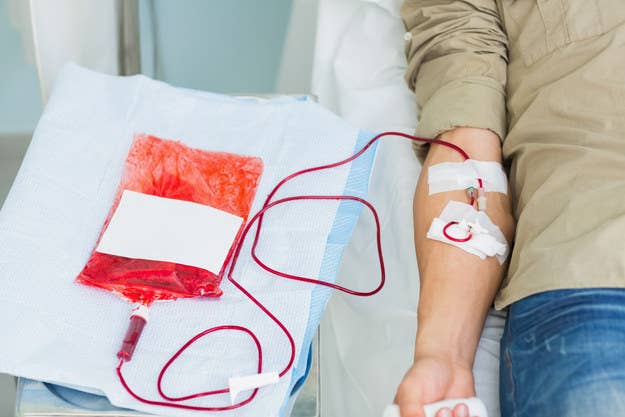 The Food and Drug Administration's Blood Products Advisory Committee (BPAC) will not reconvene to discuss changing a fiercely criticized policy that bans gay men in the United States from donating blood, an agency spokesperson told BuzzFeed News Friday.
BPAC had convened on Dec 2. to hear from scientists and blood-donation groups, including the American Red Cross, but closed its meeting without voting on a recommendation. After the meeting, some speculated the committee would take up the issue next year.
But Stephanie Yao in the FDA's Office of Media Affairs explained by email Friday, "Unless there is a need for further discussion where we would need to convene another meeting, the BPAC has fulfilled its role in providing advice to the FDA on this topic." She said the FDA will review information from other government agencies. Asked if this meant BPAC does not intend to make a recommendation or meet again on the matter, Yao replied, "FDA does not plan to hold another BPAC meeting to discuss this issue."
Yao reiterated, though, that "[a]lthough advisory committees provide recommendations to the agency, FDA makes the final decisions." She gave no timeline for any such decision.
The announcement frustrated LGBT advocates who said the unilateral ban on blood donations unfairly stigmatizes gay men. Now advocates are looking to bypass the FDA advisory panel by pressuring upper tiers of the Obama Administration.
In that vein, some 80 members of Congress plan to ask Health and Human Services Secretary Sylvia Mathews Burwell to change the policy in a letter Monday that will describe the ban as unscientific and outdated, congressional staffers told BuzzFeed News. They said the letter will argue that donors' risky behaviors, whether gay or straight, should be the test of whether they can give blood, not sexual orientation.
American Civil Liberties Union legislative representative Ian Thompson said the comittee's inaction appears to be a "deliberate" decision. "Ideally they would have removed sexual orientation entirely from the donor criteria and moved to a risk-based screening process. That is obviously not what they have chosen to do."
The announcement was also a shift in momentum: A committee of the Health and Human Services Department had recommended relaxing the ban in November, saying the ban should be limited only to men who had had sex with a man in the previous year. That panel had also recommended a national blood-screening system.
Minutes from the Dec. 2 meeting indicate some members of the committee were concerned with relaxing the ban, arguing that "data to support a change in policy has not been demonstrated and that safety of a revised policy is uncertain."
In contrast, numerous authoritative organizations have condemned the policy minted in 1983 amid the AIDS epidemic. Those groups say a national blood testing surveillance system and a risk-based policy would be sufficient to keep the blood supply safe. Groups opposing the permanent ban include the American Medical Association, American Red Cross, American Association of Blood Banks, and America's Blood Centers.
Current federal policy bans all men who have had sex with men since 1977 from donating blood. Transgender advocates say the rule has been used to ban transgender people from donating blood.
"It is clear that the F.D.A. and U.S. Government still believe that gay sex is dangerous because they continue to promote the egregious 1980s stereotype that HIV is a 'gay disease,'" Anthony Hayes, the managing director of public affairs and policy at Gay Men's Health Crisis, told BuzzFeed News. "Enough already."
Hayes added, "While it is appalling that the FDA has made it clear today that the BPAC has no plan to discuss this again, it is inconceivable that Secretary Burwell has remained silent."
Spurring action from Burwell is the goal of Senator Elizabeth Warren, who is spearheading efforts to send a letter Monday from more than six-dozen congresspeople asking the HHS secretary to replace the ban with a risk-based policy. Signatories will include Sen. Tammy Baldwin and Congressman Mike Quigley, staff in Baldwin's office told BuzzFeed News. The congresspeople will support a national screening mechanism to keep the blood supply safe, while arguing that establishing such a system should not be required before for lifting the ban on gay men donating blood.
Saying that the ACLU "absolutely" intends to use its leverage to influence the Obama administration in the coming months, Thompson said he hopes Secretary Burwell will formally propose a policy and begin a rule-making process that involves public comment. "I am still hopeful that we will see progress of some kind in the months ahead."
This article has been updated with additional information about the FDA's process for reaching a decision.