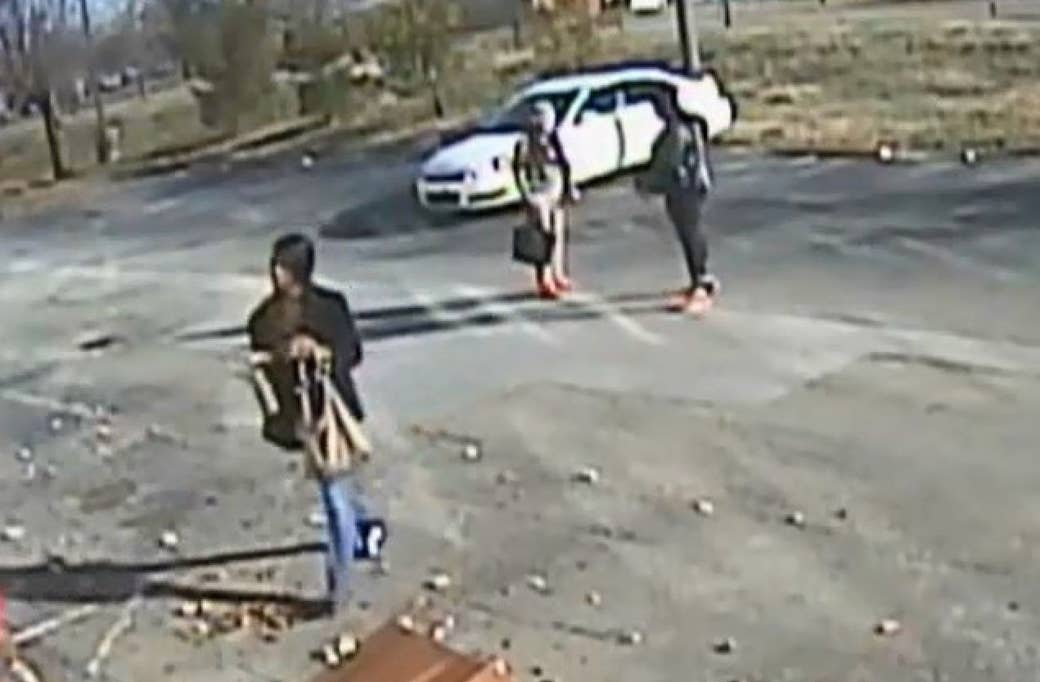 The Louisville Metro Police Department has been insistent that the victim in a Jan. 9 homicide in Kentucky was not transgender, the homicide was not a hate crime, and the victim's gender identity was not a factor in their investigation.
Information obtained by BuzzFeed News, however, directly contradicts or severely undermines all of those assertions.
"Papi got shot because she was a transgender female," Tiffany, who was at the scene of the shooting and a friend of the victim, told BuzzFeed News in a phone interview this month. "That is exactly why she was killed — because of gender identity."
Recently released court records and an interview with Tiffany show the police department had evidence, but did not tell the media, that the victim may have identified as a transgender woman who went by the female name Papi and was potentially targeted due to gender identity. If so, that would make the Louisville homicide the seventh case in two months in which trans women of color have been killed.
Surveillance video of the shooting, which police provided to the court as evidence, shows the victim — identified by police as 20-year-old Sherman Edwards — presenting as a woman, with long hair and carrying a light brown purse. And just hours after the homicide, Tiffany told investigators the gunman attacked Edwards after getting mad that Edwards identified as transgender — staging an ambush in a hotel hallway. Prosecutors have arrested and charged a suspect, Henry Gleaves, with murder.
"If a person gets mad at you for being transgender and then comes back and kills you because his pride was crushed, and he was interested in someone he thought was a woman, it's a hate crime," said a woman who was at the scene of the shooting.
A transgender woman of color who has been attacked in the past due to her gender identity, Tiffany asked that her last name be withheld for this article. "If a person gets mad at you for being transgender and then comes back and kills you because his pride was crushed, and he was interested in someone he thought was a woman, it's a hate crime."
Tiffany said Edwards "died a woman" and had used female pronouns for several years, but not around Edwards' mother. "Her mother wasn't accepting of it."
When BuzzFeed News spoke with police department spokesperson Dwight Mitchell on Jan. 28, he said simply, "As far as I am concerned, that was a man that was shot. It was always a man," despite widespread confusion about the victim's gender identity. "It's obviously a man, right? He doesn't have a female name. I am not going to get into a debate about if he was transgender or not." When it came to the question about whether the victim's gender identity played a role in the homicide, Mitchell said, "That was never a factor with us."
Since January, the case has raised concerns among LGBT advocates and anti-violence experts that the homicide may be part of a national pattern of homicides against transgender women of color. Six transgender women of color in the United States were killed in the first two months of 2015, the highest rate recorded in two months. This case would make the seventh such confirmed homicide this year. As advocates and anti-violence experts search for reasons the killings appear to be increasing, they have questioned if the victims were attacked due to their actual or perceived gender identity.
While advocates have tried to understand the spike in killings around the country, the cases have also fueled outrage for their mishandling by police and media. In several cases, including this one, the challenge of searching for a root cause of the violence is made more complicated by police misgendering the victim — meaning the public is unaware if the victim presented as transgender at the time of the homicide. When police departments misgender victims, they make finding those answers difficult — if not impossible.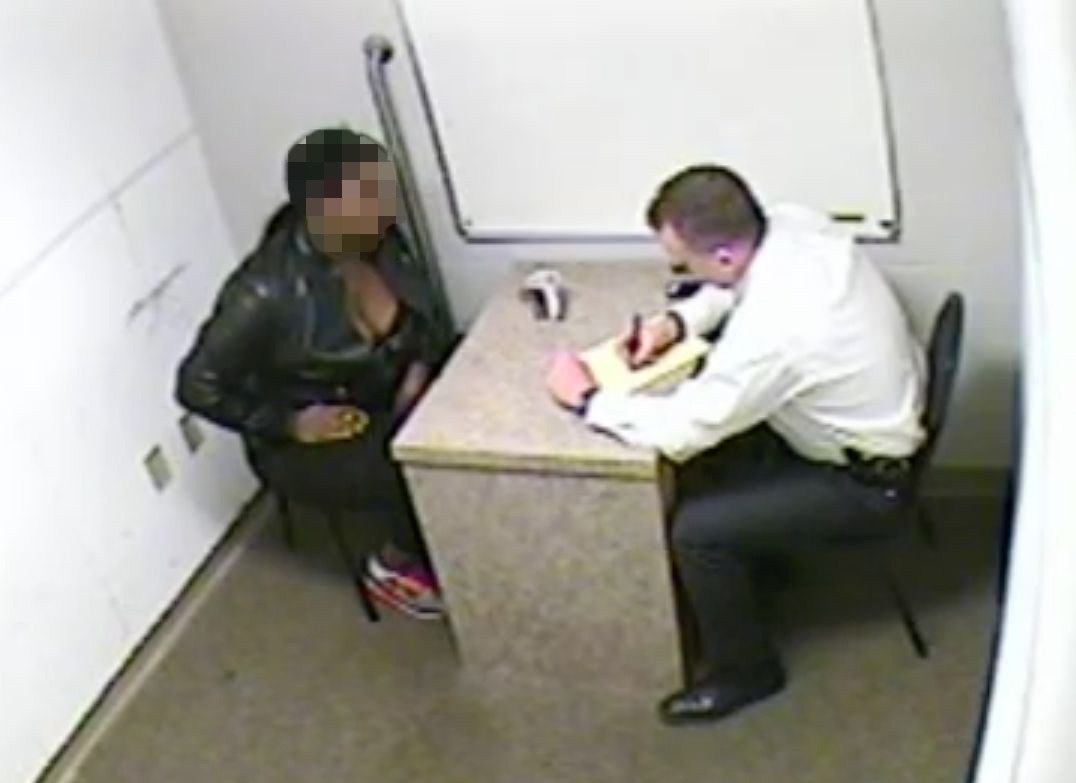 Among the records contradicting the Louisville police's insistence that Edwards identified as male is a videotaped interview conducted by a Louisville police detective shortly after the shooting with Tiffany, who recounted what had happened.
The gunman was apparently a stranger, Tiffany explained in the videotaped interview, which was reviewed by BuzzFeed News. He had come to meet the victim at a room in the Fern Valley Hotel that Edwards was sharing with Tiffany and two other women. Edwards likely met him online, Tiffany said.
Two minutes after the man arrived, Edwards tried to avoid potentially surprising the man by saying, "'Well, you know I'm a tranny,'" Tiffany continued. "The dude said, 'What the fuck?' and he left."
A few minutes after the man, who Tiffany said left the room angry, had gone, Edwards and the group of women went to the parking lot, heading out to buy cigarettes. Edwards had forgotten ID, though, and returned to the hotel to get it. In the interview, the detective used male pronouns to ask about Edwards and Tiffany used male pronouns in reply. "When Papi opened up the door, he got shot," Tiffany explained. "We think [the gunman] gonna shoot all of us 'cause we know Papi a tranny." Edwards crawled into the parking lot, coughing blood, and died at a hospital later that morning.
The detective made clear during the videotaped interview he understood the point of conflict, in the witness's opinion, was Edwards identifying as transgender. "They start talking, Papi tells him that he is a transvestite, dude is like, 'What the fuck,' and leaves," the detective confirmed. Tiffany replied, "Yeah." Later the detective asked why Papi identified as transgender to the man: "Do you think that's why Papi did it, to kinda get it out there to begin with?" Tiffany confirmed yes, and the detective said, "OK." The detective also described the situations by saying, "Papi lets [the man] know about his condition."
"Papi, he don't like telling people he a tranny either," Tiffany told the detective. "It's scary, you know what I'm saying? I'm a tranny myself … I used to get my ass whooped for it."
Speaking to BuzzFeed News, Tiffany said she made it clear to police Gleaves acted out of anger in response to Edwards' gender identity. "It's common for people to get mad, especially if it is in front of a group of people," she said about the motive for attacks on transgender women. "Tell them you're a tranny; they will get mad and retaliate in front of a group because they didn't want people to think differently of them."
The Fairness Campaign, a Kentucky group, has been tracking the case as a member of the National Coalition of Anti-Violence Programs, which issues the country's definitive reports on hate violence. Transgender women of color were victims of 67% of all hate-motivated homicides against LGBT people in the United States in 2013, according to a May report from the coalition. Thirteen transgender women were killed in the U.S. in 2014.
"The homicide was alarming in and of itself," said Fairness Campaign director Chris Hartman in a phone interview. "But given that fact that Edwards was presenting as female that day, it adds to the grave and staggering statistic of transgender or gender-nonconforming people of color who have been murdered across the country already. It's disturbing that it happened here, and I'm really anxious to see the outcome and understand the motivation of the suspect so we can fully grasp what was happening that night and prevent it in the future."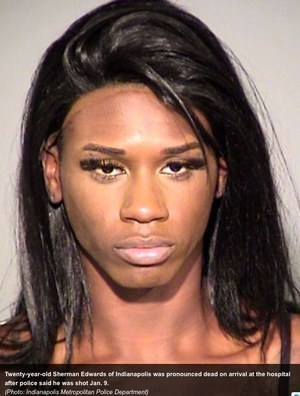 In January, some media outlets reported Edwards was a transgender woman, based on what appears to be a mug shot circulated online in which Edwards is wearing long hair and makeup. However, family and friends of Edwards, as well as police, told BuzzFeed News that he was a gay man who sometimes dressed in drag. Edwards maintained a Facebook page in which he presented as cisgender.
The latest evidence filed with the Jefferson County Circuit Court shows police had ample evidence at the time that even if Edwards did present as a gay man in some settings, Edwards presented as a transgender woman the day of the homicide. Edwards also used a woman's name, at least with some people. There was also suggestion from a key witness this may have been the motive for the killing.
WLKY provided BuzzFeed News still frames of surveillance footage taken seconds before Edwards was shot, which also came from public records, further showing Edwards presented as a woman at the time. WLKY also aired portions of the detective's interview with Tiffany. Police had provided those documents to the court as part of their evidence file. Nonetheless, the police continued to insist in interviews with BuzzFeed News that there was no indication the victim identified as transgender.
"No, it was not" a hate crime, police spokesperson Mitchell said on Jan. 28. In a second interview that day, he said it was possible Edwards could have worn women's clothing occasionally, but there was no indication he was transgender and he did not know if Edwards wore women's clothes when killed. "As far as I am concerned he had a man's name," Mitchell said. "There was nothing to say he was living as a woman." He said several times that according to Edwards' family, Edwards identified as male. A family member who spoke with BuzzFeed News previously said Edwards did not identify as transgender.
After BuzzFeed News obtained public records suggesting the homicide may have been motivated by the victim's gender identity, that police did have a female name for Edwards, and that Edwards was, in fact, dressed as a woman at the time, Mitchell refused to elaborate on his previous statements.
"It's obviously a man, right?" a police spokesperson said. "He doesn't have a female name. I am not going to get into a debate about if he was transgender or not."
"According to his family … he was defined as a man and as gay," he said this month. Asked how he reconciled those statements with evidence possessed by police department that appears to contradict his comments, Mitchell shut down. "I am declining to answer the question," he said. He referred further questions to prosecutors.
Three other spokespeople for the Louisville Police Department, including a sergeant, did not respond to questions from BuzzFeed News about why the department provided information that appears to contradict evidence in the case.
"They don't care about transgender people," said Tiffany, explaining why she does not trust the police to handle the case seriously. She pointed out the department misgendered Edwards, and she was angry that officials told her Edwards was alive for several hours during her interview even though Edwards had already died. "They are just going to forget about it. They know they are. They lied about it and tried to keep it a secret. Society doesn't understand how transgender people live, so they call us men. They're small-minded."
The prosecutor handling this case at the Jefferson County Commonwealth Attorney's Office, John Balenovich, said he cannot comment on charging decisions but noted that Kentucky lacks a hate-crime law that covers gender identity. Balenovich said that the Shepard-Byrd Hate Crimes Act passed in 2009 by Congress does apply to gender identity, but said, "That is a federal law. I couldn't charge it under that particular law I don't think."
The federal hate-crimes statute allows the U.S. Department of Justice to charge suspects or assist in certain cases — when there is an issue of interstate commerce. Since becoming law more than five years ago, "Shepard-Byrd has not been used in a gender identity prosecution," Dena Iverson, a spokesperson for the Justice Department, told BuzzFeed News. She added, though, that the law has been used to assist local investigations into possible gender-identity-based hate crimes.
Balenovich added that the evidence appears strong enough to pursue a conviction at trial without settling. "Any time there is a murder charge, everyone takes things seriously," he said. Asked if gender identity played a factor in the case, he said, "That is something that will come out — that is something that is best talked about after the trial."
The six confirmed cases involving the deaths of transgender women of color in the U.S. this year include Kristina Gomez Reinwald, who was found in her home Feb. 15 in Miami-Dade County; Penny Proud, who was shot Feb 10. in New Orleans; Taja Gabrielle DeJesus, who was stabbed Feb. 1 in San Francisco; Yazmin Payne, who was stabbed Jan. 21 in Los Angeles; Ty Underwood, who was shot Jan. 24 in Texas; and Lamia Beard, who died of gunshot wounds Jan. 17 in Virginia. In addition to those killings, some also have questioned the gender identity of someone killed recently in Ohio.
An attorney for Gleaves did not respond to calls seeking comment on the criminal charges or the witness's claims that Gleaves acted out of malice based on the victim's gender identity. Gleaves' next court date is March 26; a trial is scheduled to begin Oct. 27.