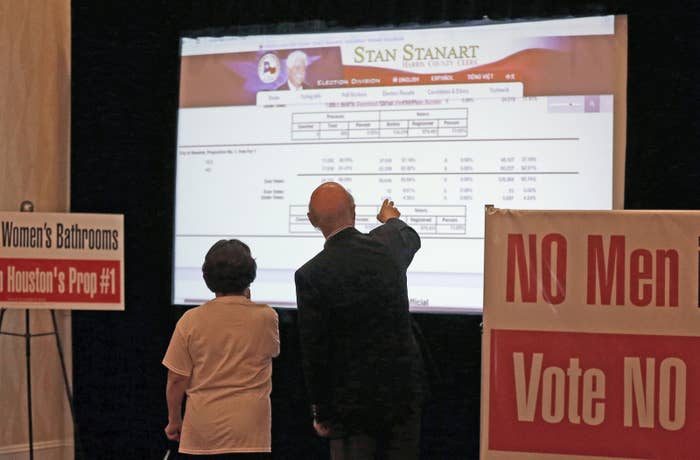 Houston voters on Tuesday repealed a city law that protected LGBT people and others from discrimination. The decisive vote was a setback to progressive organizations that tried to uphold the ordinance and a victory for Christian conservatives who ran a campaign alleging the law would allow men to attack women in public bathrooms.
With nearly all precincts reporting, results showed voters repealing the law by 61% to 39%, according to the Harris County Clerk's Office.
"We are celebrating tonight!" Jared Woodfill, the chief spokesman of the repeal effort, told BuzzFeed News in a phone call from an election night party.
"We don't believe that males — regardless of whether they are transgender or cross-dressers or someone who identifies as a woman — should be able to go into a female restroom, shower, or locker room under the protection of law," he said.
Houstonians were alarmed by the law's "very scary provisions," he said, and they resented national organizations outspending his campaign 5-to-1 trying to uphold the law.
"I think it was clearly David versus Goliath, but like the story, tonight David was successful," he said.
A "yes" vote for Prop. 1 would have upheld the Houston Equal Rights Ordinance, known as HERO; a "no" vote repealed it.

Houston Unites, the campaign attempting to uphold the law, said results would be very close. A poll in mid-October found support for upholding HERO was ahead 43%–37%, with 20% of voters undecided. But on Tuesday, the campaign lost by a chasm.
The group conceded defeat while decrying the "ugliest of smear campaigns run by the opposition."
The battle in Houston had gained national attention as a flashpoint in a larger war over culture and LGBT rights. Supporters of the law argued that the nondiscrimination policy, passed by the city council in 2014, protected LGBT people and wide range of other groups.

Critics, however, fixated on provisions of the law that ban discrimination on the basis of gender identity and promoted a message that the law must be repealed in order to keep male sex predators out of women's bathrooms.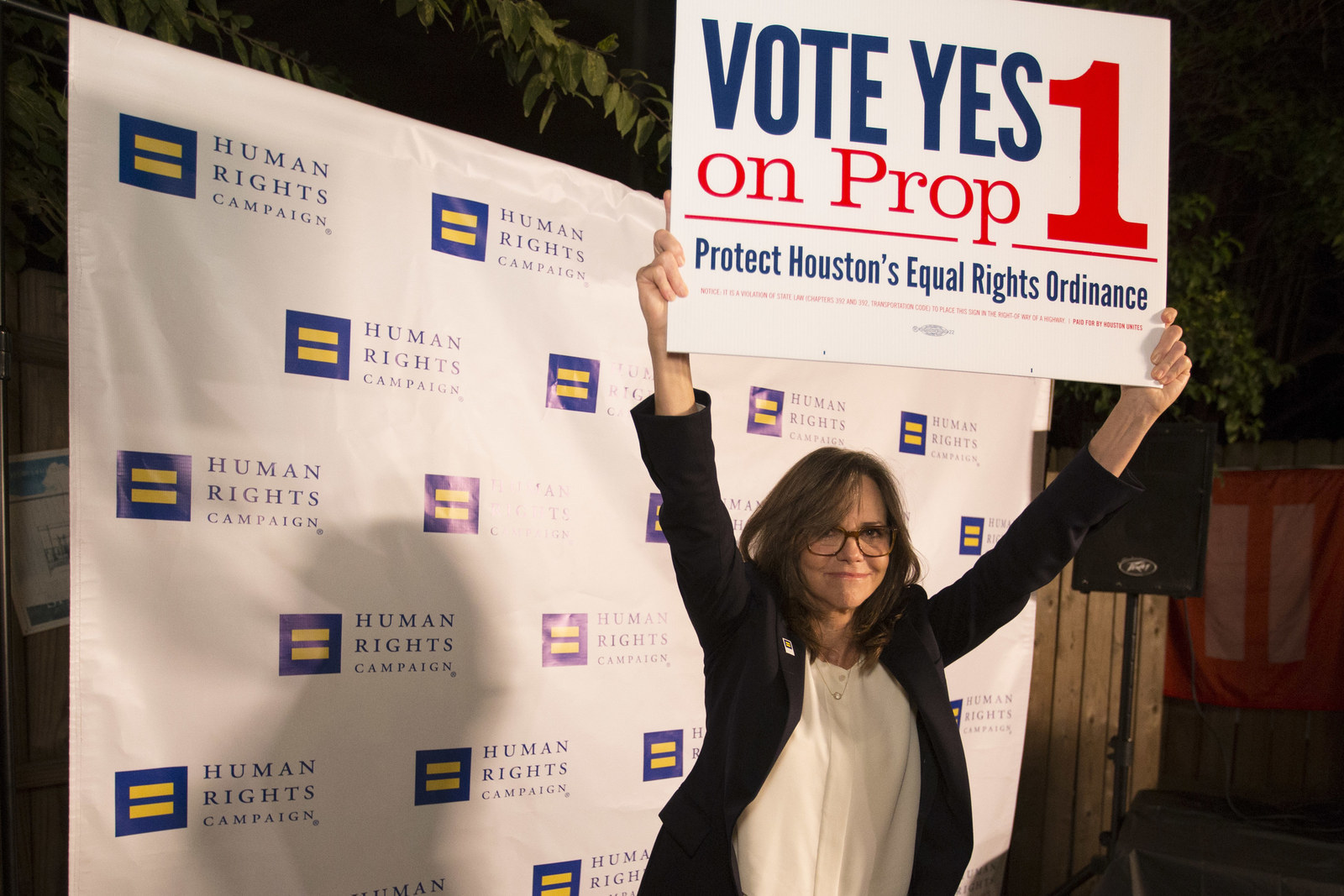 "We are disappointed with today's outcome, but our work to secure nondiscrimination protections for all hard-working Houstonians will continue," said a joint statement from the groups behind the effort — the ACLU of Texas, Equality Texas, NAACP Houston Branch, Texas Freedom Network, Freedom for All Americans, and the Human Rights Campaign.
David Welch, executive director of the Houston Area Pastors Council, cast those groups as special interests.

"Why would we violate a woman's privacy just to satisfy a small minority who is gender confused?" he asked. "It's a bad law, and I think the people of Houston agreed."
Called HERO for short, the Houston Equal Rights Ordinance did not directly address bathrooms. It banned discrimination on the basis of race, religion, national origin, sexual orientation, gender identity, and 10 other characteristics. HERO covered jobs, housing, and places of public accommodations — including public restrooms. As such, transgender women could not be barred from women's restrooms under the law.
The primary impetus for the ordinance, introduced by Mayor Annise Parker and passed by the city council in May 2014, was to protect LGBT Houstonians. The policy has been on hold pending the outcome of Tuesday's vote.
Woodfill, a lawyer, said Houston voters were perturbed the law covered gender identity. He said the provision allowed men — and he considers transgender women to be men — to enter women's restrooms simply based on how they feel.

"I think that was something that was extremely objectionable to the people in this city," Woodfill said.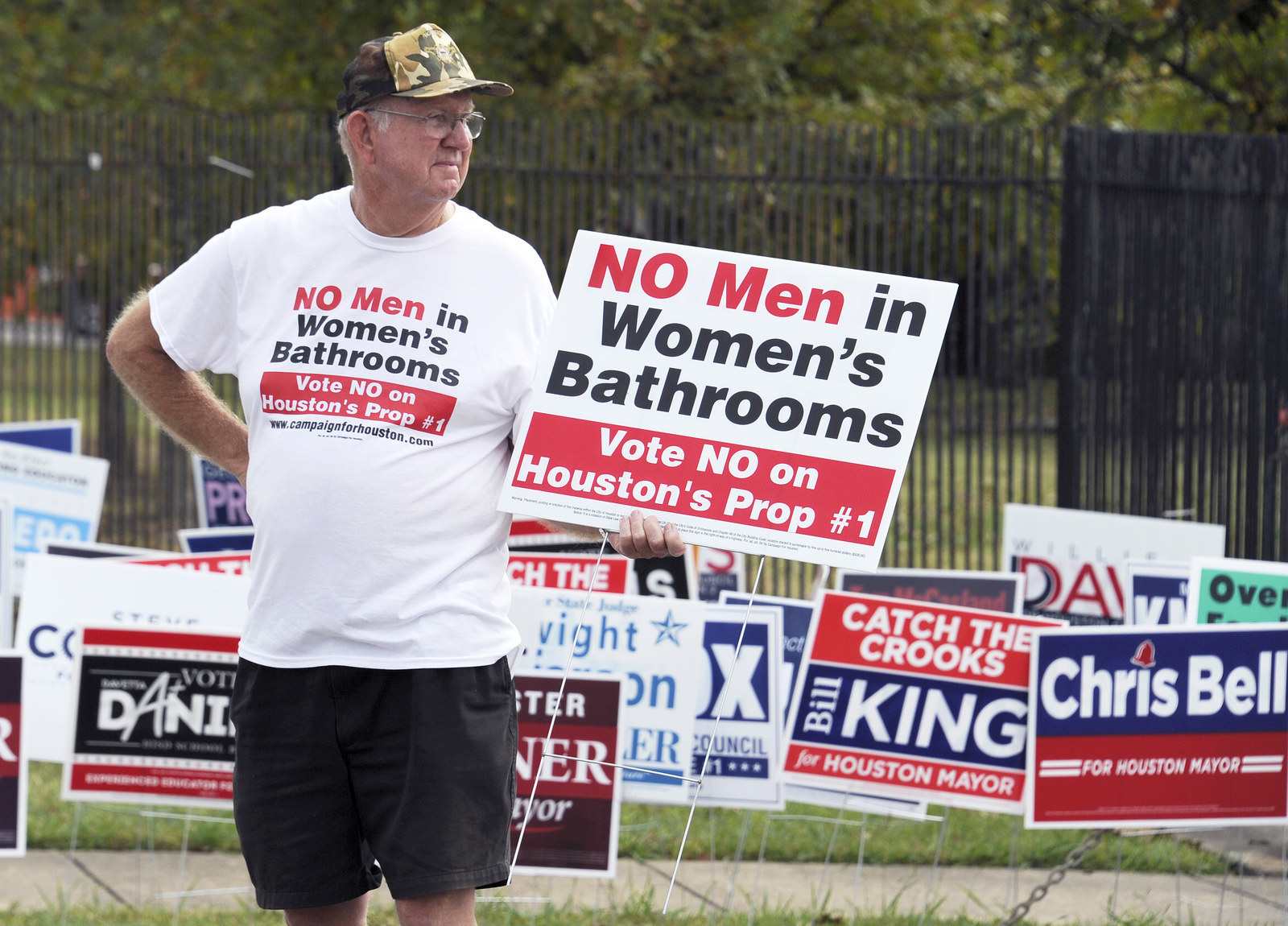 After winning marriage at the Supreme Court in June, leaders of top LGBT organizations endeavored to pass laws prohibiting discrimination in cities, states, and eventually the whole country. A bill in Congress, the Equality Act, was introduced in July. But rather than pass more laws, advocates were playing defense in Houston attempting to uphold a law already on the books.
Houston Unites far outspent its opposition, raising well over than $3 million, and ran commercials stressing that the law protected a wide range of people — particularly veterans — from discrimination.
Matt McTighe, executive director of LGBT advocacy group Freedom for All Americans, said civil rights efforts typically encounter "temporary losses and roadblocks," adding, "Our opponents took their scare tactics to new heights."

Campaign for Houston dubbed it the "bathroom ordinance" in ads, yard signs, and mailers. As BuzzFeed News reported, many voters knew only of that bathroom issue. Texas's Gov. Greg Abbot and Lt. Gov. Dan Patrick both advocated to repeal the law with a bathroom message.
In other Texas cities that ban discrimination based on gender identity and sexual orientation — plus roughly 200 cities and 17 states around the U.S. — there are no clear examples of the laws being abused for men to be inappropriate in restrooms.
Woodfill could cite no examples of nondiscrimination laws in other jurisdictions allowing men to commit lewd acts in women's restrooms, but that was beside the point, he said.
"The opposition had raised that argument," said Woodfill. "Their point was, wait till the damage is done and then we will pick up the pieces."
But even if the gender-identity component were removed, Woodfill said, he would still oppose the law. Most of the classes addressed in HERO are protected under state or federal law; sexual orientation is not, but he does not think any nondiscrimination laws should apply to gays and lesbians.
"I think they should be treated as everyone else," he said. "I don't think they should receive special protections. I don't think homosexuality is an immutable characteristic."
BuzzFeed News asked Woodfill, a Christian, if he also thinks nondiscrimination protections should be lifted for religion?
"Absolutely not."