Don't Be Surprised Jeff Sessions Is Taking The Charlottesville Violence Seriously
He's a crime punisher first; his ideology comes second.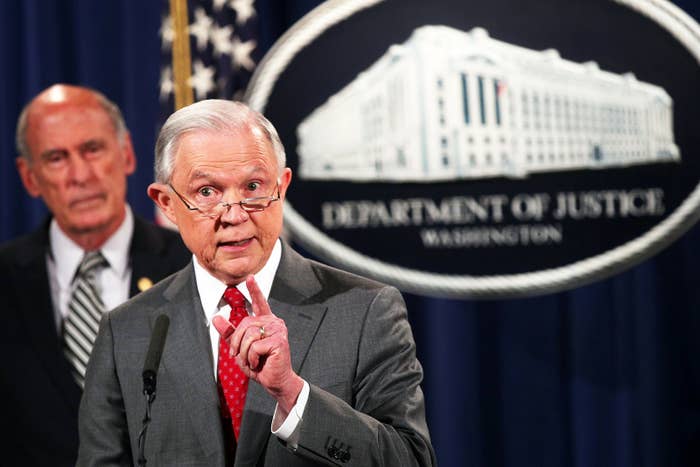 The liberal rap against US Attorney General Jeff Sessions is pretty well ossified at this point: He's racist, according to critics who point to the comments that got him rejected from a federal judgeship in 1986. Coretta Scott King passionately opposed his judicial nomination at the time. Those critics also highlight Sessions' votes as a senator against expanding the federal hate crimes law, and his stance in the Trump administration limiting LGBT rights and cracking down on immigrants.

Given all that, lots of folks expected Sessions to distance himself from the violence at a hate parade this weekend in Charlottesville, Virginia.
But Sessions pilloried white supremacists in the aftermath more than the president did in his initial comments. Sessions, beyond just calling out "racial bigotry," announced a civil rights investigation on Sunday, and then on Monday morning said Saturday's car attack on anti-racism protesters — which killed one woman and injured 19 others — "does meet the definition of domestic terrorism."
Lots of people on Twitter were skeptical.
Regardless of his record of hostility to civil rights protections, Sessions' hard line this weekend fits neatly with his decades as a lawmaker and prosecutor: He believes in enforcing laws — particularly nailing violent criminals — more than he does in pursuing his own ideology.

"This is completely consistent with the Jeff Session that I worked for," Willie Huntley, who served as a deputy US attorney under Sessions in Alabama in the 1980s, told BuzzFeed News Monday.
"It doesn't surprise me at all."
Even though Sessions hasn't crusaded to expand legal rights for minorities, he's shown no compunction about using civil rights laws to increase police power and mete out harsher penalties.
"He can set aside the ideology and do the task, as long as it's within the rule of law," added Huntley, a black man who says opponents on the left have mischaracterized Sessions' views on race.
"I think his personal feelings take a backseat to enforcing the law," he said. "And he did find those acts in Charlottesville to be reprehensible."
Violent crime has become a familiar devil in Sessions' evangelizing as head of the Justice Department. In at least six speeches since May, Sessions warned Americans that violent crime is rising and this scourge, particularly in cities, imperils our way of life.
America will find salvation by giving more power to law enforcement, he argues, using each speech to pivot to the issues of the day: more mandatory prison terms, increasing property seizures, coercing cities into handing over undocumented immigrants. Criminals play the villain in his speeches, and the plot climaxes when we punish them. And in this pursuit of more policing power, he professes he will save people from across the political spectrum.
"He can set aside the ideology and do the task, as long as it's within the rule of law."
On June 29 in Washington, DC, Sessions convened a Hate Crimes Summit and pledged to enforce hate crimes laws — including the one he voted against enacting in 2009.
"As long as I am attorney general, the Department of Justice will continue to protect the civil rights of all Americans — and we will not tolerate the targeting of any community in our country," he told a group of mostly progressive activists. "I have directed all our federal prosecutors to make fighting violent crime a top priority — and you can be sure that this includes hate crimes."
Sessions ticked through accomplishments under his watch: indicting a man for the arson of an Islamic center in Texas, charging the suspect in a shooting of three men perceived to be Muslim in Kansas, and sentencing a man in the homicide of a transgender woman in Mississippi.
If the law says someone can be punished, Sessions seems ready to go — his rhetoric has been indiscriminate.
In March, several Democratic members of Congress wrote to Sessions with their concerns about the high rate of homicides of transgender women. Sessions wrote back in May that "violence against transgender individuals is a serious problem," and he's looking into several cases to "determine whether federal action would be appropriate." A Department of Justice official also told BuzzFeed News the agency has set up a subcommittee on anti-transgender hate crimes.
Huntley said that Sessions gets a bad rap in part because of his association with Trump, who has been slow to disavow the KKK and white nationalists. "Sessions supported Trump early on and continued to support him as president," he said.
"So many individuals were shrouded with the belief that Jeff was an inner-core racist, and some people just weren't able to look past this and see that this is a man who is passionate about enforcing laws and protecting innocent victims," he said.
That said, the results of this investigation into what happened this weekend Charlottesville — and any criminal charges, or lack of them — are a ways out. So no predictions here. But if Sessions charges someone — or multiple people — it doesn't seem he's doing it reluctantly or just for show. This is who he is.
As Huntley noted, Sessions can be quite zealous about enforcing the law in the name of protecting victims.
"On a scale of 1 to 10, Jeff would probably be an 11."