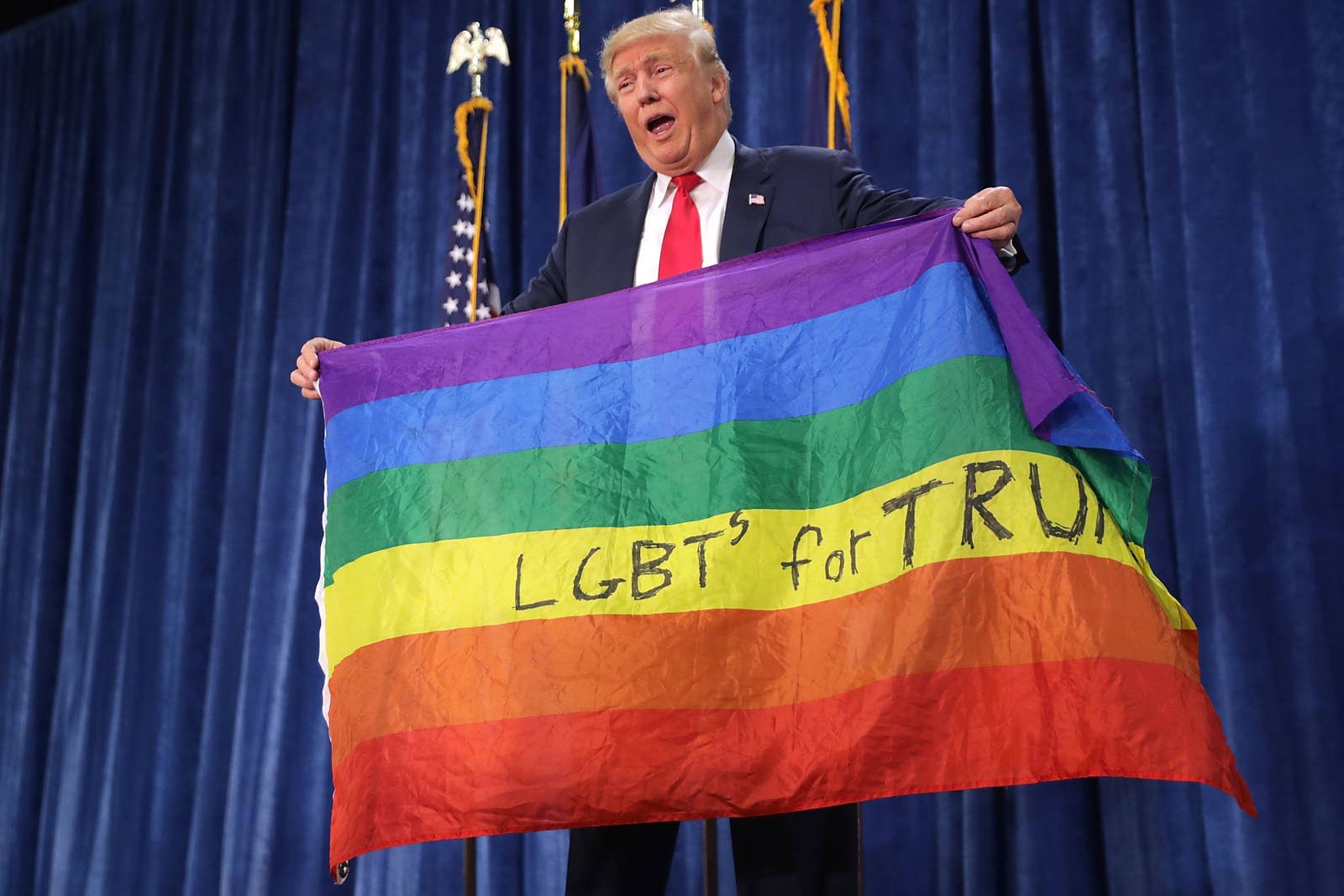 On Sunday night in Greeley, Colorado, Donald Trump spotted something he wanted in the crowd. He gestured to a supporter, who handed a wad of rainbow fabric up to the stage. Trump unfurled it for the fans and cameras — a pride flag scrawled with the words "LGBTs for Trump."
He strutted stage left, grinning and nodding to the audience with a literal sign of his diverse support. A Facebook group called LGBT for Trump posted a photo of Trump with the flag on Monday morning, captioning it: "Most pro-gay nominee of any party ever."
Both Trump and his supporters have nurtured this LGBT-cozy image, diverging from past Republican presidential candidates. That coziness was on display during the Republican National Convention in July, when a group calling itself Twinks for Trump held a soiree festooned with poster-size photos of lithe, shirtless young men in Trump caps. Inside the convention two days later, Trump pledged to protect "LGBTQ" citizens, taking care to enunciate the "Q" — a gesture to queer people.
Despite all this, Trump's campaign has not confirmed any direct outreach to LGBT voters. Over the last three months, his staff has not answered questions from BuzzFeed News about whether Trump has an LGBT policy platform, contacted or plans to contact LGBT communities, or if anyone on the campaign staff is LGBT themselves. He also did not fill out at least two LGBT groups' surveys about his positions.
Further, Trump's most prominent LGBT supporters and surrogates are not a spectrum of LGBT diversity, but rather, are overwhelmingly white gay men. Which is to say, "LGBTs for Trump" reflects much of same homogenous bloc of dudes who make up the rest of his base.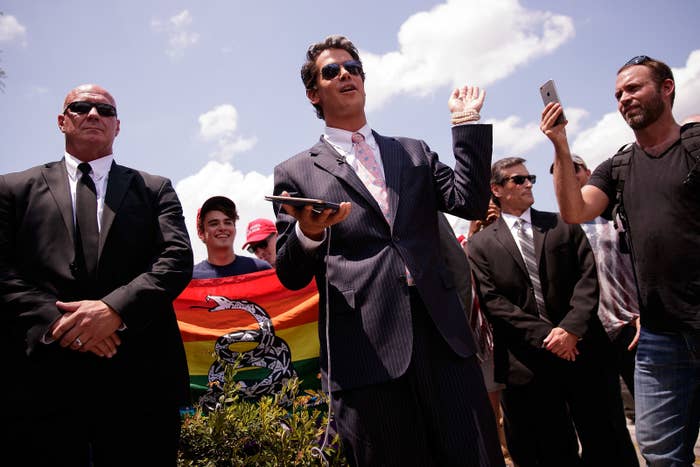 His most formal constituency support is LGBT for Trump, a non-campaign group operated by gay Republican activist Chris Barron.
"Essentially it is a Facebook page," Barron explained in a phone call. There is no board of directors and its members are the 1,509 people who have liked the page. A smattering of other Twitter and Facebook accounts, which are run independent of Barron and separate from the Trump campaign, promote variations of the same theme.
Barron has become the most public face of LGBT for Trump supporters, pressing his message in cable TV interviews. He built bridges in the past between Republicans and gays with the group GOProud. And this year, he said, he has been in touch with the Trump campaign to consult on media and other LGBT issues.

He brushed aside any concern that Trump lacks an LGBT platform or that he supports certain anti-LGBT positions, because, he said, Trump tolerates LGBT people around him. "If there had been a pride flag on stage at a Mitt Romney event," he speculated, "Romney would have been running off the stage."
Barron was not aware of any LGBT Trump staffers nor a lesbian Trump group, but argued the movement is diffuse. "There are a bunch of grassroots activists — they are all over the place," he said. "I certainly know lesbians for Trump. I know more than one, but I don't know the exact number." He added that "there was a picture of a transgender person for Trump" at a pride event in Savannah, Georgia, though he didn't specify where that photo was published.
Trump's most prominent gay supporters are Peter Thiel, a PayPal co-founder who spoke at the RNC, and Milo Yiannopoulos, a columnist of the white nationalist alt-right.
"Just because the most visible LGBT folks for Trump happen to be gay white men, not every LGBT person for Trump is a gay white male," said Barron. "We are an incredibly diverse community."
There is no doubt that Trump has backing from some lesbians, bisexuals, and transgender people — though polls show the numbers are quite slim and they don't compare to Hillary Clinton's hearty LGBT support.
Yet in July, they appeared in short support supply at the Twinks for Trump event.
"I do not remember seeing any trans people," Carlos Maza, who attended the event and works for the left-leaning Media Matters, told BuzzFeed News. "There were women, though the few I interacted with seemed to be straight."
Lucian Wintrich leads Twinks for Trump. "It's not really organization," he said on the phone this week, calling it a small collective of "primarily gay men."
"I am a gay man, so by virtue of that, gay men will reach out to me," said Wintrich.

Finding a lesbian Trump supporter became a goal for Jennifer Bendery, a Huffington Post reporter, who wrote an article about her search last month accompanied by an illustration of a unicorn in a haystack.

"It took me a week to find just one lesbian," Bendery told BuzzFeed News. "A couple others started trickling in after that. Add to that a smattering of gay white men, and you've got an LGBTQ coalition as diverse as a bag of iceberg lettuce from Safeway."
Statistics bear out Trump's paltry LGBT support — and he struggles particularly among women. A Gallup poll this month found LGBT voters view Clinton almost five times more favorably than Trump, but LGBT women were especially wary. Only 9% of LBT women reported favorable feelings for Trump; GBT men were at 16%.
"You've got an LGBTQ coalition as diverse as a bag of iceberg lettuce from Safeway."
Trump lost many voters by picking running mate Mike Pence, who, as Indiana governor and former Congressman, opposed LGBT-rights bills. Trump also created furor in September with a pledge to sign the First Amendment Defense Act, a bill in Congress that would protect those with religious objections to same-sex marriage.
The country's top LGBT Republican group, the Log Cabin Republicans, declined to endorse Trump this year due to his anti-LGBT advisors and support for anti-LGBT legislation.
This flaccid buttressing from LGBT people hasn't stopped Trump from inflating the appearance of their support. His online campaign store features an LGBT for Trump t-shirt. And though none of the positions on his website address pro-LGBT policies, the site links to external news articles to help burnish his image, including one ABC News piece titled "Donald Trump says LGBT voters like him 'very, very much.'"
"It seems every time he opens his mouth, Donald Trump boasts about fictitious support from one corner or another," said Jay Brown, a spokesman for the LGBT group Human Rights Campaign, which was unable to get Trump to fill out its candidate survey.
"He'd undo all the progress we made in the last eight years — and his campaign is especially threatening to those of us who are transgender, who are women, who are Latinx, who are Muslim," Brown said. "I don't think that's lost on the majority of LGBTQ people despite his claims."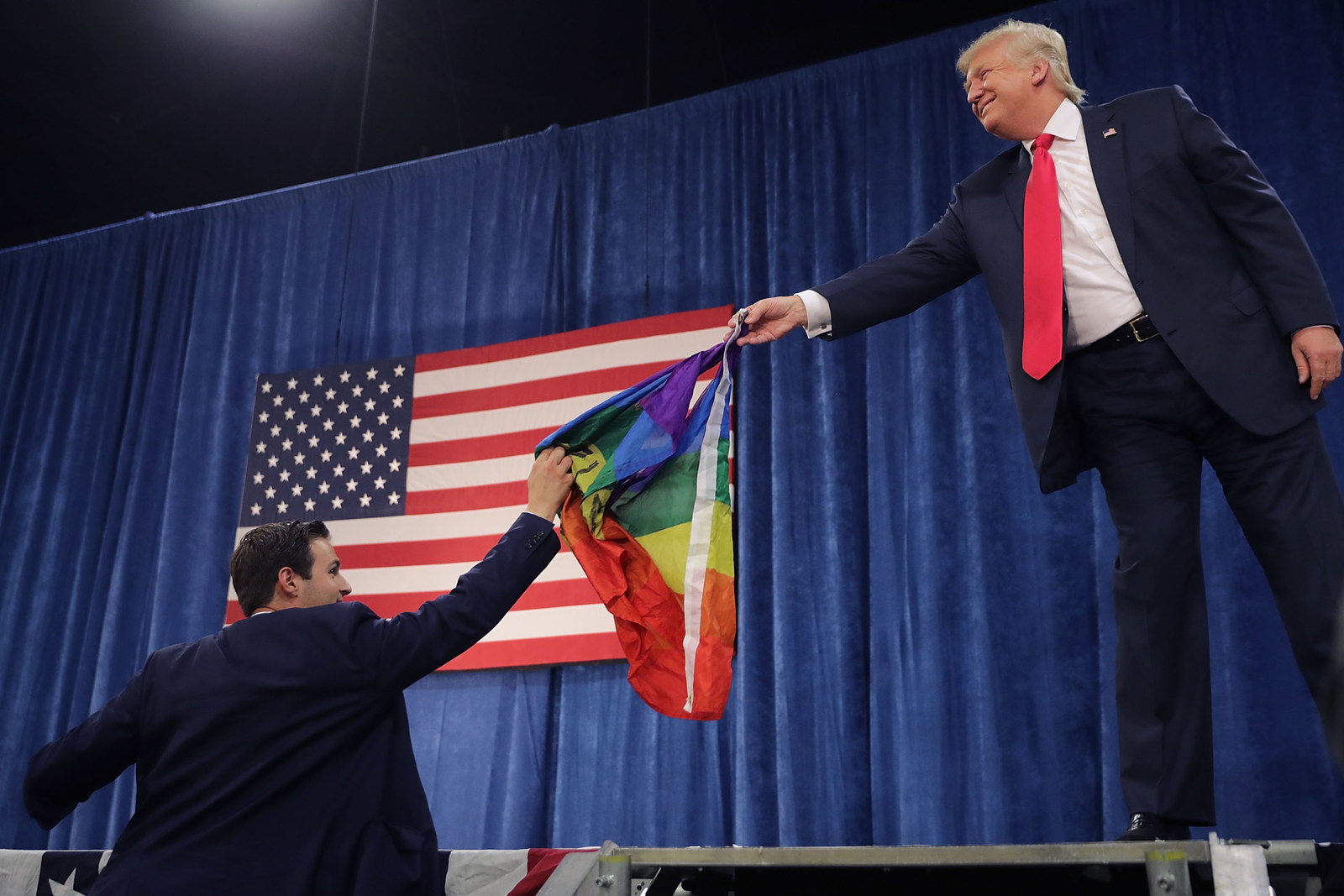 The transgender advocacy PAC Trans United Fund also told BuzzFeed News this summer that Trump never responded to their survey. Clinton did not fill out that group's survey, either.
Yet Clinton's campaign has wooed an LGBT bloc aggressively, using a bench of LGBT surrogates, targeting outreach to LGBT voters, and pairing with with LGBT originations. Clinton also enjoys lavish donations from LGBT funders. But, as BuzzFeed News has also noted, one of her LGBT rallies this spring also skewed white and male.
There is some notable diversity in Trump's LGBT support, including transgender activists on the Trump train. In June, as Breitbart reported, Facebook deleted the account for Transgender for Trump after the group's administrator posted a video of an Imam advocating death to homosexuals.
Caitlyn Jenner, a leading voice for transgender Americans, praised Trump in April for standing "behind the LGBT community," and she spoke at the RNC to advocate for LGBT inclusion in the party generally. But Jenner has since said she is not outwardly supporting any candidate this election.
A person who runs one of a handful of "LGBT for Trump" Twitter accounts told me by direct message they are transgender. But when I asked for a Facebook or Twitter account to verify their identity, they blocked me. That account, which has more than 5,000 followers, published a lewd anti-Muslim tweet recently about Robby Mook, Clinton's campaign manager, who is gay. "Robby Mook needs to be thrown in a mosque during prayer time wrapped in bacon with stapled pictures of muhamad getting banged by a pig."
A Facebook page with about 5,000 followers, called "LGBTrump - Gays for Trump," is run by a gay man named Joe Murray who contributes op-eds to local papers. "Of the two major political party candidates," his website explains, "Trump is the only one not afraid to say radical Islam and Trump is the only one who has the back of our brave law enforcement."

Another Twitter account called "LGBT support Trump" pinned a tweet that says "we represent the millions of ‪#LGBT that support ‪@realdonaldtrump." It has 81 followers.

But Barron, from the most established LGBT for Trump group, said no single entity "is going to be emblematic of all of a candidate's supporters."
"People can take Trump to task for plenty of things, but not the LGBT issue," said Barron, emphasizing that Trump departs from years of anti-LGBT hostility from Republicans. "I feel like I'm driving a Rolls-Royce after years of driving a Yugo."