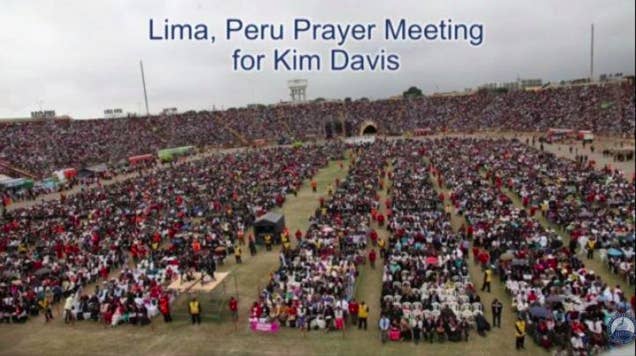 A crowd of 100,000 people is all but guaranteed to leave a trace these days: Twitter posts, Facebook updates, or media reports. But those crumbs are apparently missing from a stadium-size prayer rally that Kim Davis's lawyers said last week took place in Peru to show solidarity with the Kentucky clerk who refused to issue marriage licenses to same-sex couples.

Davis's chief lawyer admitted Tuesday that a photo the law firm had used to prove the rally happened on Sept. 13 was fake — the photo was, rather, of a religious festival held more than a year before, in May 2014.
Still, Davis's legal team on Tuesday stood by the underlying claim that prayer rallies had occurred for Davis in Peru. But details of their stories continuously shifted, and the lawyers failed to provide evidence that any prayer rally took place.
The photo came from Liberty Counsel — the law firm representing Davis and a self-proclaimed "Christian ministry." Mat Staver and several of the organization's other lawyers are defending her in a federal lawsuit that argues she should be allowed to withhold marriage licenses due to her moral objection to same-sex couples marrying.

However, the Twitter account @DCHomos and Zack Ford at ThinkProgress were the first to question the provenance of photo Staver used at the Values Voter Summit — seen above — on Friday in Washington, D.C.
The photo purports to show a massive crowd at a soccer stadium in Lima — in central Peru on the Pacific Ocean — where Christians ostensibly gathered to pray for Davis and American Christians.

On Monday, BuzzFeed News contacted Liberty Counsel, a congressman in Peru — who Davis's lawyers said announced the rally — and a leading LGBT rights advocate in Peru to ask if any of them could confirm the event took place.
"That is not true! Nobody mentioned anything about this in Peru," said George Hale, director of the Peruvian group Promsex, which advocates for human rights and a secular state. "If that would really have happened," he said in an email to BuzzFeed News, "it would have been disseminated everywhere, because everybody was talking about Kim Davis."
BuzzFeed News asked Liberty Counsel five times to provide evidence a prayer rally had occurred for Davis in Peru.
As pressure grew, Liberty Counsel posted a statement on its website on Monday afternoon claiming the photo itself was legitimate, but was not taken in Lima. "[T]he actual photograph was a different soccer stadium in Northern Peru on September 13," Liberty Counsel said. The group declined to answer questions from BuzzFeed News about which city and soccer stadium the photograph had been taken. The web page that Liberty Council posted the statement on has since been deleted.
Despite claims the photo was from this month in Northern Peru, the photo appeared to depict the Convención Nacional "Jesús te Ama y te Cambia." That event was held in 2014 in Lima.
Here is another photo — grabbed from this YouTube video — of the 2014 event at National University of San Marcos, in Lima, showing the same configuration of the stadium, orange porta-potties, seating arrangement, and other details: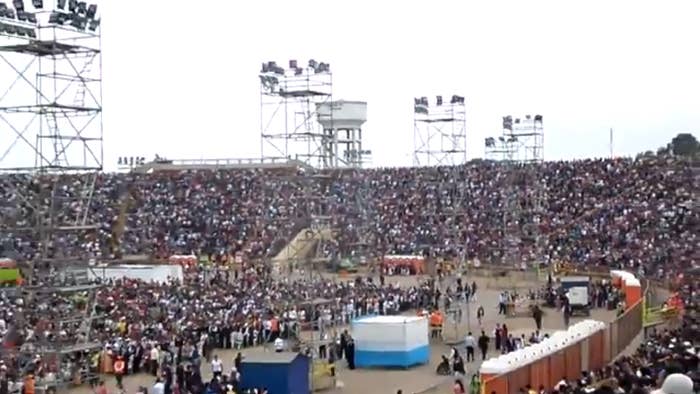 Furthermore, photos of the 2014 event in Lima and satellite images of the stadium on Google Maps also look like the same location Liberty Counsel said was in Northern Peru.
Nonetheless, Liberty Counsel's spokeswoman Charla Bansley said in an email to BuzzFeed News on Monday, "we verified the event several times with our contacts in Peru. We stand by our statement." She declined to provide additional information about how the event was verified and said further questions should be directed to Peru Congressman Julio Rosas, who the group claimed was involved with the prayer rally for Davis.

BuzzFeed News could not find examples of Rosas claiming the event occurred — Liberty Counsel apparently started this claim — but we nonetheless sent an email to Rosas asking if he believed the event occurred and he have evidence to support its existence. Rosas did not reply.
On Monday night, DCHomos found a Facebook page that showed the original photo that was later shared by Liberty Counsel. It was taken in 2014: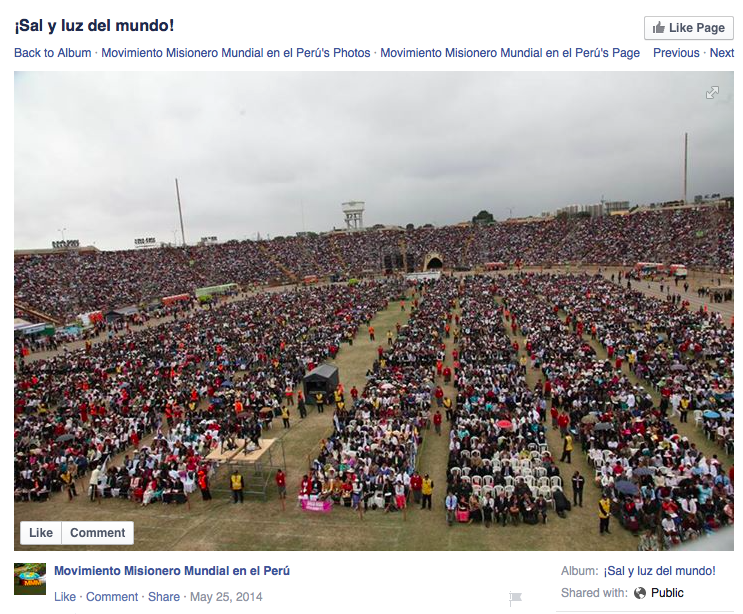 Tuesday morning, Liberty Counsel again said that the prayer rally occurred but said the photo itself was incorrect. "It now appears that while prayer meetings did occur throughout Peru, the photograph presented to Mat Staver was an honest mistake and was of a different Christian assembly in a soccer field," the press release said.

"We have no reason to puff the Kim Davis story," Staver added in a statement. "While she has obvious detractors, Kim Davis also has wide support."
An ABC News–Washington Post poll released this month found Americans overwhelmingly disagree with Davis. Sixty-three percent said she should be required to issue marriage licenses despite religious objections, and only 33% said she should not.