Deputy Clerk Says He Would Defy Kim Davis And Issue Marriage Licenses
Rowan County Deputy Clerk Brian Mason tells BuzzFeed News, "I would issue licenses," even if Clerk Kim Davis tells him not to.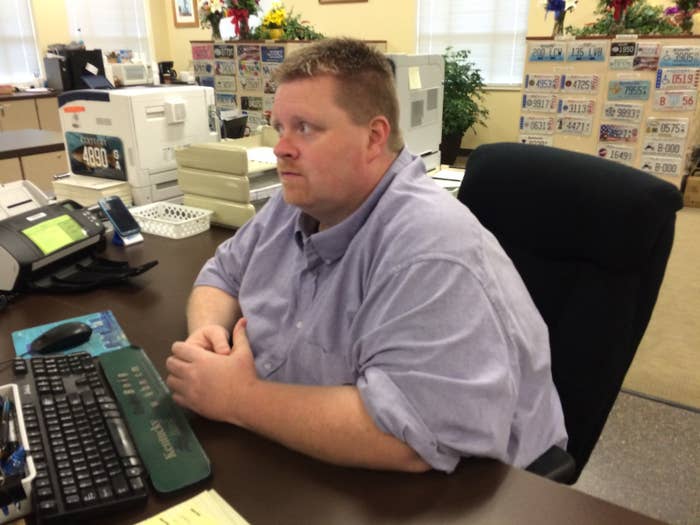 MOREHEAD, Kentucky — Brian Mason, a deputy for Rowan County clerk Kim Davis, told BuzzFeed News on Wednesday that he would issue marriage licenses even if Davis instructs him not to when she returns to the office.
"I would issue licenses," Mason told BuzzFeed News. Asked to confirm he would issue licenses even if Davis says he is not allowed upon her return to work after several days in jail, Mason said, "Yes."
Davis was jailed over the Labor Day weekend for defying a court order to issue marriage licenses and has held she would not allow her staff to issue marriage licenses either. Upon Davis's release on Tuesday, her lawyers would not confirm to reporters that she would not interfere with deputy clerks issuing licenses.

"Kim Davis cannot, will not violate her conscience," said her lawyer Mat Staver when asked what Davis would do next.

If Davis were to interfere with her deputies, it would apparently once again defy U.S. District Court Judge David Bunning, who on Tuesday released Davis on the condition that she "not interfere in any way, directly or indirectly, with the efforts of her deputy clerks to issue marriage licenses to all legally eligible couples."

On Wednesday afternoon, lawyers for Davis said she would not return to the office until Monday.
She spent Wednesday with her family, reading "hundreds and hundreds" of letters from supporters, her lawyers said.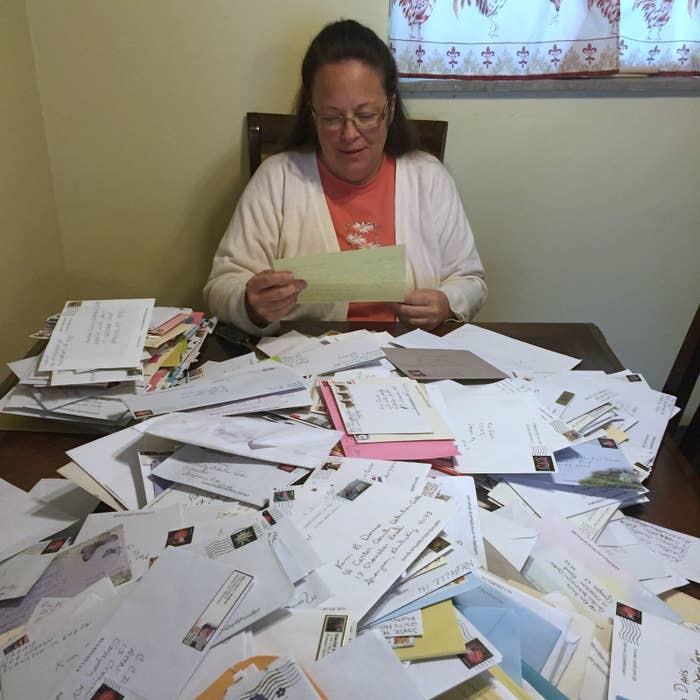 "I haven't even made a dent in the piles of letters," Davis said in a statement.
"I am overwhelmed that people took the time out of their busy lives to write and tell me that they are standing with me," she said.
"I am heartened that God's people are not huddled up in a corner, but they are standing strong. Standing begins on our knees.
"I love God, love people, and love my work. I hope we will continue to respect these values and that America remains a place where all three can live in harmony," Davis said.
On Wednesday morning, Mason also officially recorded the marriage of a same-sex couple who had obtained a marriage license and been married the day before.
Davis has argued she has a religious objection to her name appearing on the marriage licenses of same-sex couples or under the authority of her office. So instead, Davis barred all six of her deputies from issuing marriage licenses to anybody after the Supreme Court's marriage equality decision in June.
Davis was arrested Thursday for refusing to issue licenses in accordance with an Aug. 12 order from Judge Bunning. After Davis was arrested, five of her deputies, including Mason, told Judge Bunning they would issue the licenses.
Mason had always been willing to issue the marriage licenses, court records show. However, Davis instructed him to not issue licenses, and Mason held off until he was ordered by Judge Bunning to issue them on Thursday. Mason said he has issued 10 licenses total, including six to same-sex couples.
As BuzzFeed News reported, the Rowan County Clerk's Office has omitted Davis's name from marriage licenses issued in the past week — issuing them from "Rowan County" instead of under the name "Kim Davis." That raised questions from couples and deputies alike about the licenses' validity.

Staver said at a rally after Davis was released, "Whether her name is on [a marriage license issued in Rowan County] or not, it's still under her authority. … She cannot allow her name to be associated with something that conflicts with God's definition of marriage."

To be married in Kentucky, a couple must obtain a license, have the wedding officiated, and then return the license to the county clerk to have it recorded.

Mark Shrayber, who had wed Allen Corona the day before, asked Wednesday as he submitted his marriage license for recording, "So I'm legally married now?"
Mason replied, "Yes."
Mason confirmed that recorded licenses also lacked Davis's name due to a group decision of staff made in Davis's absence — which may raise many of the same questions of validity.