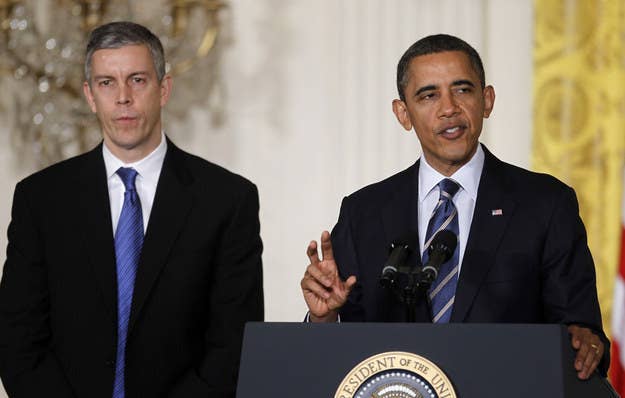 The U.S. Department of Education issued guidelines today instructing public schools to treat transgender students consistent with their identity in single-sex classes. In practical terms, the guidelines mean a student who identifies as a transgender boy should be allowed entry to a boys-only class; vice versa for transgender girls in classes designed to focus on female students.
Issued by the Department's Office of Civil Rights, the guidelines are the latest interpretation of Title IX, which bans publicly funded schools from gender-based discrimination. Federal officials had broadly extended those rights to transgender students under Title IX in April.
Today's 36-page memo responded specifically to controversy and questions around single-sex classrooms, which, critics say, can reinforce archaic gender stereotypes and use scientifically dubious methods to differentiate the educational needs of boys and girls. Backers of gender-based segregation in classrooms, which promote activities like competitions among boys and talking about emotions among girls, say the sexes learn differently.
"These are very harmful, outdated, and debunked theories about differences between boys and girls," Ian Thompson, legislative representative at the ACLU's Washington Legislative Office, told BuzzFeed News. "When you add LGBT students to the mix, clearly these rigid gender differences fall by the wayside."
The New York Times recently reported that about 750 schools in the U.S. have at least one single-sex class and 850 public schools are entirely single-sex.
The new directive applies to elementary, middle, and high schools that receive federal money. The guidelines note that a school must justify a single-sex classrooms by making a case that it will provide substantial benefit for the students and achieve an educational objective. The classes also cannot use methods that revert to stereotypes that generalize the talents, capacities, or interests of either sex.
Toward the end of the memo, the guidelines specifically address transgender students: "All students, including transgender students and students who do not conform to sex stereotypes, are protected from sex-based discrimination under Title IX. Under Title IX, a recipient generally must treat transgender students consistent with their gender identity in all aspects of the planning, implementation, enrollment, operation, and evaluation of single-sex classes."
Thompson said, "Making clear that transgender students should be able to participate in single-sex classes consistent with who they are is a positive step forward."