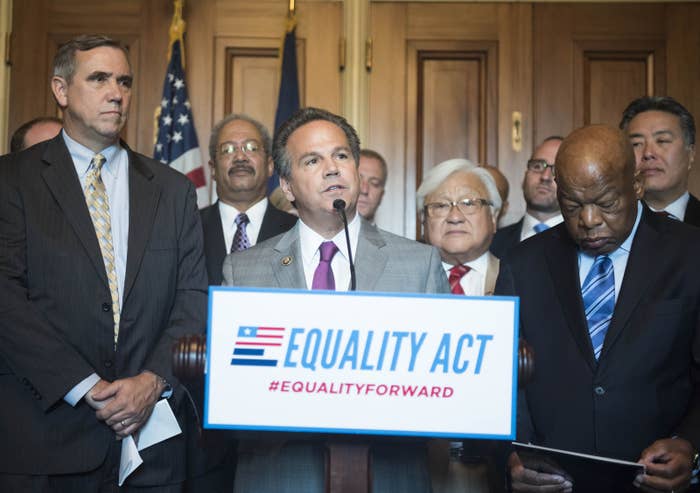 The Equality Act was introduced with gusto last summer — a cabaret of celebrity Democratic Congress members taking turns at a lectern extolling the bill to ban LGBT discrimination federally. But nine months later, the legislation languishes without a hearing.

On Thursday morning, several of those same lawmakers will press the Republican majority to finally call a hearing on the Equality Act in the House Judiciary Committee.
The committee's attention, they will argue, is the sort of process Rep. Paul Ryan promised when he took the role of House Speaker — even if actually passing the bill seems far fetched in a chamber gripped by Republicans.
"People who think it is okay to discriminate based on sexual orientation or gender identity — they can vote against the bill and should be held accountable if they do," Rep. David Cicilline of Rhode Island told BuzzFeed News in a phone call. "If they don't think this bill is the right thing, then have the courage to stand up at a hearing and say you think that LGBT people shouldn't receive full equality."
"They can vote against the bill and should be held accountable if they do."
Cicilline, the bill's House sponsor, said between 15 and 20 fellow members would attend a press conference Thursday, including House Democratic Leader Nancy Pelosi, House Democratic Whip Steny Hoyer, and House Democratic Caucus Chairman Xavier Becerra.
But the decision to hold a hearing belongs to Rep. Bob Goodlatte of Virginia, who chairs the judiciary committee. His office and committee staff did not respond to BuzzFeed News' request to comment on why a hearing has not been scheduled, or if he plans to hold one.
The Equality Act would ban discrimination on the basis of sexual orientation or gender identity by amending a band of existing laws, most notably the Civil Rights Act of 1964. A companion bill is sponsored in by Sen. Jeff Merkley of Oregon in the Senate, where it has also stagnated.
On the House side, Cicilline said he will give Rep. Goodlatte a letter Wednesday formally asking for the hearing. But, he said, "It shouldn't require a special request. It was my hope that once the bill was introduced and had a GOP co-sponsor, that would happen."
He is especially hopeful the bill could inch forward under Speaker Ryan, who pledged regular order when he assumed his current role, saying major bills should be drafted in committee.
"But that has not been the practice," Cicilline said. "I think regular order would call for a hearing on this bill. I am incredibly frustrated that Republicans have refused to take up a lot of important issues."
Naturally, Cicilline acknowledges little action is likely on numerous Democratically backed bills.
"But if your position is that anything the Republicans don't want to pass shouldn't be pushed," he said, "then we would sit around not doing very much."