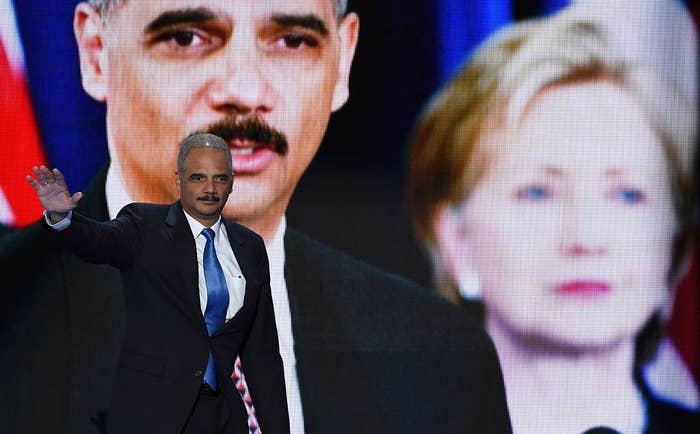 While Democrats have howled for decades that contrived, oddly drawn voting districts minimize their wins in elections, and that voter ID laws suppress votes among typically Democratic blocs, the Trump era has ushered in a growing sense of a crisis among progressives.
The situation, they say, is dire.
At a standing-room-only luncheon before the NAACP on Monday, former US Attorney General Eric Holder warned, "The right to vote is under siege."
"The Republican Party has decided to lash itself to short-term political expediency and put itself on the wrong side of history," he intoned, calling the head of President Trump's voter commission a "fact-challenged zealot."
The NAACP doesn't back political parties, officially, but at its 108th convention in Baltimore this week, Republicans were consistently portrayed as the opposition and voting rights became a leading battle cry.
An Obama official for six years, Holder linked the voting fight underway now to a conflict in Mississippi in 1964, when three activists were killed trying to register black voters.
"If we are to remain true to those who died to secure the right to vote, we must not fail," Holder warned. "It will not be easy. It will be long."
Kelly Ward, executive director of the National Democratic Redistricting Committee, tried to flip Trump's talking point that the election was rigged against Republicans.
"Gerrymandering is the biggest rigged system in America," she said.
Critics of how district lines are now drawn note that Republicans won a comfortable 10% majority of House seats last year, even though their candidates won just about 1% more votes overall across the country. They argue this lopsided outcome stems from concentrating liberal, minority voters in fewer districts while Republicans — who control legislatures in several swing states, in part due to the way districts are drawn — create new restrictions that keep their opponents from casting ballots.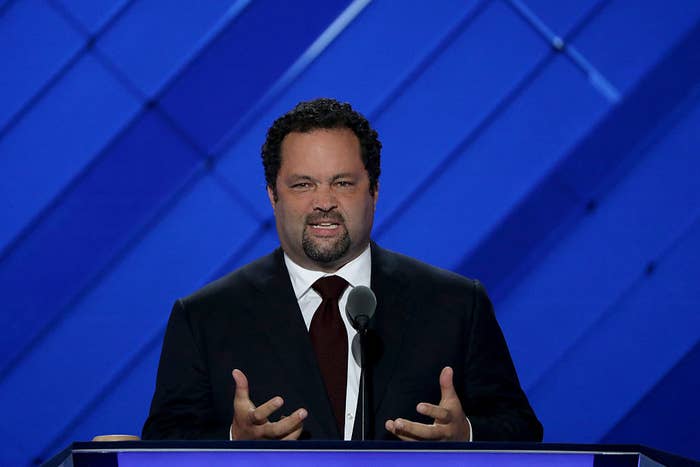 "We can get America headed back to her destiny," Ben Jealous, the NAACP's former president, told more than a thousand attendees in a vast underground hall on Monday morning. "And it starts with mass voter registration."
But signing up new voters is not, in itself, enough, the speakers warned. They telegraphed a long game to reverse requirements that make citizens furnish extensive documentation to register, and they vowed to exert pressure on Republican-controlled committees who draw districts.
In a confab Sunday about voting rights, lawyers unfurled a laundry list of goals: same-day registration, registering votes when they obtain driver's licenses, pre-registering high school seniors, to name a few.
Dale Ho, the voting rights director of the ACLU, which is nonpartisan, talked up a possible ballot measure in Florida to restore voting rights to 1.6 million people who have served out criminal sentences.
"Just think about what that could mean," said Ho, who argued it could be a model for other states to add millions of voters.
Most urgently, speakers hailed the seven lawsuits to stymie Trump's new Presidential Commission on Voter Integrity.
Rev. Dr. Wendell Anthony tore into Trump's claim that roughly 3 million people voted illegally in the 2016 election — a figure with no evidence to support it. "If you want to fix something in the election, start with the people in your own cabinet," Anthony thundered to applause. "If you want to fix something, start with the people on your commission."
He assailed the commission's chair, Kansas Secretary of State Kris Kobach, who has also peddled the unsubstantiated claim of mass voter fraud.
The NAACP membership will vote Tuesday on a resolution that urges Trump to disband his commission on "so-called 'voter fraud'" and replace it with a new panel to study voter suppression.
The commission will drum up the appearance of legitimacy for those claims of voter fraud, argued Vanita Gupta, who was head of the Civil Rights Division of the US Justice Department under Obama.
Gupta, now the head of the Leadership Conference on Civil and Human Rights, a nonpartisan group, said Monday the Trump administration may use the commission's findings to push federal and state bills that require a cross-checking system to de-register voters when the same name appears twice — even if they're different people.
"Everything is at stake," she said, calling the commission's work an attempt to "purge those rolls. We have to stop it."
But Gupta and others argue public outcry and organizing — not just courts — will be critical. "With our allies across the country, we will build the collective power to save the soul of our country," she said in a cheerleading moment to a clapping crowd. "Together we are going to win."
Among the longest-term challenges will be redrawing districts, according to Ward, who said her group's highest priority is a five-year game in Pennsylvania, which is set to update its district maps after the next census.
"We have to make sure Republicans don't run the table on us in 2021," she told BuzzFeed News.
In the past, Pennsylvania's Republican-controlled legislature drew district maps to contain progressive black voters in urban districts in a way that ensured Democrats won a small handful of seats by wide margins. The state sent 13 GOP members and five Democratic members to Congress last year — even though, Ward said, the overall votes between Democrats and Republicans were close.
The strategy in that critical state for future presidential races involves Democrats keeping the governor's office, so a Democrat can veto any bill that would allow Republican-slanted gerrymandering, and picking up seats in the legislature. "We have two more election cycles, and we can't let Republicans run the process," Ward said.
Ward also extolled old-fashioned protests, like those in Georgia recently, as critical for other swing states where she said Democrats need to overhaul districts: Ohio, Michigan, North Carolina, and Virginia.
"These legislators can't think they'll disenfranchise voters and get away with it."
CORRECTION
The Leadership Conference on Civil and Human Rights didn't file one of the seven lawsuits against the president's voter commission. A previous version said the group had.