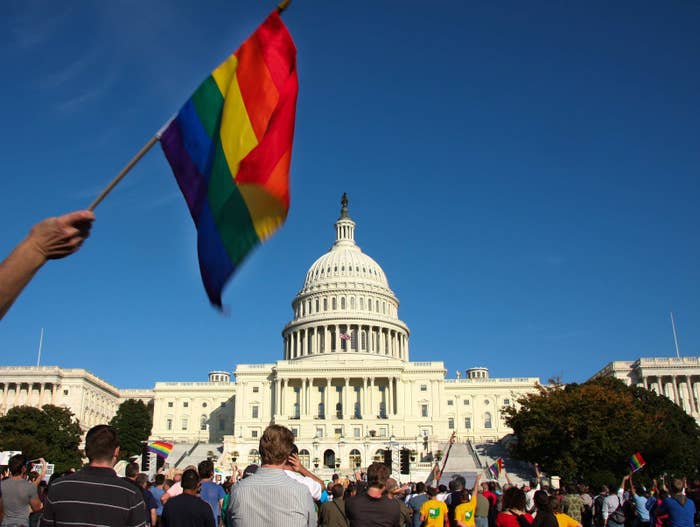 Democrats in Congress plan to introduce broad legislation this week to protect LGBT people from discrimination — including in housing, workplaces, schools, and public accommodations. In effect, the Equality Act would extend the same raft of rights to LGBT Americans that are currently afforded to other protected groups, including people of color, under the Civil Rights Act of 1964 and other existing federal laws.

The bill marks the first major attempt by Democrats to advance LGBT rights in both chambers of Republican-led Congress since the Supreme Court ruled in favor of marriage equality in June.
The measure has been long in the works and attempts to get traction where a more narrowly tailored LGBT workplace nondiscrimination bill — known as ENDA — had faltered for years.

Conversely, the measure's introduction coincides with a committee vote on a Republican-backed bill to protect people and organizations who disagree with same-sex couples marrying.
BuzzFeed News obtained a fact sheet distributed by senators that details how each section of the bill would amend federal law to include LGBT protections.
Rep. David Cicilline outlined goals for the LGBT-rights bill on Monday in a "dear colleagues" letter that requested co-sponsors. The Rhode Island congressman said he intends to introduce the measure later this week while Sen. Jeff Merkley of Oregon files a companion bill in the Senate.
"In most states, a same-sex couple can get married on Saturday, post pictures on Facebook on Sunday, and then risk being fired from their job or kicked out of their apartment on Monday," said Cicilline's letter. "A majority of states in our country do not have laws that protect LGBT individuals against discrimination."
"We need a uniform federal standard that protects all LGBT Americans from discrimination," he said.
At a noon press conference on Thursday, lawmakers will announce details of the bill in the Lyndon Baines Johnson Room of the U.S. Capitol, staff in Sen. Merkley's office told BuzzFeed News.
Provisions of the bill to ban discrimination in places of public accommodations may draw the most scrutiny, and elevate local debates over faith. Religious freedom bills in Indiana and Arkansas became national lightning rods this spring, raising disagreement about whether business owners selling cakes or flowers to same-sex couples who are marrying compromise the moral rights of Christians.
But Allison Steinberg, a spokeswoman for the American Civil Liberties Union, which advocates for LGBT rights and religious liberties, argues this should be an open and shut issue.
"Open for business means open for all," Steinberg told BuzzFeed News. "A public serving business owner can't turn someone away because of their race, color, religion, sex, or national origin, nor should they be allowed to deny someone service because of their sexual orientation or gender identity."
Sixty-nine percent of American voters want a federal law that prohibits discriminating against someone based on sexual orientation or gender identity, a poll in April found.
Despite Democrats finding the wind at their backs in terms of public opinion, it is unclear if their nondiscrimination bill will have sufficient backing from Democrats to constitute a full court press in the Republican-led chambers, or if, rather, the bill amounts to a liberal building block for LGBT rights over the next few years.
Four times this year, a majority of the GOP-controlled senate has voted for LGBT rights legislation, but no bill has received the 60 votes needed to overcome a threatened filibuster. Still, those majorities may reflect a warming trend for LGBT legislation.
Last week, the Equal Employment Opportunity Commission ruled that sexual orientation-based discrimination was protected under existing civil rights law, echoing an earlier decision based on gender identity-based discrimination. The decision applies to the federal government and guides, but does not control, courts facing similar disputes.

Taking a step further, the LGBT rights bill would "provide explicit, consistent protections for sexual orientation and gender identity," Cicilline's letter said.
The Advocate outlined areas of law that would be affected by the act — most notably by amending portions of the Civil Rights Act of 1964.
On Tuesday, BuzzFeed News obtained fact sheet distributed by Sens. Markley, Tammy Baldwin, and Cory Booker that details how each section of the bill would amend federal law to include LGBT protections.
That fact sheet is posted in full below.
It shows the Equality Act would amend numerous statutes that already protect classes of people — such as civil rights laws banning discrimination based on a person's national origin, religion, or race — to offer the same protections to people based on their gender identity and sexual orientation.
Transgender students could use single-sex facilities in public schools — such as restrooms — in accordance with their gender identity.
While adding those classes to the Civil Rights Act of 1964, the new legislation would also expand the types of public accommodations covered by the five-decade-old civil rights law — thereby including retail stores, banks, and nearly all types of businesses that provide goods, services, or programs.
The bill attempts to preempt religious liberty disputes by stating the federal Religious Freedom Restoration Act cannot be used as legal defense to discriminate against any class of people covered by civil rights law.
In education, the act would amend Title IV of the Civil Rights Act to protect people based on their gender identity and sexual orientation, thereby barring education institutions that receive federal money from discriminating against LGBT students
Likewise, a portion of the bill concerning federal funding would amend Title VI of the Civil Rights Act to include sex, gender identity, and sexual orientation to the list of protected classes that could not be discriminated against as recipients of financial assistance, child welfare, healthcare, and other federally backed programs.
In employment, Title VII would be amended to include LGBT people while leaving existing religious exemptions intact. LGBT people would also be added to the Government Employees Rights Act of 1991 and the Civil Service Reform Act.
The Fair Housing Act would be reformed so that LGBT renters and buyers could not be discriminated against in leasing or purchasing homes, securing loans, or using brokerage services. In addition, the Jury Selection and Service Act, and Equal Credit Opportunity Act, would include LGBT people as protected classes.

The bill would also help settle local disputes around the country involving transgender students using public school locker rooms and restrooms. The measure would build on recent interpretations by the Obama administration that protects transgender students under Title IX, which bars discrimination on the basis of sex, clarifying that students could use single-sex facilities in schools in accordance with their gender identity.
For example, a transgender boy could use the boys restroom in public schools — which some school districts currently allow and others explicitly ban, a discrepancy that has led to lawsuits.

"There is an unacceptable patchwork of state-level protections for LGBT people, and more than half of LGBT Americans live in a state that lack fully-inclusive nondiscrimination laws," Chad Griffin, president of LGBT advocacy group Human Rights Campaign, said in a statement to BuzzFeed News.
"A federal nondiscrimination bill will create permanent and clear protections to ensure that all employees are hired, fired or promoted based on their performance," he said.
The bill is set to be introduced the same week a committee vote is scheduled on the First Amendment Defense Act. That GOP-led bill would bar the federal government from revoking tax exemptions or denying benefits because an individual or organization believes marriage should be reserved for opposite sex couples.

Sixty-nine percent of American voters — including 51% of Republicans — want a federal law that prohibits discriminating against someone based on sexual orientation or gender identity, according to a national poll released in April. The poll was conducted by Greenberg Quinlan Rosner Research and commissioned by the Human Rights Campaign, an LGBT advocacy organization.

On the issue of religious freedom, a Reuters poll in April found 54% of Americans believed a business should not be allowed to deny services based on their religious beliefs, while only 28% said a business should be allowed to do so.