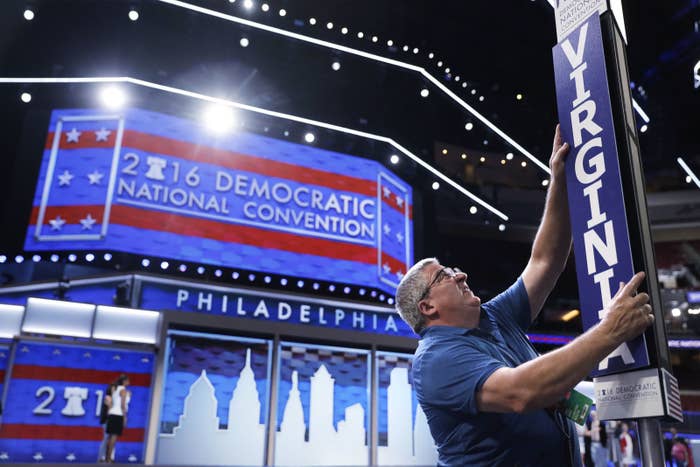 PHILADELPHIA — When the Democratic Party released an initial draft of its platform, a document that was composed this spring by a handful of presidential campaign and party appointees, LGBT people were mentioned 11 times.

But by the time a full platform committee — which had hundreds of people, including LGBT policy wonks — finished a final draft this month, LGBT people were mentioned more than twice as much, carving out the party's boldest stance on LGBT rights to date.
On Monday, Democratic delegates are poised to formally adopt those planks with the full Democratic platform, charting a national agenda that ranges from expanding the legal interpretation of civil rights laws so that they protect LGBT people to defending their access to public spaces — a nod toward blocking anti-transgender bathroom regulations promoted by Republicans.
"This is certainly the most progressive LGBT platform in the party's history and the most progressive platform overall," Mara Keisling, a member of the platform committee who helped advance several LGBT amendments, told BuzzFeed News in an interview.
Keisling is also the executive director of the National Center for Transgender Equality but spoke in her personal capacity.
But the initial draft omitted LGBT issues that look like blind spots in the context of major current debates and policies advanced by the Obama administration.
Most notably, the first draft lacked mention of applying bans on sex discrimination — which were established by civil rights laws — to also ban discrimination on the basis of gender identity and sexual orientation.
While that matter may seem arcane, it has been among the handful of LGBT advances at the federal level while Democrats are outflanked in Congress. Federal agencies have aggressively advanced these views to protect transgender students and workers, including their access to restrooms — and Hillary Clinton's platform has pledged to build on that legal strategy.
"I saw the first draft of the platform, and I didn't think, "This pisses me off,'" said Keisling. "Instead, I looked at it and thought, 'This is how we can fix it.'"
In May, the party announced a 15-member committee to draft the platform, allocating 75% of the committee's seats to the presidential campaigns, awarding the seats proportionally based on Hillary Clinton's and Bernie Sanders' vote tallies.
That draft committee produced a version on July 1 that espoused several major LGBT goals, including stanching anti-transgender violence and blocking anti-LGBT bills in state legislatures while working to pass a federal nondiscrimination law.
Proposals to expand the platform the next week had only a few dissenters, said Keisling, who added, "These were not controversial votes."
Keisling said that numerous delegates, including San Francisco Mayor Edwin M. Lee, introduced amendments to expand the LGBT planks at a meeting on July 9 and 10 in Orlando, Florida. Among them was one addressing the civil rights law: "Democrats will fight for the continued development of sex discrimination law to cover LGBT people," the final draft states.
The final draft also adds language about equipping the Census Bureau to track data on LGBT people and other historically undercounted populations. Another plank notes that "detention can be unacceptably dangerous" for LGBT people in regards to immigration enforcement.
Other new elements include reviewing records for soldiers discharged due to their sexual orientation, and, in foreign policy, considering LGBT rights as a matter of human rights.
The Democratic Party, Hillary Clinton's campaign, and Bernie Sanders campaign did not comment to BuzzFeed News about the final platform or elements not included in the first draft.