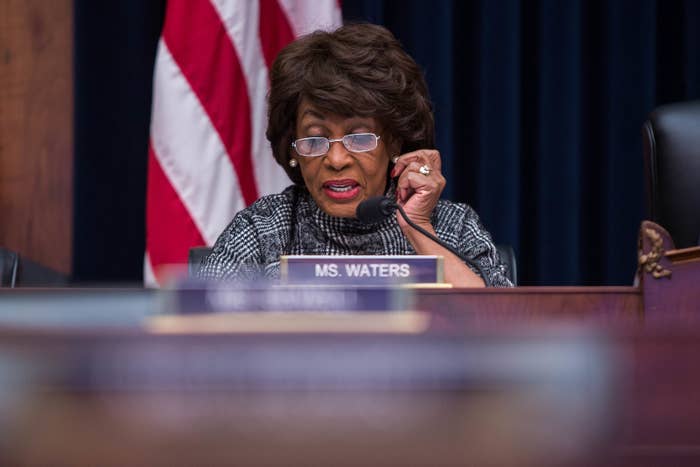 Four Congressional Democrats urged financial industry leaders on Wednesday to condemn Steve Bannon's appointment as the White House's chief strategist under President-elect Donald Trump, saying Bannon is a "bigot" who will "influence every major decision the next President makes."
"This appointment will put a bigot beloved by white supremacists and supported by the American Nazi Party and the KKK a few steps from the Oval Office and empower him to influence every major decision the next President makes," says the letter, signed by Rep. Maxine Waters of California, Rep. Keith Ellison of Minnesota, Sen. Elizabeth Warren of Massachusetts, and Sen. Sherrod Brown of Ohio.

Prodding action from nine financial services executives, the lawmakers continue, "It is a clear sign that bigotry — against women, against African-Americans, against Hispanics, against Jews and Muslims — will play a central role in the Trump Administration."
"Nothing could be further from the truth, and it's irresponsible for anyone to even make such a baseless accusation," said Jason Miller, communications director for the transition. "Here's what folks need to know about Steve Bannon — he's worked with people of all backgrounds and has embraced diversity throughout his career, not only as a naval officer, a VP at Goldman Sachs and the co-founder of a media empire — partnering with Andrew Breitbart, who was Jewish. Bannon is also one of the architects of President-elect Trump's urban renewal policy agenda and a driving force behind the campaign trips to Flint and Mexico City."
He added that Bannon helped Trump "grow his support with African-American and Hispanic voters as compared to the Republican ticket four years ago."
The executive chairman of Breitbart News, Bannon once referred to the outlet as "the platform for the alt-right" — a movement of white nationalists who have rejoiced in Trump's election victory.
The letter cites examples of the site posting what the lawmakers call "racist, sexist, and bigoted pieces."
"This moment is a test of the moral leadership of the banking and finance community," the letter says. "If you fail to speak up now, it will only empower the Trump Administration to go further down this dangerous path."
"As leaders in the business community, you have a moral obligation to speak out against this appointment as contrary to the values of this country and the values of your industry. We urge you to condemn this appointment immediately and without reservation."