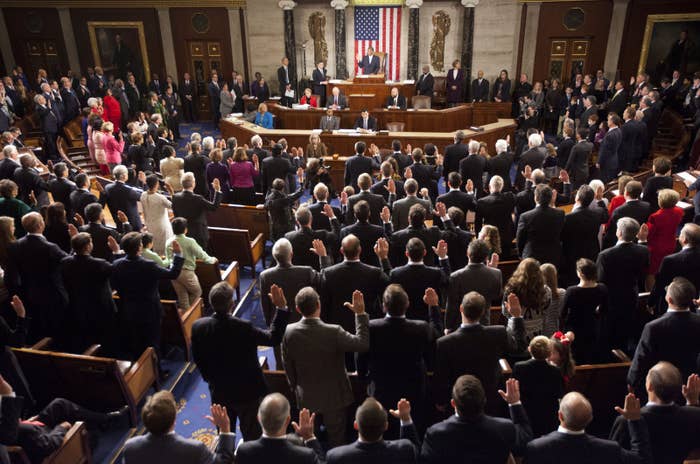 The Congressional LGBT Equality Caucus lost nearly half of its membership since last year — apparently the result of new dues required for membership.
For dozens in Congress, enrollment in the LGBT Equality Caucus was seen as a credential they could take home to districts as proof of backing LGBT rights, even without passage of pro-LGBT legislation.
Joining the LGBT Equality Caucus was free until this year. But now that members have been asked to pay $400 dues this year for the first time, dozens either did not rejoin or failed to respond to invitations.
Membership was 114 at this time last year; 51 members who returned to Congress this year had not signed up for the caucus at publication.
"We've invited everyone who is in office, regardless of their party, to join the equality caucus again this year," Brad Jacklin, the executive director, told BuzzFeed News. "We have circulated 'dear colleague' letters and done a fair amount of office-to-office outreach."
The first invitations went out on Jan. 13, said Jacklin.
The dues are hardly high by the standards of congressional caucuses. The $400 membership dues are lower than most if not all other caucuses, and a fraction of the popular Progressive Caucus, which charges members $2,000. The Sustainable Energy and Environment Coalition charges $850 to $2,000. Dues come from each offices' official reimbursement accounts, which range from about $1 million to $1.5 million annually.
Jacklin is "pleased with the response" of members who rejoined and some who have signed on for the first time, but, he said, "I can't speak to why any office decided to join and not join."
One member who joined those pricier caucuses but whose name is missing this year from the roster of the LGBT caucus is Rep. Jim McDermott, who represents most of Seattle, among the highest LGBT-populated per capita cities in the country. His official congressional website features a page dedicated to LGBT issues. Under a photo of McDermott before a rainbow pride flag, the lead paragraph says, "Jim is a member of the Congressional LGBT Equality Caucus – a group committed to achieving the full enjoyment of human rights for LGBT people in the U.S. and around the world."
Rep. André Carson, who issued a press release when he joined the caucus in 2008, trumpeted his role and the caucus's goals "combating hate crimes and employment discrimination." Carson too has not re-enrolled.
Rep. Joseph Kennedy III, who marched in a pride parade this past summer with his former roommate Jason Collins, who was the first out athlete in the NBA, also dropped off the caucus' roster this year.
Another past member whose name was missing this year was Rep. Carolyn Maloney, despite her Congressional webpage declaring, "She is a member of the LGBT Equality Caucus and a strong supporter of anti-discrimination legislation." After BuzzFeed News sent Maloney's office an inquiry about why she was not listed on the caucus' membership, a spokesperson replied to say she has renewed her membership.
The three other members' offices did not respond to requests for comment on their names missing from the caucus membership by the time this article was published.
The caucus had no dedicated paid staff when if was co-founded by out lawmakers Sen. Tammy Baldwin and Rep. Barney Frank in 2008. Jacklin, who began in 2013, was paid for the last two years by the caucus' seven chairs and seven vice-chairs. The dues from general members will go toward covering Jacklin's salary.
The full list of congress members who have not re-joined the Congressional LGBT Equality Caucus:
Earl Blumenauer, Michael Doyle, Alcee L. Hastings, Beto O'Rourke, Charles Rangel, Eric Swalwell, Karen Bass, Xavier Becerra, Suzanne Bonamici, Robert Brady, Michael Capuano, Tony Cárdenas, André Carson, Matt Cartwright, Kathy Castor, Joaquin Castro, Yvette Clarke, Gerald Connolly, John Conyers, Joe Courtney, Peter DeFazio, Keith Ellison, Eliot Engel, Anna Eshoo, Tulsi Gabbard, Janice Hahn, Brian Higgins, Steve Israel, Eddie Bernice Johnson, Henry "Hank" Johnson Jr., Joseph Kennedy III, David Loebsack, Zoe Lofgren, Stephen Lynch, Carolyn Maloney (Maloney's office said she was signing up after being contacted for comment by BuzzFeed News), Doris Matsui, Betty McCollum, Jim McDermott, Gwen Moore, Patrick Murphy, Bill Pascrell, Chellie Pingree, Lucille Roybal-Allard, Raul Ruiz, Linda Sánchez, John Sarbanes, Louise McIntosh Slaughter, Adam Smith, Paul Tonko, and Juan Vargas.
Rep. Michelle Lujan Grisham had joined the caucus and 51 former members had not signed up. Due to a mistake by a source and a counting error, the article said Lujan Grisham was one of 53 Congress members who had not signed up.