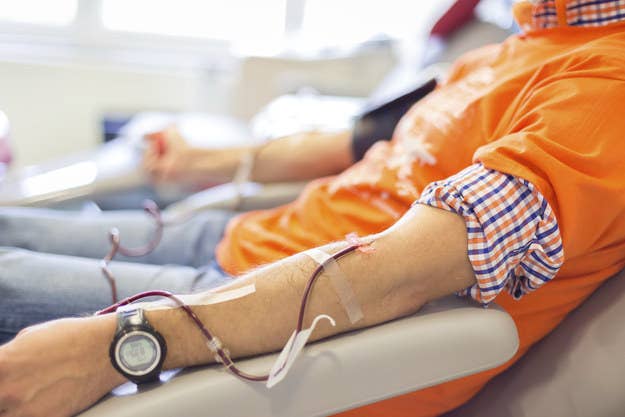 Signaling what may be the end of an era, the Obama Administration's Health and Human Services Advisory Committee on Blood & Tissue Safety & Availability voted 16-2 today to allow men who have abstained from sex with another man for the past year to become blood donors.
"The system, in my mind, has been very successful, in part, I believe, because the public has trust in the system and the decisions we make," said Jay Menitove, chairman of the advisory group, as reported by Bloomberg Businessweek. "To maintain that trust and compliance on the part of the public, it is time to modernize."
The current federal policy bans men who have had sex with men at any point since 1977 from donating blood. The policy was established during the early years of the HIV/AIDS crisis.
The committee advises the Secretary of the Department of Health and Human Services on issues related to blood, tissue, and organ donations.
The American Red Cross, the American Association of Blood Banks, and America's Blood Centers praised the vote on today's recommendations.
"We believe the current FDA indefinite blood donation deferral for a man who has sex with another man since 1977 is medically and scientifically unwarranted," says a joint statement obtained by BuzzFeed News. They say that today's recommendation to instead mandate a one-year abstention from sex between men from donors is "consistent with our joint position." "The blood banking community strongly supports the use of rational, scientifically-based deferral periods that are applied fairly and consistently among blood donors who engage in similar risk activities," says the groups, adding, "We believe all potential donors should be treated with fairness, equality and respect."
Taking that advocacy one step further, Gay Men's Health Crisis (GMHC), a public health nonprofit based in New York, says that this recommendation should help move toward setting new standards for blood testing and removing the ban entirely.
"We believe this deferral is a step in the right direction," Anthony Hayes, managing director of public affairs and policy for GMHC, told BuzzFeed News by phone. "However, the FDA should put into place the highest standards of testing for our blood supply, which will make a deferral of any kind unnecessary." Hayes says the outright ban on men who have had sex with men donating blood "assumes someone who is gay has HIV" and "ignores the fact that there are hetrosexual American who have HIV and AIDS. "
The American Civil Liberties Union (ACLU), while supporting the recommendation as "promising," also expresses concern that a one-year deferral would be an imperfect long-term policy. ACLU legislative representative Ian Thompson says in a statement: "The proposed one-year deferral will prevent two men who maintain a committed, monogamous relationship from ever donating blood. This proposed policy does not distinguish between high risk and safer sex practices." He adds, "Criteria for being a blood donor should be based on science, not discriminatory stereotypes and assumptions."