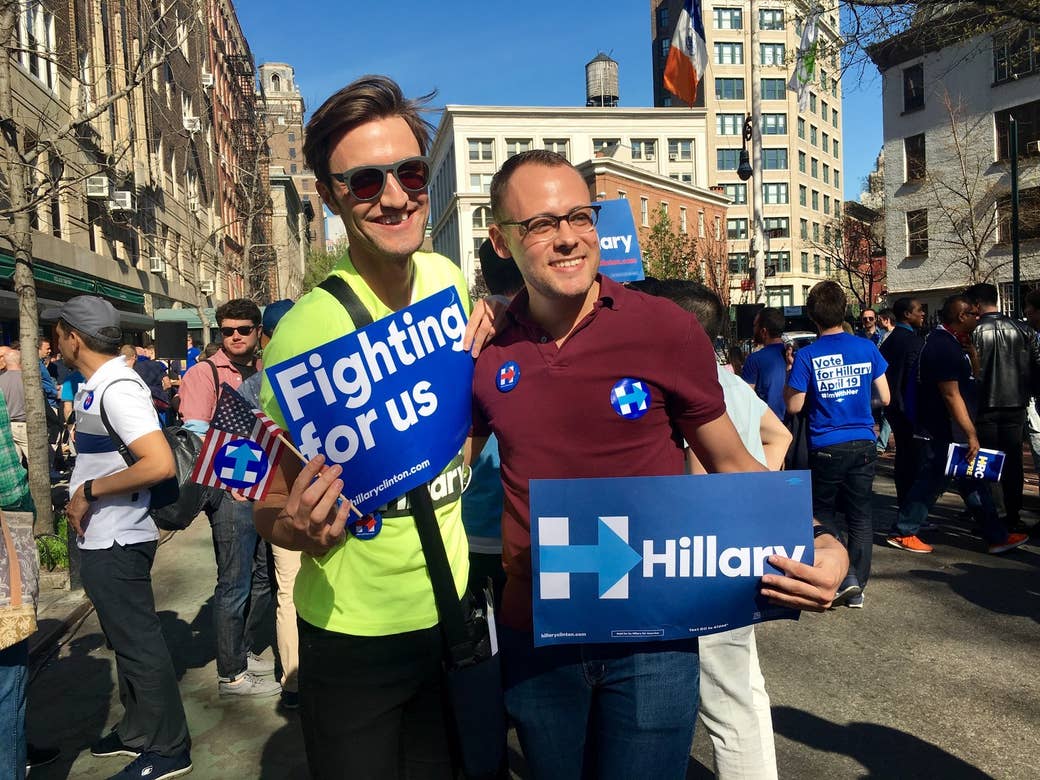 The 300 or so people hollering for their candidate in Manhattan's West Village on Sunday were mostly in their 20s and 30s, they were mostly white, and the men outnumbered women by roughly five to one.

Based on those demographics, it looked like a prototypical Bernie Sanders crowd. But this was a rally for Hillary Clinton — and these younger fans were mostly gay.
Attempting to rebound from a series of recent primary defeats, Clinton backers want to reverse Sanders' momentum by trouncing him in New York's primary election, a state where voters remember Clinton as their former U.S. senator and have given her a lead in early polls. The campaign hopes to expand that margin on Tuesday — despite a frenzy of urban support for Sanders — in part by locking down LGBT New Yorkers, who have long been Clinton's stalwarts at the ballot and bank.
"Get out on Election Day, and make sure she wins in a landslide!" New York City Councilmember Corey Johnson, a gay representative of the LGBT-populous neighborhoods on Manhattan's west side, bellowed into the mic.
Johnson stood in front of two giant rainbow "H" logos on a stage pointedly located outside the front door of the Stonewall Inn, a landmark where riots nearly 50 years ago catalyzed the contemporary LGBT-rights movement.
"They are one of her strongest sources of support. They are a key group for us."
Clinton campaign staff told BuzzFeed News they have focused LGBT outreach for the state in New York City. "The LGBT population is very concentrated in the five boroughs," Dominic Lowell, the campaign's LGBT outreach director, said last week. "They are one of her strongest sources of support. They are a key group for us."
The campaign has circulated 22,000 pieces of literature promoting her record on LGBT rights, run banner ads on gay blogs with a large local readership, and pinpointed LGBT neighborhoods for canvasses. Numerous LGBT groups have helped with outreach such as wrangling volunteers and staffing phone banks, including the Stonewall Democrats and Human Rights Campaign.
The audience at Clinton's Manhattan rally on Sunday cheered with gusto — like audiences at her rallies in the city's other four boroughs — but still, the turnout was a tiny fraction of a Sanders rally Sunday across town in Brooklyn's Prospect Park.
"Whoa … our largest rally yet," the Sanders campaign said in a tweet, which pegged attendance at 28,356 attendees.
While Sanders has harnessed the enthusiasm of many young voters, the gap between the Clinton campaign and younger voters in New York City has at times seemed strained.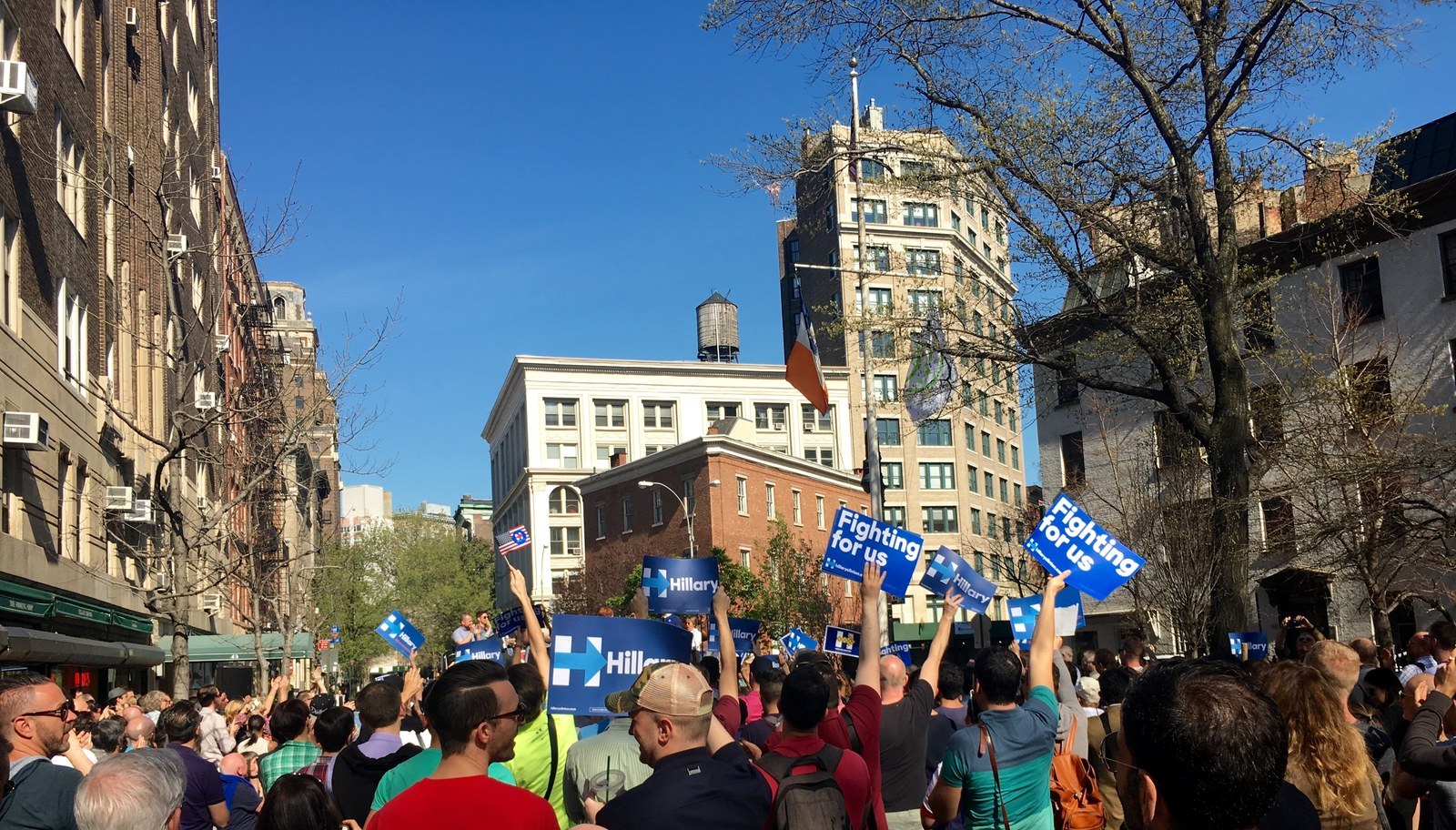 "We need you to tweet, and Instagram, and Facebook — whatever else the kids have come up with," former City Councilmember Christine Quinn told the crowd, looking around and searching to name another social media platform.
"And Snapchat!" she declared.
The Sanders campaign did not reply to BuzzFeed News's request to comment on its efforts to mobilize LGBT voters in New York. Whether it sees the LGBT population in New York as key for the primary is unclear.
But the numbers of those voters are impossible to ignore. New York has the third-largest population of LGBT people in the United States, with roughly 570,000 LGBT adults, according to estimates based on 2013 Gallup survey data. Nationally, that population is three times more likely to lean Democratic than Republican, again according to Gallup's research.
Does Clinton have an edge with these voters? Even her supporters disagree.
"I think that LGBT people are for Hillary, especially in New York, because they had experience with her as their senator," Jonathan Pearson, 29, told BuzzFeed News as attendees left her rally. As a gay man, he said he can personally relate to Clinton, who was pummeled by conservatives during her husband's administration and has risen nonetheless.
"I know what it's like to be marginalized," he said. "I think she faced a double-standard. She can't do anything without criticism when others are given a free pass."
Data on Clinton's LGBT support is limited, but she has prevailed over Sanders in some primary contests with heavy LGBT representation.
In the famously gay beach town of Provincetown, Massachusetts, Clinton won about 64% of the Democratic primary vote this year. In Miami Beach, Florida, she took about 66%. Likewise, in the LGBT enclave of Wilton Manors, Florida, she won over 70%.
Voter polls rarely break out LGBT results — it's too small a sample within most surveys to be statistically significant — but Community Marketing Incorporated, an LGBT market research firm, released the results of a national poll of likely LGBT voters on Feb. 15 that found Clinton leading. Among likely LGBT voters, Clinton got 48% of the vote to Sanders's 41%.
Not just appealing for those voters, Clinton has enlisted a bevy of celebrity and political surrogates to maintain a calendar of fundraisers.
Among the ambassadors is Billie Jean King, the former tennis star, who told BuzzFeed News in a phone call Friday night the she has flown to Iowa and New Hampshire, making three stops a day both to rev up volunteers and raise money. "There's a lot of driving," she said.
Now helping Clinton in her home state of New York, King said she believes LGBT people tend to support Clinton in part because they've seen her targeted in "witch hunts."
"I think it helps our community to have compassion for her," she said. But moreover, "We think she is the most qualified. It's a no-brainer. Obama has been the best thing that ever happened to our community, and she is going to continue that."
King has raised money in the city, appearing in March with fellow lesbian celebrities Rosie O'Donnell and Cynthia Nixon in a posh downtown Manhattan fundraiser.
Clinton's campaign said its LGBT Finance Council, one of several fundraising committees in the campaign, is the largest of it finance councils and has raised the most money. But it did not provide figures.
"She said she evolved. That's what I want to hear," said Billie Jean King.

King added she was glad Clinton "has evolved" on same-sex marriage, tacitly acknowledging one of the candidate's weaker points running against Sanders on an LGBT-rights platform.
Sanders has stressed that he supported marriage equality before Clinton, pointing to his vote against the Defense of Marriage Act in 1996.

Clinton supported a partial repeal of that law in 2008, but she did not state her support for full marriage equality until 2013, when she famously explained, "I evolved over time."
"She said she evolved. That's what I want to hear," King said.
King and numerous other Clinton supporters touted Clinton's tenure as secretary of state, when she delivered a speech at the United Nations in Geneva in 2011 proclaiming LGBT rights are human rights. In her current White House run, Clinton also issued a policy paper detailing her vision for federal and foreign LGBT rights.
But Clinton has flummoxed LGBT supporters at points during this campaign, initially claiming in an interview that DOMA was a defensive action attempting to stop a constitutional amendment banning same-sex marriage — a claim for which BuzzFeed News found no contemporary evidence. More recently, she also mischaracterized former First Lady Nancy Reagan as starting a national dialogue about AIDS — a flap that led Clinton to apologize and raised questions about whether she had fully engaged with LGBT issues before they were political advantageous.
Still, many supporters believe her pragmatic, unrushed approach to policy change will be better suited to navigating a president's limited authority.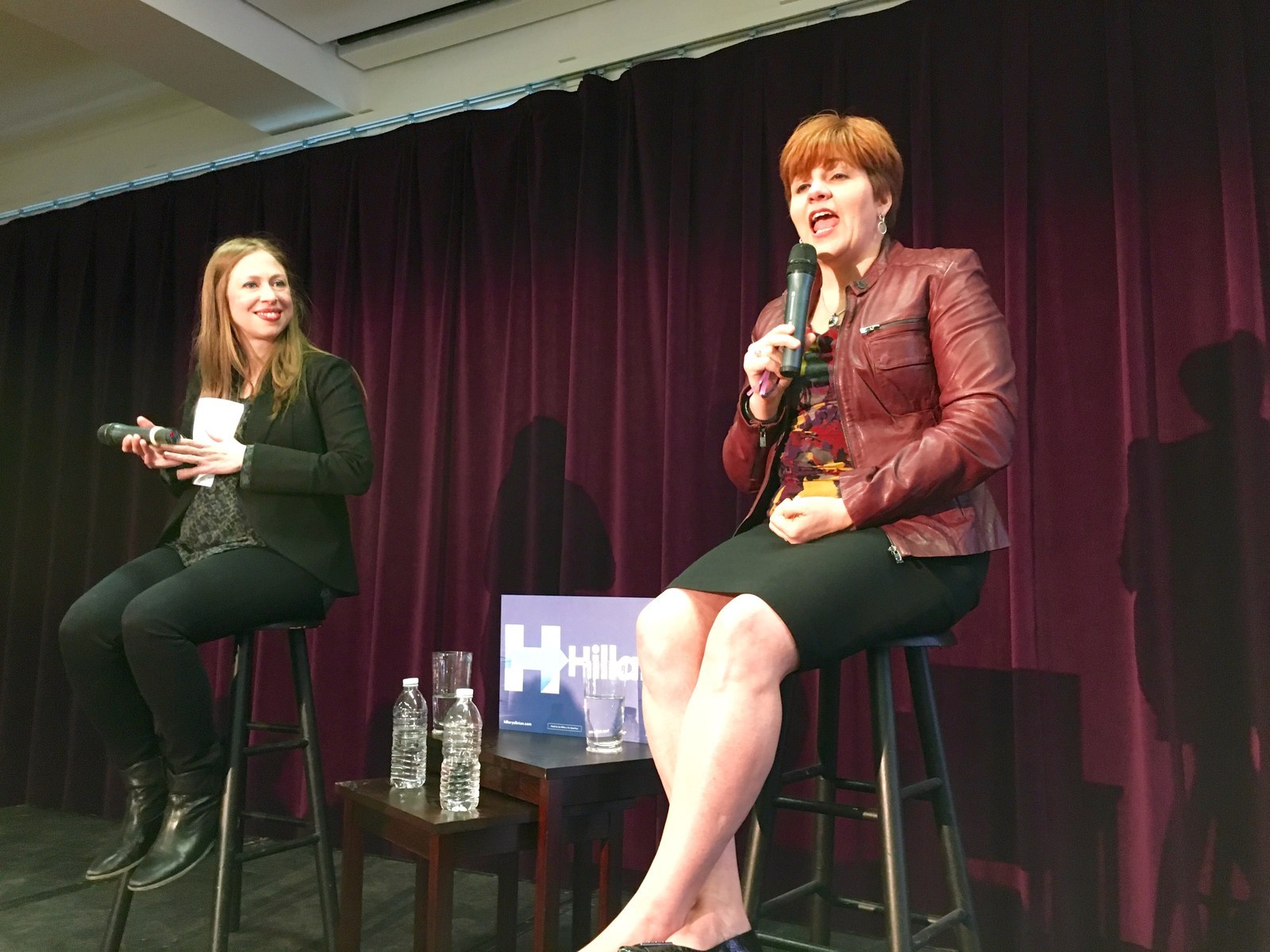 That was key for Jane Marlow, who wore an "Out and ready for Hillary" T-shirt at an event featuring Chelsea Clinton at the LGBT center in Manhattan last week. Marlow praised Clinton's UN speech and forgave President Bill Clinton's signing of DOMA, saying Hillary can't be responsible for unavoidable political compromises made by her husband.
"She is strategic and incremental," said Marlow, who argued Hillary could maintain Obama's LGBT agenda in courts, federal agencies, and foreign governments. "She knows where she needs to go and the steps in between."
But not all LGBT Clinton supporters think she actually has a leg up with LGBT voters. Andres Batancur, 36, for example, said, "I think it's equal," then pausing. "I honestly think it's equal."
Nevertheless, Clinton performed especially well among New York's gay, lesbian, and bisexual voters in her 2008 presidential run. They favored Clinton over Obama by 23 percentage points in New York and 34 percentage points in California, the only states that asked voters about their sexual orientation in exit polls, the New York Times reported.
Of course, Clinton ultimately lost that primary race that year.
Logan Yost, 34, was in New York at the time and attended the Clinton rally on Sunday wearing a shirt printed with Clinton and a rainbow.
"She wasn't for marriage equality, but neither was Barack Obama, and I voted for him," he told BuzzFeed News.
"Some people are vehemently against her," he acknowledged, "but if you can't admit that she's the most qualified person to run for president in your lifetime, you are full of crap."