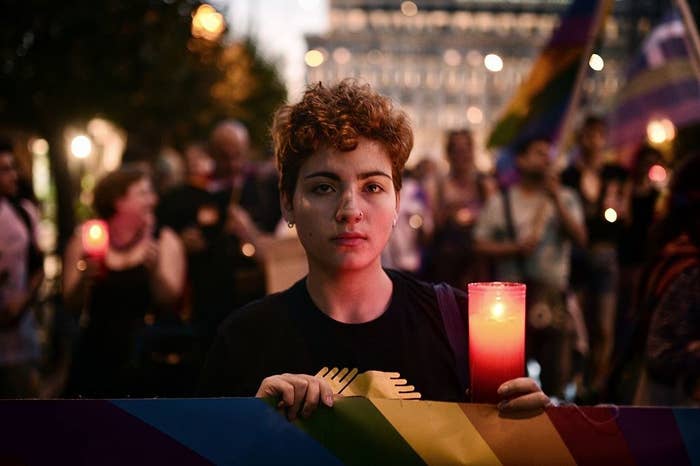 Changing the country's gun laws is the number one prioirity for LGBTQ Americans heading into the 2018 election, according to a survey by Whitman Insight Strategies and BuzzFeed News. The poll also found those adults, by overwhelming margins, plan to vote against President Donald Trump in the next election.
Seventy-one percent of LGBTQ adults said a politician's position on guns will impact how they vote this year, while just 9% said a candidate's view on the subject has no bearing on their vote. Seventy-seven percent said they want to see an assault weapons ban put in place.
The wide-ranging poll of 880 LGBTQ Americans, which asked over 100 questions about politics and life, is one of the most detailed surveys of its type in the United States. It has a margin of error of plus or minus 3.3%.
Nearly one-fifth of LGBTQ adults named gun control as their top issue. After that, 16% said health care was the priority driving them to the polls in November, followed by 13% who identified jobs and the economy as their top issue. Twelve percent said LGBTQ rights was their leading priority.
Support for changing gun laws jumped after a mass shooting at an LGBTQ nightclub in 2016.
LGBTQ Americans also report an overwhelmingly unfavorable view of Trump, saying by a 7-to-1 margin they would definitely not vote for his reelection — 72% to 9%. And by identical numbers, LGBTQ people said the Trump adminstration has been worse for LGBTQ people than former president Obama.
Lesbians were most steadfast in their anti-Trump views — 85% said he was worse than Obama and 83% are certain they won't vote for Trump in 2020.
And yet, those who voted for Trump in 2016 seem fairly unchanged. Fourteen percent said they supported him then, and 15% say they will definitely or probably will cast a ballot for Trump if he runs again.
Despite the Trump administration steadily repealing and attempting to weaken LGBTQ rights since taking office, 60% of LGBTQ people said the country has grown more accepting in the past two years — a shift they primarily attribute to the Supreme Court's 2015 decision to legalize same-sex marriage, celebrities, media, and activism.
Sixty-seven percent of LGBTQ voters — who are Democrats in roughly the same measure — said that party was better on their issues than Republicans. Only 5% thought Republicans were stronger on LGBTQ rights.
Gay men and lesbians were more likely to think Democrats were better — 78% of them — while bisexuals were more mixed, with only 56% saying Democrats were better and 38% saying they were unsure.
Forty-seven percent of LGBTQ adults said their support for changing gun laws increased after the 2016 shooting at Pulse nightclub in Orlando, Florida, while 43% said their views remained steady and 6% said their support dropped.
The poll's participants overwhelmingly backed several gun control measures, leading the pack with 87% support for background checks on all firearms sales. Meanwhile, 86% would like to ban gun sales to individuals convicted of hate crimes, and 75% want a ban on high-capacity magazines for ammunition.
METHODOLOGY: Whitman Insight Strategies fielded an online quantitative survey among 880 self-identifying LGBTQ Americans through Research Now. Field dates were from May 24 to June 1, 2018. Respondents were screened to determine sex assigned at birth, gender identity, transgender identification, and orientation to appropriately define the audience. The makeup of the N=880 Self-Identified LGBTQ Americans includes 265 Gay (30%), 129 Lesbian (15%), 403 Bisexual (46%), 51 Transgender (6%), and 74 Queer, Nonbinary (8%) individuals.

The margin of error at the 95% level of confidence for the total sample is ± 3.3% and is slightly larger for any findings among the individual LGBTQ audiences.