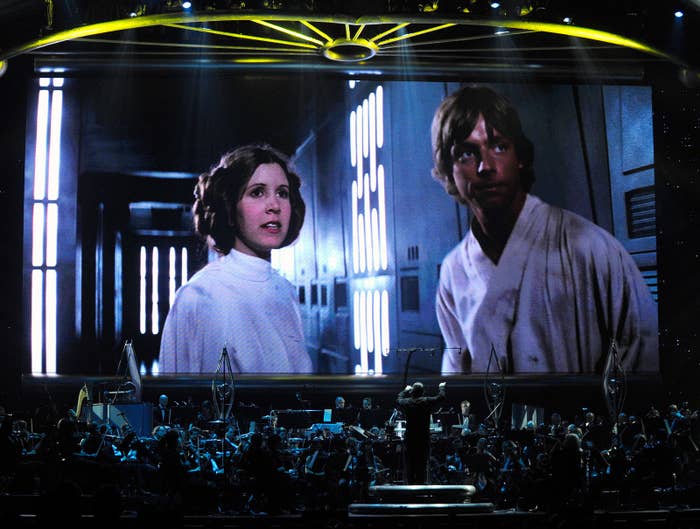 Carrie Fisher, the actor catapulted into science fiction superstardom through her role of Princess Leia in the Star Wars films, has died. She was 60.

Family spokesman Simon Halls confirmed to BuzzFeed News that Fisher died Tuesday.
"It is with a very deep sadness that Billie Lourd confirms that her beloved mother Carrie Fisher passed away at 8:55 this morning," Halls said in a statement. "She was loved by the world and she will be missed profoundly."
The actor reportedly went into cardiac arrest on a flight to Los Angeles from London on Dec. 23.

Fisher's mother, actor Debbie Reynolds, released a statement on Facebook Tuesday, thanking everyone "who has embraced the gifts and talents of my beloved and amazing daughter."
Her half-sister, Joely Fisher, broke her silence on Twitter, she said, "with a broken heart."
"The unfathomable loss...the earth is off its axis today...how dare you take her away from us," she tweeted.

Fisher was revered for her portrayal of Princess Leia Organa in the 1977 blockbuster Star Wars — a clever, diplomatic soldier cut from royal cloth who could fire a gun and charm an android.

With her iconic "cinnamon bun" hairstyle, Fisher's Leia first appeared onscreen requiring rescue from Obi-Wan Kenobi — but she was no simple damsel in distress, quickly proving herself a cunning rebel warrior and symbol of female empowerment.

Star Wars creator George Lucas called her talented actor with a "colorful personality" in a statement Wednesday:
Carrie and I have been friends most of our adult lives. She was extremely smart; a talented actress, writer and comedienne with a very colorful personality that everyone loved.



In Star Wars she was our great and powerful princess — feisty, wise and full of hope in a role that was more difficult than most people might think. My heart and prayers are with Billie, Debbie and all Carrie's family, friends and fans. She will be missed by all.
Her Star Wars co-stars also remembered Fisher. Mark Hamill, known best for playing Luke Skywalker, tweeted that he had "no words" and was "devastated."
Harrison Ford, who played Leia's love interest, Han Solo, remembered Fisher as "brilliant" and "original" in a statement to BuzzFeed News.
"Carrie was one-of-a-kind…brilliant, original. Funny and emotionally fearless," Ford said. "She lived her life, bravely...My thoughts are with her daughter Billie, her mother Debbie, her brother Todd, and her many friends. We will all miss her."
Disney CEO Bob Iger also released the following statement on the actor's passing, calling her one of a kind:
Carrie Fisher was one-of-a-kind, a true character who shared her talent and her truth with us all with her trademark wit and irreverence. Millions fell in love with her as the indomitable Princess Leia; she will always have a special place in the hearts of Star Wars fans as well as all of us who were lucky enough to know her personally. She will be sorely missed, and we join millions of fans and friends around the world who mourn her loss today.
In addition to starring in the next two Star Wars movies, Fisher appeared in films from The Blues Brothers in 1980 to When Harry Met Sally in 1989. She remained onscreen for years to come, reprising her role as Leia in Star Wars: The Force Awakens in 2015.
The film's director, JJ Abrams, said in a statement that Fisher was "beautiful, tough and wonderful."
"You didn't need to meet Carrie Fisher to understand her power," he said. "She was just as brilliant and beautiful, tough and wonderful, incisive and funny as you could imagine. What an unfair thing to lose her. How lucky to have been blessed with her at all."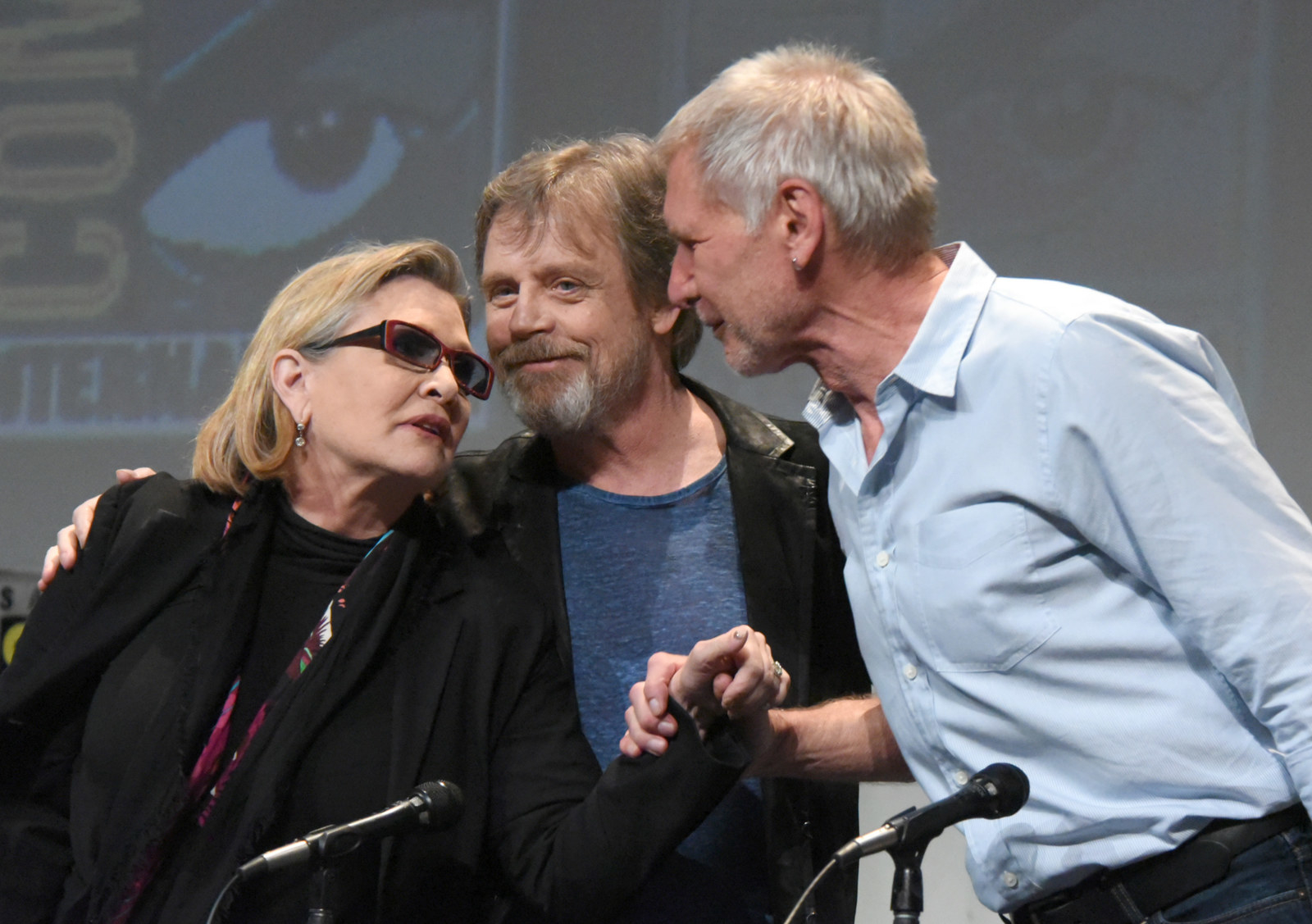 Fisher struggled at times with alcohol and drugs, a subject she addressed in a 2006 one-woman play, Wishful Drinking, which she later adapted into a book.
"Happy is one of the many things I'm likely to be over the course of a day and certainly over the course of a lifetime," Fisher wrote. "But I think if you have the expectation that you're going to be happy throughout your life — more to the point, if you have a need to be comfortable all the time — well, among other things, you have the makings of a classic drug addict or alcoholic."
Her humanizing, hilarious, and self-critical take on internal battles helped cement Fisher's status as a cultural icon who used her platform to become an advocate for mental health treatment.
In November Fisher released her eighth book, entitled The Princess Diarist — a memoir based on excerpts from her diary entries beginning in the 1970s when she was filming the first Star Wars. In the eclectic autobiography, Fisher revealed that she had a secret affair with her co-star Harrison Ford, who was married at the time.
Carrie Frances Fisher was born Oct. 21, 1956, in Beverly Hills, California, to a family with deep roots in show business — her father was singer Eddie Fisher and her mother is actor Debbie Reynolds. Her siblings are also actors: Todd Fisher, Joely Fisher, and Tricia Leigh Fisher.