A Sweeping Cannabis Bill Has Passed A Historic Milestone In Congress
The Marijuana Opportunity Reinvestment and Expungement Act is the first comprehensive national legalization bill to pass a congressional committee.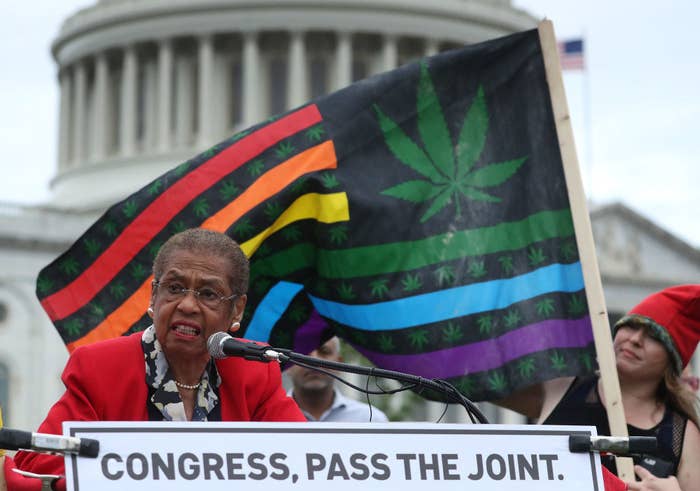 Pleas to legalize cannabis have echoed through the US Capitol since at least the 1970s, when pot-smoking hippies in suits started lobbying against prohibition, but comprehensive legalization bills had never passed out of a Congressional committee — until Wednesday.

The House Judiciary Committee took a landslide 24-10 vote to approve legislation that would eliminate federal penalties for cannabis, remove conviction records, and invest in communities — particularly communities of color who have been disproportionately hurt by drug enforcement — to ensure they reap a share of legalization's profits.
"Thousands of individuals — overwhelmingly people of color — have been subjected, by the federal government, to unjust prison sentences for marijuana offenses," House Judiciary Committee chair Jerry Nadler said in opening remarks that nodded to the groundwork laid by Rep. Barbara Lee of California. "This needs to stop."
The committee's decisive passage of the Marijuana Opportunity Reinvestment and Expungement Act, or MORE Act, marks one of the clearest examples yet of marijuana crossing a threshold into mainstream political acceptance, even as it faces an uncertain vote by the entire House and a hostile audience in the Senate.
Third-rail for generations, legalization support has become a virtual requirement among Democrats after several blue-state voters mandated their own laws, and the congressional bill won votes on Wednesday from Republicans as well. Among the cosponsors is Republican Rep. Matt Gaetz of Florida. The legalization tide has swept right past Joe Biden, the former vice president and antidrug former senator, who stuck out as an outlier in the Democratic presidential race this week by opposing federal legalization and questioning whether pot is a "gateway drug."
The bill has support from House Speaker Nancy Pelosi, a spokesperson for the top House Democrat told BuzzFeed News this week, which bodes well for passage if it reaches a vote from the full chamber.
Still, several committees could claim jurisdiction to consider the bill first. Among them, the House Energy and Commerce Committee has relatively few sponsors of the bill, so skeptical lawmakers could move to amend the legislation or slow it down.