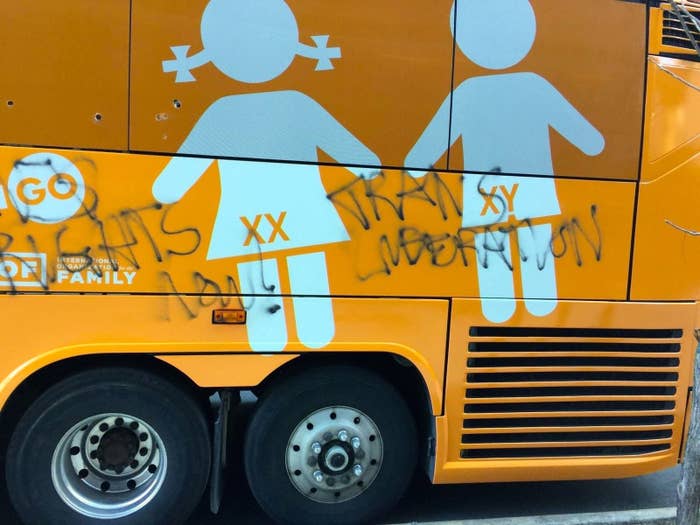 A bright orange bus that launched a road trip this week to argue against transgender rights was in New York City just one day before vandals approached it in full daylight to spray paint on the words "trans liberation," hammer holes in the side, and smash in the windshield.

The "Free Speech Bus," as the creators call it, was parked outside the United Nations headquarters at about 4pm on Thursday to promote the idea that sex is fixed from birth and transgender people's gender identity should not be recognized in public.
"The driver was with the bus and saw two men approach and began spray-painting the side of it," Joseph Grabowski, a spokesperson for the National Organization for Marriage, one of three groups behind the project, told BuzzFeed News.
"He confronted them, which is when they took out the hammer," he said. "They were able to do some damage before fleeing."
Photos show it was tagged with the words "Transgender rights now!" and the paneling was gashed with a hammer.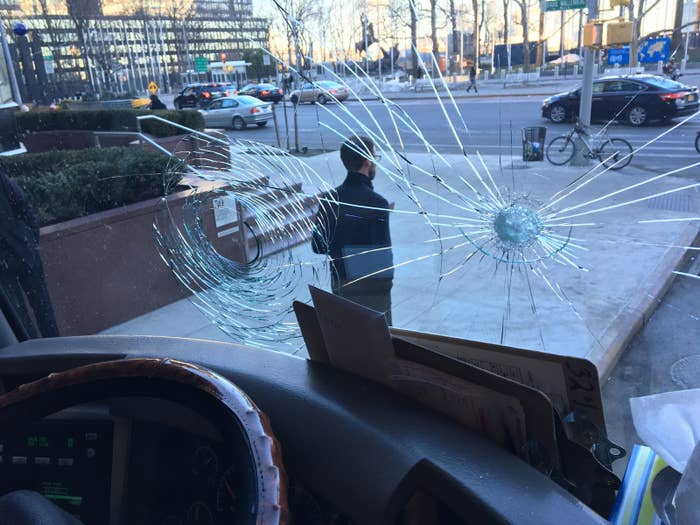 When the bus rolled onto Manhattan streets on Wednesday, critics had been quick to condemn the project, calling its proponents bigots and making comments on Twitter about its tires being slashed and being set on fire.
Grabowski contends that painting conservatives who oppose transgender rights as bigots encourages a pattern of harrasment and intimidation. "This is a result of the damaging rhetoric that is deployed in speaking about people who believe in biology-based sex and gender," he said. "Calling it a 'Hate Bus' and calling those who believe in these values 'haters' or 'bigots' emboldens people to do criminal acts like this."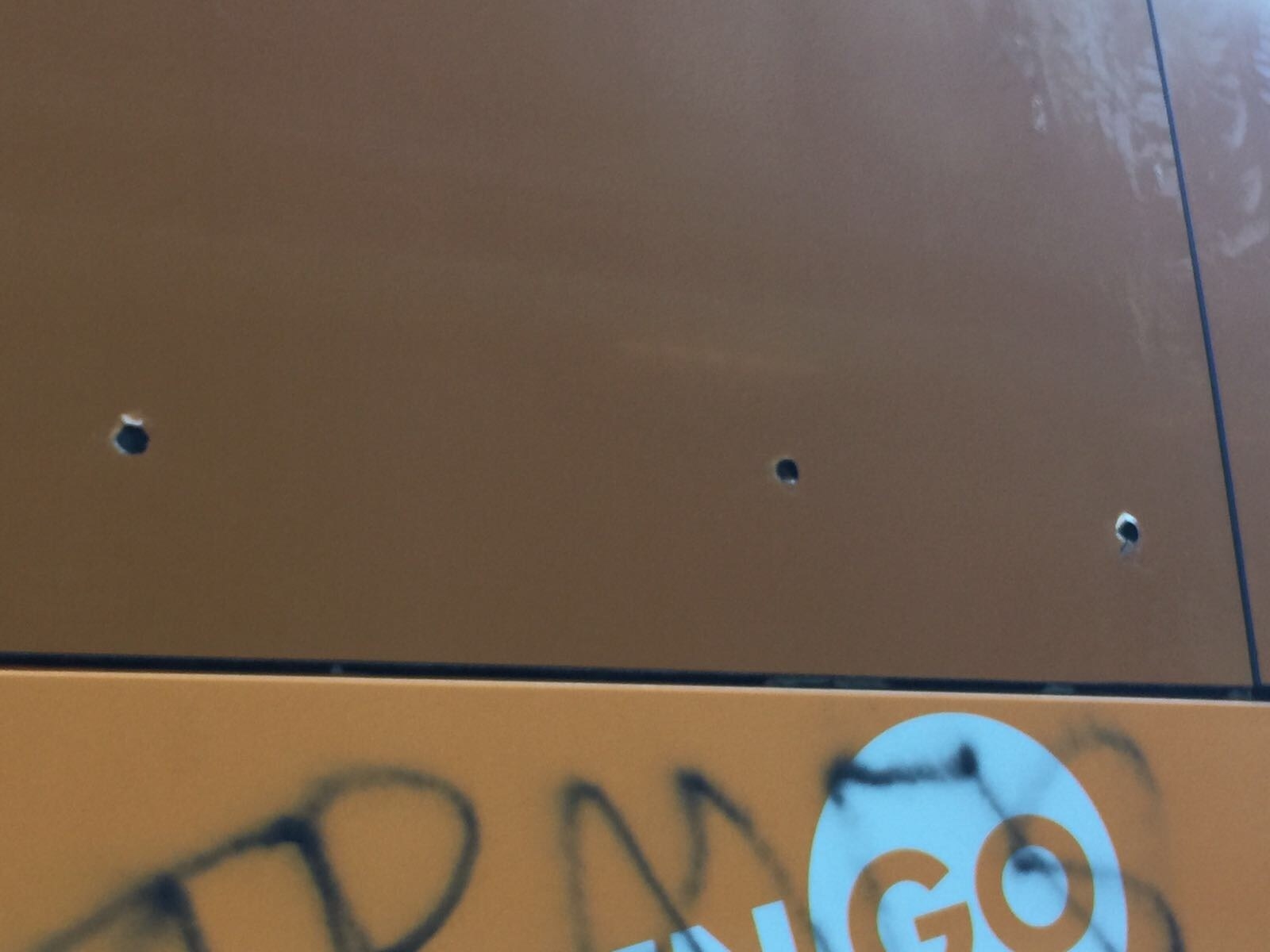 Police arrived quickly and started to investigate on Thursday, he said, adding, "Our hope is that, given the location, security footage will come to light to help the investigation."
The bus is based on a similar project that attempted to make a trip through Spain last month — only to be blocked for violating traffic rules. This time, the creators plan to tour the East Coast on a tour that includes Boston and Washington, DC.
The backers include the International Organization for the Family and CitizenGo, a social conservative online advocacy platform headquartered in Spain.
Arguing that people cannot be transgender, the bus features the slogan: "Boys are boys… and always will be. Girls are girls… and always will be. You can't change sex. Respect all."
The Free Speech Bus before the attack.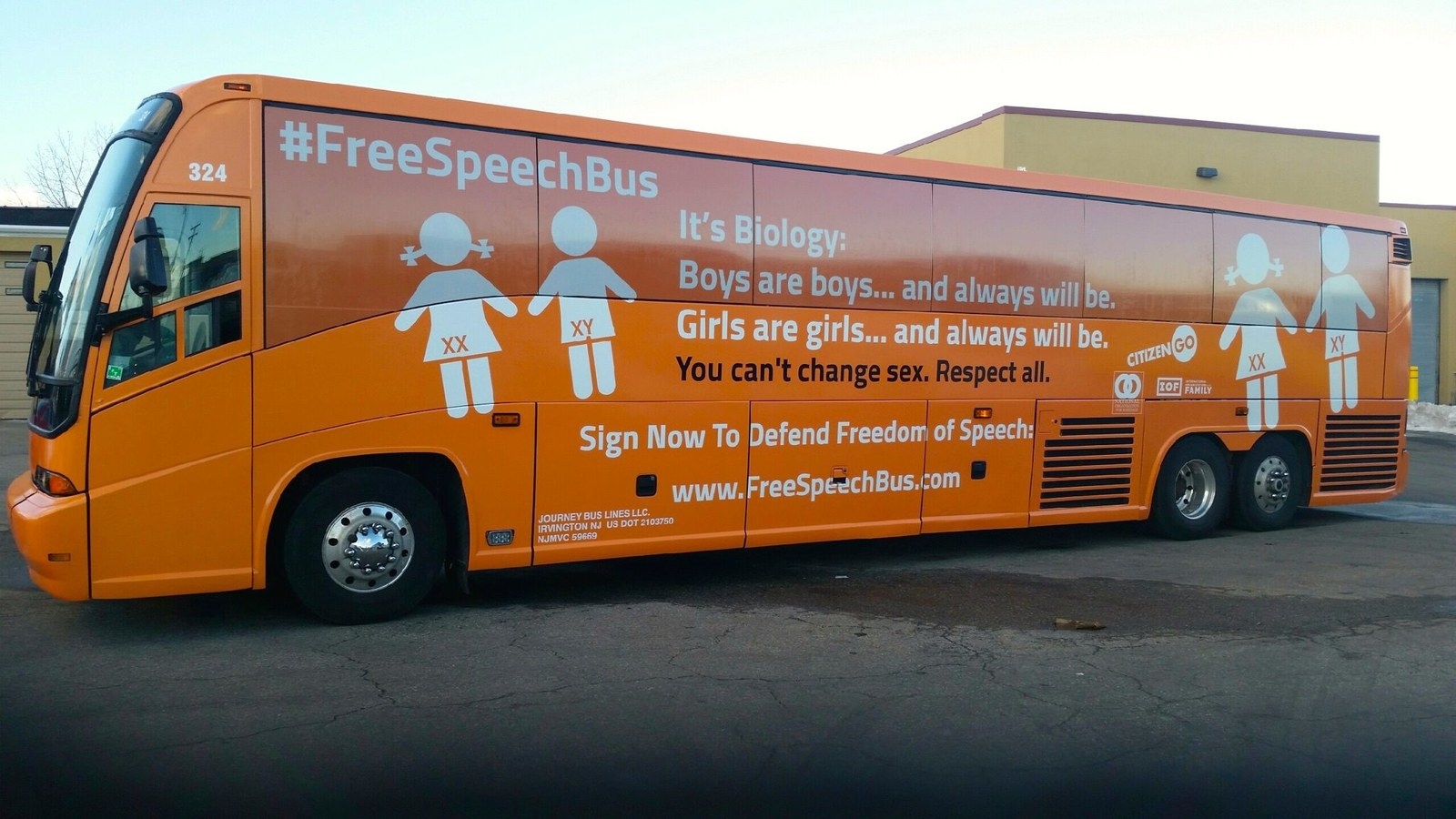 People both mocked and decried the vandalization on Twitter:
Grabowski had told BuzzFeed News in an interview on Tuesday, "We need a discussion about how to respect everyone."

But he also claimed that being transgender is a "disorder" and that a respectful discussion does not extend to recognizing a transgender person's gender identity in public settings. (The American Psychiatric Association does not classify being transgender as a mental disorder.) He added, "They can live that out privately."
He said citizens should complain if they feel uncomfortable about transgender people using facilities that match their gender identity, even in states and cities where those rights are protected by law.
The groups hope the project can convince media and lawmakers that opposition to transgender rights is grounded in science, not animus. "This can't be considered transphobic or bigoted," Grabowski said.
After the bus was damaged, he added, "We are hoping for a full and thorough investigation into this crime, and hope that the two persons directly responsible and anyone else who was involved are brought swiftly to justice… and we call on leaders in the LGBT community to condemn this action and call for a respectful and civil public debate over these issues."