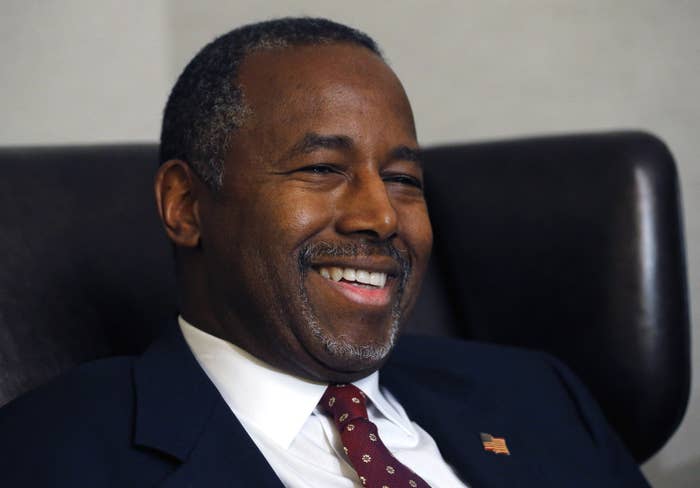 Ben Carson, a leading candidate for the Republican presidential nomination, drew quick criticism from LGBT advocates on Thursday for his proposal that transgender people use separate restrooms.
"It is not fair for them to make everybody else uncomfortable," Carson said in an interview with Fusion.
Sitting down with the candidate in a Miami diner, reporter Jorge Ramos raised the issue of restrooms in response to a Houston voters repealing the city's equal rights ordinance on Tuesday. That law protected LGBT people and others from discrimination, but an opposition campaign claimed it allowed male sexual predators to prowl women's restrooms.
Asked if transgender people should be allowed their choice or men's or women's restrooms, Carson said, "How about we have a transgender bathroom?"
He confirmed that was "absolutely" his proposal.

"Ben Carson's hateful comments are out of touch and all candidates should immediately make clear that they disavow his dangerously transphobic views," Chad Griffin, president of the national LGBT advocacy organization Human Rights Campaign, said in a statement issued hours after the interview was posted online.
Griffin added: "Ben Carson can't go a week without invoking reckless and irresponsible stereotypes about the LGBT community, and his suggestion that transgender people be required to use segregated bathrooms echoes an ugly past our country should never revisit."

Carson explained his thinking, telling Ramos in the interview, "It's one of the things that I don't particularly like about the [LGBT] movement. I think everybody has equal rights, but I'm not sure that anybody should have extra rights — extra rights when it comes to redefining everything for everybody else and imposing your view on everybody else."
The Houston Equal Rights Ordinance, known as HERO, prohibited discrimination against 15 caterories of people — including gays, lesbain, bisexuals, and transgender people. But it was the matter of transgender people using restrooms that arrested the public's attention after the campign to repeal the law dubbed it the "bathroom ordinance." Commercials said that men and transgender women would be allowed under the law to sexually prey on young girls — even though laws like it in about 200 cities and 17 states have led to no such incidents.
"The way this country was designed was live and let live," Carson said. "I feel, gay people, they can do anything they want."
Ramos pointed out that Carson opposes giving same-sex couples the legal right to marry.
"I believe marriage is between a man and a woman," Carson replied. "But I don't care what somebody else thinks. They can do whatever they want. What I object to is they try to change the definitions for everybody."
Carson did not explain how same-sex couples marrying or allowing a transgender person to use a restroom that corresponds with their gender identity changed definitions for others.
Here's the interview: