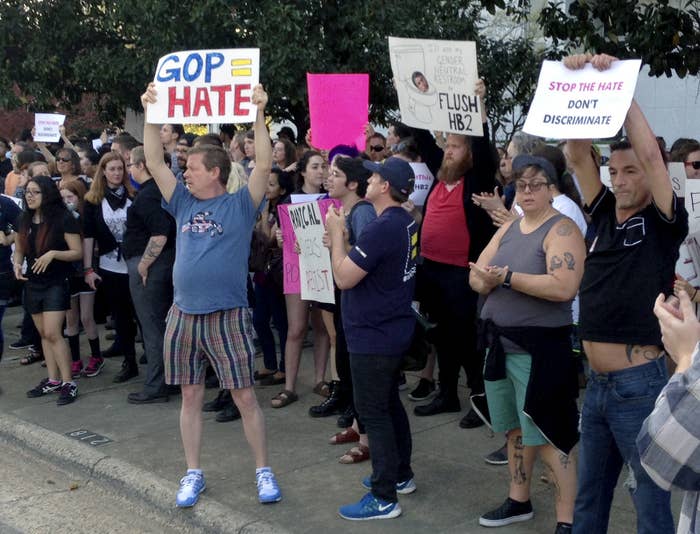 Corporations and activists channeled growing fury this week at North Carolina lawmakers who rushed though legislation on Wednesday to repeal LGBT protections and bar transgender people from certain restrooms.
Protesters were arrested outside the governor's mansion, while tech companies — including Facebook, Apple, and Google — argued that the new law is designed to allow LGBT discrimination.
The NBA suggested that the "discriminatory law" could compromise plans to host the 2017 All-Star Game in Charlotte.

Republican state leaders enacted the law in order to repeal an ordinance in Charlotte that would protect LGBT people from discrimination in housing and public accommodations. At least nine other jurisdictions in the state had similar laws on the books.
Gov. Pat McCrory and Christian conservatives claimed the public accommodations portion of the Charlotte ordinance posed a safety threat by allowing transgender women — whom they called "men" — to prey on women and girls, especially in bathrooms.
But in the 17 states and 225 cities with laws banning LGBT discrimination, there are no known instances of the rules being used to defend or facilitate predatory behavior in bathrooms or locker rooms.

On Thursday, protests swelled in front of the governor's mansion, where five people were arrested for blocking traffic, WRAL reported. They were booked on charges of impeding the flow of traffic and resisting, delaying, or obstructing officers.
In response, McCrory defended the new law and blamed others for "spin."

"Standing with North Carolina parents who are worried about the privacy and safety of their children will always be a top priority for the governor, no matter the spin by the media, pundits or politically correct crowd," McCrory said in a statement.

Corporations, however, condemned the bill. Among them was Facebook, which posted a statement from its data center in North Carolina.
Microsoft's president and top legal officer also spoke up.
Marriott was upset that the bill — which was introduced and passed in about 10 hours — was rushed.
Other corporate critics of the law included Dow, Biogen, Red Hat, the NCAA, American Airlines, Salesforce, IBM, Marriott, and Bayer.

House Bill 2 mandates that state law supersede all local ordinances concerning wages, employment, and public accommodations. It also restricts single-sex public restrooms and locker rooms in publicly run facilities to people with the same sex on their birth certificate.
In addition, it bans transgender students from school restrooms that correspond with their gender identity — teeing up a potential legal clash with the federal government, which has found that civil rights laws ban transgender discrimination in schools.
The American Civil Liberties Union and Lambda Legal are exploring a legal challenge to the law and are seeking potential plaintiffs for lawsuits. The advocacy groups warned that North Carolina could lose billions in federal funds for running afoul of Department of Education rules that ban transgender discrimination in public schools.