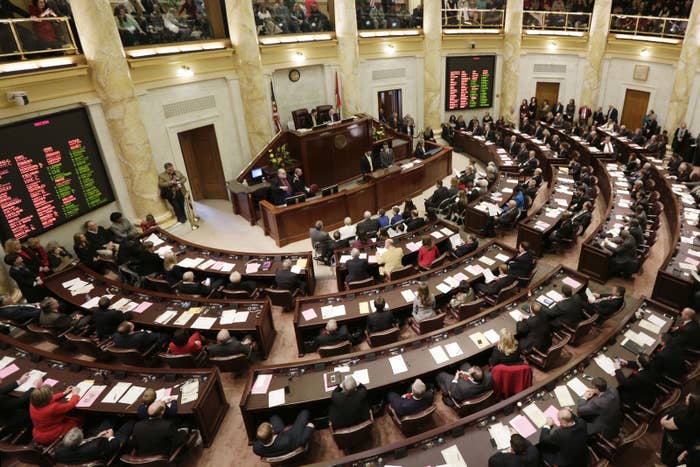 The Arkansas legislature is expected to pass a law by week's end that would block cities and counties from enacting anti-discrimination laws that protect LGBT people.
"I think there is no doubt it is going to pass," Republican state Sen. Bart Hester, the sponsor of SB 202, told BuzzFeed News.
The bill easily cleared the state Senate Monday and sailed through a House committee on a 12-6 vote Wednesday. Hester expects the full House to approve the bill with a two-thirds majority when it comes up for a vote on Friday.
Gov. Asa Hutchinson has said he will not veto the bill, Hester added.
Hutchinson did not immediately respond to an inquiry from BuzzFeed News about whether he would, indeed, sign the bill. But even its critics appear resigned to the outcome.
"It is likely to pass, and it is likely to be signed by the governor," Holly Dickson, the legal director
 of the ACLU of Arkansas, told BuzzFeed News.
The ACLU opposes the legislation, Dickson said, because it is "designed to permit as much discrimination as possible in the state."
Hester said he sponsored the bill to create uniform policies that will attract business, and found it "infuriating" that officials in one city had repeatedly attempted to expand civil rights laws for LGBT people.
"There are many things necessary for stability — and civil rights need to not be a volatile situation," Hester said. "It's got to be something we agree on for the entire state."
The city council of Fayetteville, Arkansas, passed an LGBT anti-discrimination bill last summer that voters narrowly repealed in December. When politicians there suggested reintroducing the law, Hester, who supported the repeal campaign, introduced his bill to override Fayetteville and other jurisdictions that attempt to pass similar laws.
In an act of apparent defiance, aldermen in Eureka Springs rushed through a bill Tuesday banning LGBT discrimination ahead of the state legislature's vote.
"People are very upset," said Dickson of the ACLU. "As soon as LGBT people get some protections against being evicted or fired just because of who they love, the state is going to absolutely prohibit them from obtaining that sort of protection."
Hester acknowledged LGBT people can be targeted for discrimination, but contended that "we are all singled out for discrimination."
"I am singled out as a politician. I am singled out because I am married to one woman," Hester said. "I want everyone in the LGBT community to have the same rights I do. I do not want them to have special rights that I do not have."
Less clear is the future of another state bill that has alarmed LGBT advocates.
A so-called religious freedom bill advanced in the Arkansas Legislature Tuesday when the House Judiciary Committee gave a nod to HB 1228, clearing the way for a vote by the full House. The bill would prevent any state action, including a law, from burdening a person's religious belief, even if that belief is indirectly connected to the person's faith.
Dickson said the measure would let businesses turn away customers — a trend becoming more commonplace when LGBT customers attempt to buy floral arrangements or cakes for same-sex weddings.
Arguing religious business owners should be allowed to fire employees for being gay, Hester defended his bill to override local anti-discrimination laws. But he said no business requested HB 1228.
"I just chose to do this bill on my own will," he said.
But the Human Rights Campaign (HRC), a national LGBT-rights group, believes the discrimination bill is more about stifling civil rights advances than addressing the business community.
"It's crystal clear that the motivation for this bill is to stifle local efforts to advance equality for LGBT Arkansans," Kendra Johnson, director of HRC Arkansas, said in a statement. "Not only is it wrong, this attempt at legislative overreach is discriminatory, dangerous, and fundamentally un-American."
Not only preempting anti-discrimrination laws for LGBT people, the bill covers any local expansion of civil rights not covered under state law.
"In targeting LGBT people, they have cast a wide net and prevented protections for a wide variety of groups," Dickson said. That net, for example, could ensnare students and veterans.
Dickson dismissed the argument of legal consistency, pointing out that taxes, zoning, and a raft of other local laws vary from one city to the next.