Arkansas Governor Signs Revised Religious Freedom Bill Into Law
Arkansas Gov. Asa Hutchinson on Wednesday had called for state lawmakers to recall a religious freedom bill and amend its language to mirror a long-standing federal law. The legislature gave final approval to a revised bill Thursday afternoon and the governor signed it within the hour.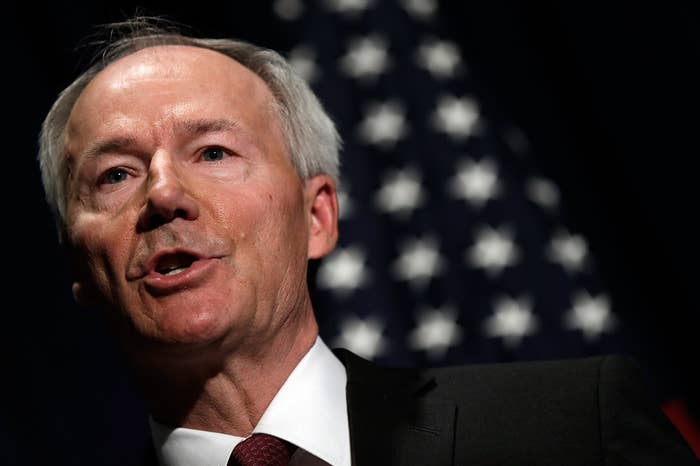 What You Need To Know:
Gov. Asa Hutchinson asked state legislators to recall a Religious Freedom Restoration Act (RFRA), which the legislature sent to his desk earlier in the week, and amend it to reflect a more narrowly written federal law.

On Wednesday, Hutchinson said the Arkansas law should be more narrowly tailored to reflect a 1993 RFRA passed by Congress and signed by President Clinton.

Both legislative chambers passed a bill to those specifications, the Senate on Wednesday and the House on Thursday.

The governor signed the bill into law late Thursday afternoon.

This week, organizations and businesses, including Walmart, called on Hutchinson to veto the legislation, saying it would permit businesses to discriminate against LGBT people.

Although Gov. Hutchinson had supported the bill with amendments in the past, his insistence that the bill be changed comes amid public outcry.

There has been a national backlash over a similar law passed this month in Indiana, where top lawmakers and the governor announced plans Tuesday to "fix" the law so it does not allow turning away LGBT customers.
Updates
The governor of Arkansas signed a new religious freedom law on Thursday.
Gov. Asa Hutchinson signed a revised Religious Freedom Restoration Act into law just before 5 p.m. ET, his communications director told BuzzFeed News.
The new law replaces a more broadly written religious freedom law, which was passed by the legislature on Tuesday amid mounting criticism.
Praise came immediately from the Alliance Defending Freedom, one of the leading advocates for religious freedom laws and the top litigator in religious liberty civil suits.
Senior legal counsel Jim Campbell said in a statement, "We commend the governor's decision ... Religious freedom laws ensure that freedom gets a fair hearing, and they limit the government's power to intrude on our liberties. We hope other states join Arkansas and many others in adopting similar laws."
But the compromise law fell short of appeasing LGBT-rights advocates, who said it should have explicitly banned discrimination — and ambiguity in the law will invite future court battles.
"The fact remains that the only way to ensure LGBT Arkansans are treated equally under state law is to add explicit protections for them," said a statement issued by Sarah Warbelow, legal director of the Human Rights Campaign. "Moving forward, Arkansas should explicitly clarify that the RFRA cannot be used to undermine non-discrimination protections at any level. In addition, all states and the federal government should provide explicit non-discrimination protections on the basis of sexual orientation and gender identity. The federal Religious Freedom Restoration Act, while well-intentioned, has been used in recent years to justify problematic behavior that harms third parties. We remain concerned that the federal RFRA and bills modeled after it may be used to undermine protections for the LGBT community and other minority groups."
The Arkansas legislature gave final approval to a new religious freedom bill on Thursday.
By a 76-17 vote, the Arkansas House of Representatives passed an updated version of the Religious Freedom Restoration Act on Thursday afternoon that closely mirrors a federal version of the law.
The state Senate already approved the bill — titled SB 975 — Wednesday night.
It is being returned to the senate and is soon expected to be sent to the governor's desk to be signed into law, thereby replacing a more broadly written version of the law approved last month.
The Arkansas House of Representatives is unlikely to recall a religious freedom bill in order amend it, as the governor requested Wednesday, and instead pursue all-new legislation.
Using a procedural loophole, representatives in the House could repurpose another bill — or "shell bill" — and use it as a vehicle for a narrowly written religious freedom act that replaces the broader one they sent to the governor on Tuesday.
Meanwhile, the state Senate has reportedly begun moving on its own legislation that reflects the federal Religious Freedom Restoration Act (RFRA), passing it out of the judiciary committee Wednesday afternoon.
Meanwhile, as the clock ticks, what happens to the controversial bill already sitting on the governor's desk remains unclear.
"The governor never said he wouldn't sign it," the governor's communications director, J.R. Davis, told BuzzFeed News. Likewise, he said, "the governor never said he would veto it."
In Arkansas, if the governor neither signs nor vetoes a bill that is passed by lawmakers, it automatically becomes law after five days, excluding Sundays. Davis would not speculate on that scenario, saying only that "when we see those possibilities, we can talk about those possibilities."
Davis explained the governor is currently focused on collaborating with lawmakers to get different legislation on his desk.
"The governor is committed to signing a RFRA law to mirror the federal RFRA law," he said.
Even if five days do pass without the governor taking action, the bill would not necessarily stand if legislators send him a new bill, said ACLU of Arkansas legal director Holly Dickson. That's because whichever piece of legislation is passed last would be the valid one, she said.
"We're hearing they do not have the votes to recall," Dickson said. "They won't amend the one that they have already passed, so they will have to use a bill that was already filed."
The legislative session is tentatively slated to end Thursday, but can be extended until at least April 10.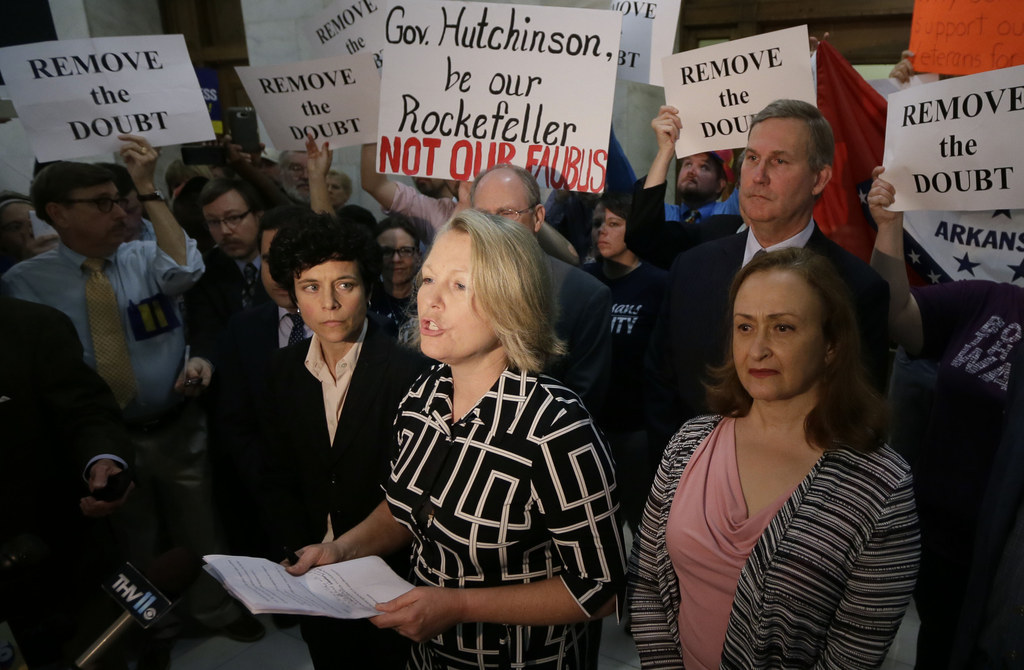 Copying language from the federal Religious Freedom Restoration Act (RFRA) won't satisfy some critics of the Arkansas version.
After governor Gov. Asa Hutchinson's news conference, critics said that Arkansas' version of the federal law should also include explicit language that protects LGBT people and other minorities from discrimination — language that is not found in the federal RFRA.
John DiPippa, a former law school dean for the University of Arkansas at Little Rock, told BuzzFeed News that lawmakers should state the Arkansas' RFRA cannot be used as a defense in lawsuits between private parties. He added that in cases where the law applies to businesses, it should only apply to closely held corporations, not publicly traded companies.
But directly copying the 1993 federal law, DiPippa argued, would actually create an ambiguous state statute because recent courts rulings have broadened the scope of the federal law. In particular, the Supreme Court found in its Hobby Lobby ruling that the craft-supply company could refuse contraception healthcare benefits to employees based on religious beliefs.
"Right now, it is an open question whether federal RFRA would allow that denial of services," DiPippa said. "Rather than leave it open interpretation, limit the law on front end to say it does not extend to denial of services or other forms of other discrimination."
Holly Dickson agreed. The legal director of the ACLU of Arkansas, Dickson told BuzzFeed News a "carve-out amendment" that protects LGBT Arkansans and other minorities from discrimination under the law would balance religious freedom and civil liberties.
Meanwhile, at roughly the same time Hutchinson announced his plan to revise the bill, Hillary Clinton said on Twitter the law should be vetoed.
The governor is reacting to the national outcry over the proposed law, he said.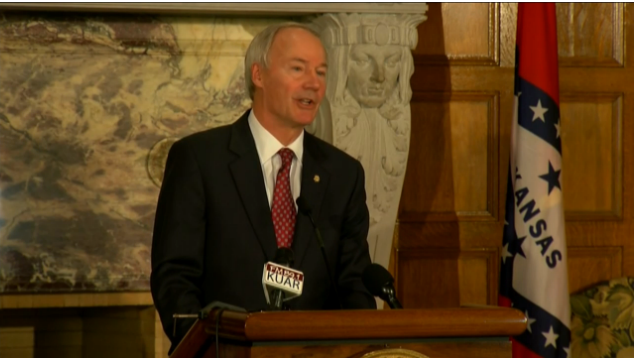 Hutchinson said he decided to call for the bill to be amended after hearing responses of the community and business leaders. He noted the national protest, particularly from large corporations.
"I have had some communication personally with some of the business leaders across the state … and they raised some important issues," he said. "I don't think it's necessarily based on what's in this law as much as how it's being construed nationally."
"This is both about substance, which is getting this legislation right, and it's also about communicating to the world and our neighboring states that we're a state that recognizes the diversity of the workplace and the need for non-discrimination, and we want to accomplish that."
Gov. Hutchinson acknowledged the Arkansas proposal differs from federal law.
"I have said that I would sign a law that is similar in fashion to the federal law or what is similar to what is passed in 20 other states," he told reporters. "When I look at what's on my desk, it does not mirror the federal RFRA."
"Some of the changes I've asked to be made have been communicated previously [to the legislators]," he continued. "There's been insufficient attention to some of the details perhaps as it's gone through the legislative process"
Asked about Indiana's moves to refuse the "denial of service" in its religious freedom law, Hutchinson avoided the question, and instead moved back to discussion of federal religious freedom law's language.
Legislators have not agreed to amend the bill.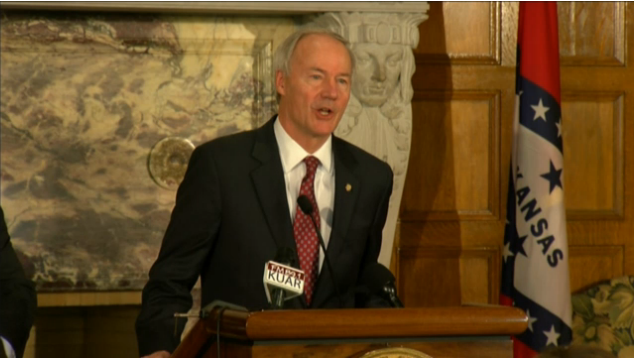 Gov. Hutchinson has spoken to leadership and caucuses, he said, but "I do not have a commitment as to what action they will take."
Hutchinson did not answer a direct question from a reporter about whether he would veto the bill if the legislature does not amend the bill.
Instead, he said, "I've asked them to remedy it. I've asked them to change the current law. I've asked them to recall it and change the language on it. That's my request today."
He said it is important to "respect religious freedom" but also to "minimize the chance of discrimination in the workplace and in the public environment."
Gov. Hutchinson said Arkansas' religious freedom law should be amended to reflect federal law.
"I've asked the leaders of the General Assembly to recall the bill so that it can be amended to reflect the terms of the federal bill."
That law was passed by Congress in 1993.
"How do we as a state communicate to the world that we are respectful of a diverse workplace?" he asked. "We want to be known as a state that does not discriminate."
He continued, "It has divided families and there is clearly a generational gap on this issue. "My son Seth signed the petition asking me, dad the governor, to veto this bill.'"
---