Anti-Transgender Bills In Washington State Look Doomed — For Now
Activists and officials worry that the bills, which would ban transgender people from public restrooms that correspond with their gender identity, are part of a strategy to pass similar legislation at the ballot this fall.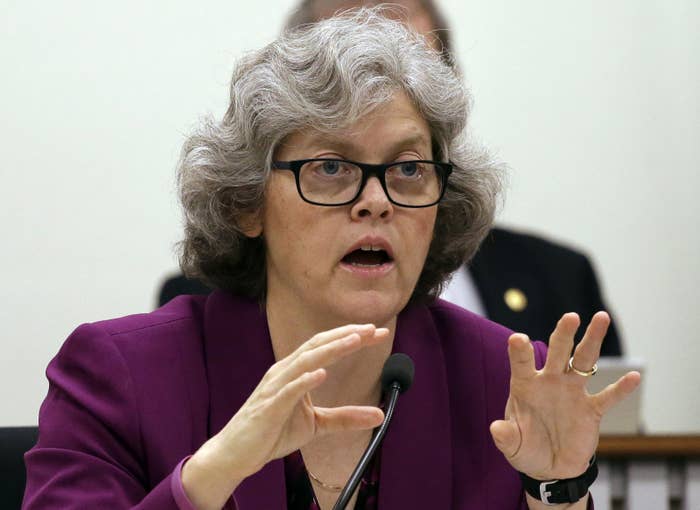 Similar to legislation across the U.S., six anti-transgender bills filed in the Washington State Legislature this year have alarmed LGBT activists who worry the state could roll back parts of a law banning discrimination.

Officials in Olympia, however, told BuzzFeed News that none of the Republican-backed bills has a realistic shot at passing.
Leaders of the Democratically controlled House intend to block the bills from getting a hearing or committee vote. And Gov. Jay Inslee, who could veto the bills, is openly hostile to the legislation.
Instead, LGBT activists and Democrats worry the volley of bills may foreshadow plans from conservative groups to run a ballot measure this fall to repeal parts of the state's 2006 anti-discrimintion law.
"I am not going to hear the bills." — Rep. Laurie Jinkins
That tactic would build on a growing, and effective, effort around the country by conservatives to block or repeal LGBT rights by raising concerns about transgender people acting as sexual predators in public restrooms. Such debates are brewing over local ordinances from Alaska to Florida, and it was a central argument to repeal a nondiscrimination law last fall in Houston, Texas.
"I think people are really worried, and they're right to be worried," Rep. Laurie Jinkins told BuzzFeed News, saying her office has been deluged with hundreds of phone calls.
"Even if people are confident that we will not pass these bills this year — which I am confident of — we have to be aware that they could be harbingers of what is coming across the county," she added.

A Human Rights Campaign report identified legislation in 12 other states targeting transgender people.
All six of the measures in Washington State — House Bills 2589, 2782, 2935, 2941 and Senate Bills 6443 and 6548 — would essentially limit single-sex facilities to people of a corresponding birth gender. In doing so, they would undo part of a state law that bans discrimination on the basis of gender identity and sexual orientation.

Backers of the bills, however, say they are responding to new regulations.
The state's human rights commission issued rules in December clarifying that the 2006 law allows people to use restrooms consistent with their gender identity. Conservatives mounted a backlash, making a familiar case that the rules allow men to sexually prey in women's restrooms.
The Family Policy Institute of Washington, a leading advocate to pass the bills, called the human rights' commission rules a "dangerous policy." They also claimed children and business owners were "targets of a leftist plot to give an excruciatingly small segment of the population a little bit more comfort."
Most immediately in Washington State, if two senate bills that recently passed in a committee manage to win in the full GOP-controled senate, they will hit a roadblock once they reach Jinkins. Chair of the House Judiciary Committee, the Democrat said she won't let those bills — or the four similar bills filed in the house — reach the governor's desk.
"I am 100% certain they would come to my judiciary committee," she told BuzzFeed News. "I am not going to hear the bills."
House Speaker Frank Chopp, the most powerful lawmaker in that chamber, added in a statement to BuzzFeed News, "We support the chair's decision to hold those House bills in committee."
The 2006 law already allows transgender people to use restrooms consistent with their gender identity, and no known incidents of misconduct have resulted from the law. In addition, the 16 states and 200 cities with similar nondiscrimination laws on the books have no known incidences of the laws being used for nefarious purposes.
"They have made every indication they are going to file an initiative."
Joseph Backholm, executive director of the Family Policy Institute of Washington, was the chairman of a 2012 campaign that unsuccessfully tried to repeal the state's marriage equality law in a ballot measure. He did not respond to a request to comment on whether his group intended to run a ballot measure relating to gender and bathroom use.
But Jinkins said proponents of the anti-transgender bills have made every indication they are going to file an initiative.
"So I don't want to say, 'Keep calm and carry on.' We don't want to wake up in July and see that they have made the ballot," she said.

The Pacific Northwest Inlander reported earlier this week that Sen. Michael Baumgartner, a Republican who supporting one of the bathroom bills, threatened a statewide initiative.
Danni Askini, executive director of the transgender advocacy group Gender Justice League, has been pressing lawmakers to block the bills. And while they look fated for demise, she told BuzzFeed News, she thinks they are being used in an election year "to stir up the conservative base of voters using misinformation and fear."

Jaime Smith, a spokeswoman for governor, also told BuzzFeed News that the bills "are extremely unlikely to pass."

Smith said the the Democratic governor has "made his position pretty clear" on the issue.
"These proposals very much run contrary to our values as a state that embraces diversity and inclusiveness," Smith said.