Another Virginia School District Tests Federal Rules With Anti-Transgender Policy
The Stafford School Board voted 6-0 to restrict a transgender student to restrooms that reflect the student's biological birth sex or single-stall restrooms.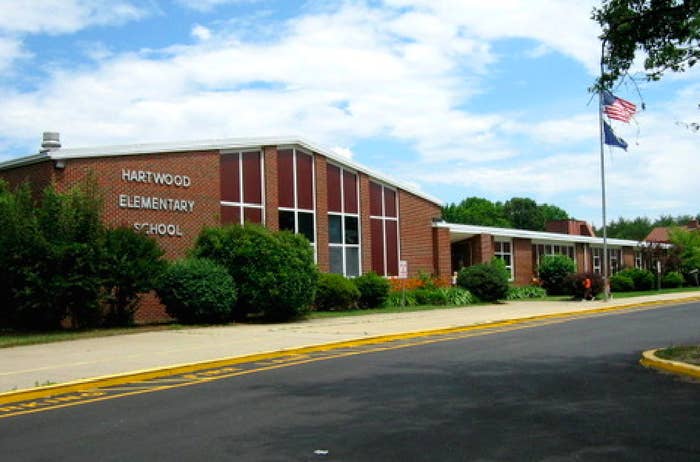 Another Virginia school district has banned a transgender student from certain school restrooms, apparently flouting Obama administration guidelines for complying with gender nondiscrimination rules under Title IX and possibly kicking off another federal complaint.
"On its face, it appears to be a very clear violation of Title IX," American Civil Liberties Union (ACLU) staff attorney Joshua Block told BuzzFeed News.
Having filed a legal complaint against a nearby school district in a similar case in December with the U.S. Dept. of Justice, Block says the ACLU is "ready to make sure that all school boards in Virginia are treating their students the way that Title IX requires."
The Stafford School Board's 6-0 vote Tuesday night came in response to one transgender student attending Hartwood Elementary School, according to the Free Lance-Star. Fifteen people spoke in favor of the proposal, including one who reportedly said transgender kids were "confused," while one parent argued that allowing trans students into single-sex restrooms allows "any predatory individual to claim this gender identity to enter the restroom of the opposite sex and prey upon our children behind closed doors."
The vote puts the school district's Title IX compliance officer, Rick Fitzgerald, in a difficult position.
"Obviously there is some issue here," Fitzgerald told BuzzFeed News in a phone call Wednesday, but he refused to criticize the school board or speak to the rule. "My job is to ensure a nondiscrimination policy with Stafford County Schools," said Fitzgerald, adding, "I am not here to interpret the board's decisions on a particular issue."
Fitzgerald noted his district has interpreted federal law "to permit a student to use a restroom consistent with the gender with which he or she identifies."
Block said the board's vote to overturn that policy — particularly aimed at one student — is "stigmatizing and demeaning."
"In this situaiton, we are talking about a kid in elementary school," Block said. "Can you think about all the times elementary school kids line up to go to the bathroom? Imagine if every time you can't line up with the other girls or other boys, but you have to go somewhere else. It singles you out as different, and for no good reason. These are elementary school students. What are people afraid of?"
Restrooms have become increasingly contested battlegrounds between conservatives and transgender advocates — including bills in state legislatures designed to limit trans people's use of public restrooms — but those the rules have appeared largely settled in recent years when it comes to public schools.
Passed in 1972, Title IX bans gender-based discrimination in public education; the Obama administration has repeatedly found that law applies to transgender students.
A spokesperson for the U.S. Dept. of Education told BuzzFeed News in January: "When a school elects to separate or treat students differently on the basis of sex in those situations" — including sex-segregated restrooms, locker rooms, and sports teams — "a school generally must treat transgender students consistent with their gender identity."
Several complaints about transgender students using school restrooms have resulted in further cementing this position, with some reaching financial settlements in the students' favor.
In February, the U.S. Department of Justice again affirmed its position that transgender students may use the restroom reflecting their gender identity by filing a brief in federal court for a Michigan case involving a 14-year-old transgender student banned from the boys' restrooms.
"The United States respectfully requests that this Court hold that the prohibition of sex discrimination under Title IX and the Equal Protection Clause encompasses discrimination on the basis of transgender status, gender identity, and sex stereotyping," federal lawyers wrote.
The ACLU, meanwhile, is representing a transgender boy in rural Virginia who filed a complaint in December with the U.S. Department of Justice. The high-school student contends the Gloucester County School Board violated his rights by approving a policy prohibiting students from using restrooms that do not correspond to their "biological genders."
The Justice Department followed up on that complaint this month, the Daily Press reported, with officials expressing concern that the Gloucester school board denied the student equal access to "programs and activities and is treating him differently because of his gender identity and transgender status."
The ACLU has not taken action at this time against the Stafford School Board.
Valerie Cottongim, with the Office of Public Information for Stafford County Public Schools, did not respond to questions about whether the new policy violated Title IX or about concerns that the policy is designed to apply to one student.