An Independent Federal Agency Is Suing To Advance Gay Rights Without Waiting On Trump
The Equal Employment Opportunity Commission sued a restaurant over alleged anti-gay harassment. The move comes days into the Trump administration, where questions remain about how LGBT rights will be addressed.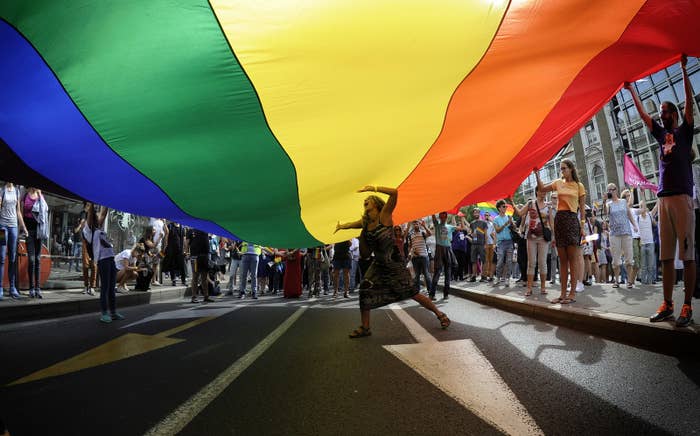 WASHINGTON — Federal lawyers are still going to bat for gay workers. It isn't clear what the Trump administration thinks about LGBT protections under the law — his nominee for attorney general hasn't been confirmed — but one independent agency isn't waiting.
The Equal Employment Opportunity Commission (EEOC), which enforces federal civil rights laws in workplaces, filed a lawsuit on on Jan. 20 to protect two restaurant employees who allege anti-gay harassment.
The employees report being called "fag," "faggot," and "sissy" by their colleagues, according to a complaint filed in US District Court in Arizona, which says one of the men quit the job and the other was fired.
The commission argues their treatment violated Title VII of the Civil Rights Act of 1964, which bans sex discrimination at work.
The case is part of a broad push the past several years to expand the interpretation of civil rights laws to cover LGBT people — even though there is no federal law explicitly banning LGBT discrimination.
The White House did not immediately respond to a question from BuzzFeed News on Tuesday about whether it concurred with the EEOC's view that a ban on sex discrimination also covers gay workers. Members of the Trump administration have expressed contradictory positions on LGBT rights.

However, as recently as November, a federal judge in Pittsburgh backed the EEOC's position that civil rights laws protect against lesbian, gay, and bisexual discrimination. Similar cases are pending at the US Courts of Appeals for the Second, Seventh, and Eleventh Circuits. The arguments build on growing case law that says sex discrimination includes discrimination based on sex stereotypes.
To make that case, the suit filed last week argues "the men were being subjected to a hostile work environment because they were perceived as not conforming to sex- or gender-based assumptions, expectations, norms, or stereotypes of men, because of their sex, because of their sexual orientation, and, in [Jared] Bahnick's case, because he was perceived to be gay."
Starting in 2014, the Obama administration argued that Title VII also covered gender identity, thereby protecting transgender people.
Yet the EEOC, which was the first federal agency to take that position, went even further. It decided in 2015 that Title VII also banned discrimination on the basis of sexual orientation — to include gay workers.
Because the EEOC is independent, it could get ahead of Obama then — and it can do what it wants during the Trump administration now. In order to reverse its position, the five member commission would need to decide it holds a different view. Until that should happen, lawyers for the EEOC have held firm that discriminating against employees because they are gay — or are perceived to be gay — is illegal.
The suit filed Jan. 20 alleges staff at the Scottsdale Wine Café engaged in lurid harassment of Wyatt Lupton (who is gay) and Jared Bahnick (who was perceived to be gay). According to the complaint, staff said Lupton "only likes big penises," claimed he knows what feces taste like, and described him with gay slurs. Coworkers allegedly told Bahnick "we know you're gay" and one colleague hit him in the penis.
The two men complained to management, the lawsuit says, but they were met with retaliation and indifference.
CORRECTION
The complaint was filed Jan. 20. The Equal Employment Opportunity Commission had said it was filed Jan. 23.