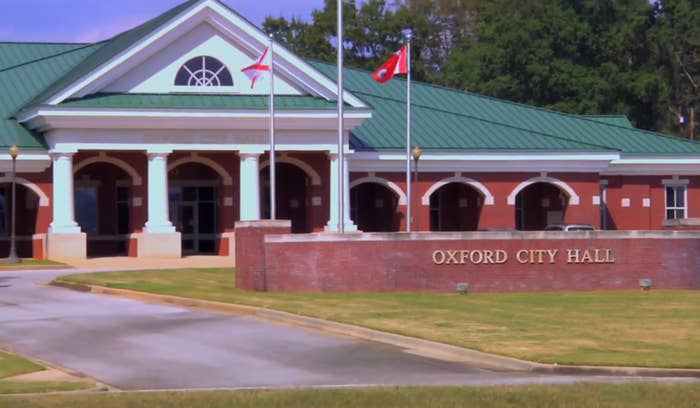 The city council in Oxford, Alabama — which drew threats of a lawsuit by passing the most extreme anti-transgender restroom ordinance in the country last week — will meet Wednesday to consider potentially repealing the policy.
Kristi Durham, an aide to the city
clerk, told BuzzFeed News that the council requested a "special call" meeting to discuss potentially recalling the ordinance.
"This is a positive sign. It's clear they have been getting a lot more reaction than they anticipated," Randall Marshal, legal director of the ACLU of Alabama, told BuzzFeed News on Tuesday afternoon.
As BuzzFeed News reported last week, the ACLU has been weighing a possible lawsuit against the city, saying the ordinance may raise constitutional and civil rights concerns.

The policy would ban transgender people from using any public restrooms that match their gender identity — including in restaurants, theaters, and other businesses open to the public — and would punish violators with up to six months in jail or a $500 fine.
No other city or state in the country has passed such a bill.
However, City Clerk Shirley Henson told BuzzFeed News that the bill has not actually become law.
"It's still pending," she said, explaining that it requires the mayor's signature, which she has not yet received. But Henson was uncertain about procedure for enacting the ordinance. She did not know if it could be enacted without the mayor's signature — whether, for example, it would become law automatically after a certain time frame if it were not vetoed.
"It's clear they have been getting a lot more reaction than they anticipated."
The Oxford mayor, police chief, and five council members did not responded to repeated calls and emails from BuzzFeed News asking about the ordinance or how it could be enforced in the past past week.
As the Anniston Star reported, the Oxford City Council was reacting to an announcement from the retailer Target — which has a store in the city — to let customers use restrooms corresponding with their gender identity. Council President Steven Waits said he was acting "not out of concerns for the 0.3 percent of the population who identify as transgender," but "to protect our women and children."

However, in 17 states and more than 200 cities that protect transgender people in public facilities, there are no documented cases of nondiscrimination laws being used to promote or defend predatory behavior in restrooms.
The Oxford ordinance would make it a crime "for a person to utilize a multiple occupancy" facility "designated for use by the opposite biological sex." It defines biological sex as "the physical condition of being male or female, which is stated on a person's birth certificate."

Marshal, who hopes the council repeals the ordinance, said he believe officials are reacting to concerns that the city would wind up "being in the business of monitoring bathrooms."