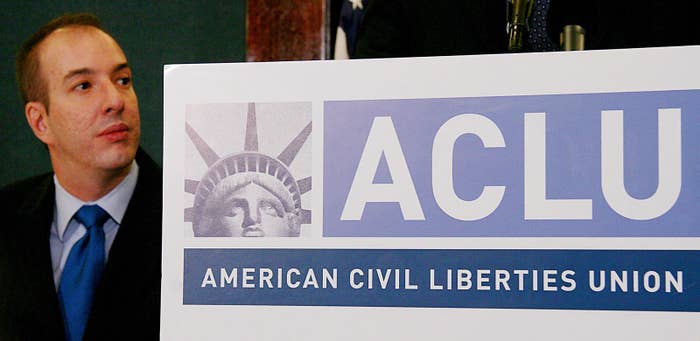 In late 2014, one of the most powerful organizations in the country loudly boasted of its most ambitious, best-funded campaign to date. The American Civil Liberties Union planned to spend $50 million — funded by George Soros's Open Society Foundations — to rapidly draw down the country's 2.2 million-person inmate population.
"The ACLU intends to cut that number in half by 2020," an announcement declared, "with the most ambitious effort to end mass incarceration in American history."
The campaign would start by tracking data and backing ballot initiatives in three to five states in 2016. Alison Holcomb, the architect of Washington State's initiative that legalized marijuana, would lead the project.
But less than two years later, in late June, Holcomb has abruptly and unexpectedly left her post, stunning some staff of the ACLU's New York City headquarters, according to three people familiar with the organization who spoke to BuzzFeed News. Holcomb's deputy, Jill Harris, also announced her departure.
In 2014, the ACLU launched "the most ambitious effort to end mass incarceration in American history."
Holcomb will stay on through the end of the year in a limited capacity overseeing a ballot campaign in Oklahoma. Both declined to be interviewed for this article.
The sources said in interviews that the project, known as the Campaign for Smart Justice, is also expected to shift tactics — moving away from ballot measures and toward the ACLU's traditional tactics of lobbying and litigation.
But in contrast to the campaign's full-throated roll out, the latest changes to the organization's flagship initiative were implemented without public announcement.
ACLU Executive Director Anthony Romero told BuzzFeed News last week that Holcomb and Harris were indeed parting ways with the organization, though he declined to discuss why, saying those were personnel matters.
"Alison provided exceptional leadership in getting something up and running, and laying a framework with the basic bones for advocacy strategies for the country over the next 10 years or more," he said. "I feel very good about where we are and where we're going."
Romero, however, discussed a new vision for the project that moves away from making direct appeals to voters. "Ballot initiatives will be a piece, but not a centerpiece like we once thought," said Romero. "They are terribly expensive."
In the end, the group will pursue a ballot campaign only in Oklahoma, which will cost upward of $3-4 million, Romero said. It's not only a pricey strategy, it's risky — voters are on the fence when it comes to passing initiatives that cut the jail population. For example, Romero said, the ACLU nixed campaigns in Missouri and Arizona when polling found public support "was good, but too close for us to pull the trigger and run ballot initiatives."
Instead, he said the ACLU will pursue a national strategy that collaborates with other organizations and file lawsuits that challenge underlying causes of incarceration, such inadequate public defense systems and onerous bail bond regulations.
The group will also focus on lobbying in states — including in Texas, Arizona, Louisiana, and Georgia — where Romero suggested there is more opportunity for bipartisan cooperation on criminal justice issues than previously believed. "This issue has gone from red hot to white hot," Romero said, adding that there there has been a new landscape of incoming donors, new coalitions, and local groups.
"This issue has gone from red hot to white hot."
Among them are the Alliance for Safety and Justice, and the Coalition for Public Safety, which is funded in part by the conservative Koch brothers.
Romero stressed that Holcomb's departure "did not diminish our commitment to this issue. It is our top commitment for the next eight to ten years. This is where we will raise the most money to best utilize our nationwide footprint of lobbyists and litigators."
The ACLU's enormous resources for the Campaign for Smart Justice have been remarkable from the outset — especially among grassroots circles.
Funding has expanded since the project launched in 2014, particularly the type of donations that cannot be used on ballot campaigns, Romero said. More than $22 million in additional money has flowed to the campaign.
Much of that is in the form of tax-deductible 501( c )(3) donations, which cannot generally influence elections but can go toward education efforts that change public attitudes. Romero said ( c )(3) money came from David and June Trone, in a $15 million gift, and from eBay founder Pierre Omidyar, who gave $5 million.
The original $50 million pledge from Open Society Foundations was 501( c )(4) funds, which can be used to directly influence elections — such as ballot campaigns and lobby officials. The Open Society Foundations did not respond to requests to comment on the project's changes, or if it had urged a change of leadership or strategy.
It is unclear how effective ballot measures would be at reducing inmate populations, given current voter attitudes. Initiatives that voters passed in 2012 in Colorado and Washington to legalize low-level marijuana offenses and regulate the retail market may have had a negligible impact on in incarceration rates. Data there show relatively few people were jailed long term for marijuana offenses to begin with.
In California, voters approved a proposition designed to reduce the inmate population in part by curbing drug sentences. However, reviews have been mixed, with a Washington Post feature reporting that law kept an "addict out of jail, but not out of trouble." The initiative drove a total drop in the state's incarnation by 9%, according to a report from the Public Policy Institute of California.
Although Romero declined to name Holcomb's successor, ACLU staff had speculated it may be Udi Ofer, who currently runs the ACLU's New Jersey affiliate, sources told BuzzFeed News.
Ofer confirmed to BuzzFeed News that he would run the project starting in October. He has spent years with the ACLU pressing for policing reforms, including helping lead campaigns that challenged stop-and-frisk practices in New York City and that passed legislation to ban bias-based policing.
"Under my vision, the ACLU will work in all 50 states to end mass incarceration," Ofer said by email. "We will use every tool at our disposal, from policy reform and litigation to organizing and coalition building."