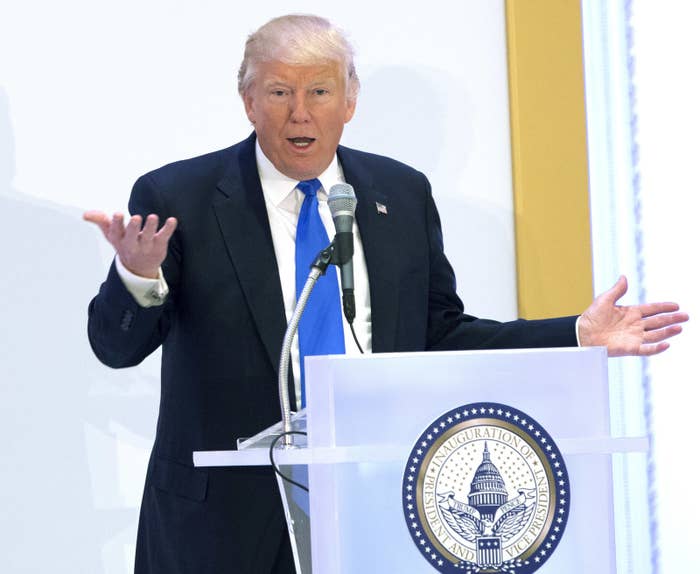 The American Civil Liberties Union is not even waiting for Donald Trump to take office to start its legal efforts challenging him, filing a public record request on Thursday as a "shot across the bow" to the incoming president.

The ACLU, one of the nation's top legal groups, is seeking a wide array of records — from internal legal memos to direct messages that workers shared on Twitter — about any possible conflicts of interest between Trump's private businesses and his new role as the chief executive.
The group filed the Freedom of Information Act requests with four agencies, following up on the organization's promises in the aftermath of November's election to challenge the real-estate mogul if his administration crosses legal lines.
"It's our first shot across the bow," Anthony Romero, the executive director, told BuzzFeed News, explaining the organization plans to publish the records it obtains on Trump. "They have to respond — if not, the next step would be to bring a lawsuit."
The request covers dates between the election and Thursday, when workers will have reported to Obama — not to Trump.
"Once the Trump administration begins to populate the various federal agencies with their own appointees, it may be much harder to imagine the legal memoranda and analyses," Romero said.
A BuzzFeed News analysis published Sunday found that Trump, his family, and top appointees and nominees have ties to at least 1,500 people and organizations.
Despite pressure on him throughout the campaign and since its end, Trump has not released tax returns that may illuminate his financial links. Trump has explained the unusual opacity by claiming he is being audited. Additionally, Trump announced last week he would transfer financial holdings to his children — but wouldn't divest them — raising ethical questions from critics.
Romero presumes federal lawyers at the Office of Government Ethics and other agencies have already discussed potential conflicts given prior actions of the office, explaining in an interview, "Now we are asking for the legal documents that are likely to be in government files."
The ACLU led an effort to request records on how the Bush administration was torturing detainees, records that that would later spark Congressional inquiries and reforms.
In Thursday's request, the ACLU sought records on Trump's "actual or potential financial or other ethical conflicts of interest, including interpretations of the U.S. Constitution, federal criminal laws, or government regulations." In addition to memos or evaluations of those conflicts, the request encompasses staff emails, letters, social-media posts, and direct messages on Twitter.
The request covers the Justice Department's Office of Legal Counsel, the Office of Government Ethics, the General Services Administration, and the Office of Personnel Management.
"It is important to demonstrate from day one we will challenge any violations of law by the president," Romero added. "While we can't use the Freedom of Information Act to get at his tax returns, we can get at government documents that examine the potential conflicts by his companies. Once you are the president of the United States, there are limits to how much you can shield yourself from public scrutiny."