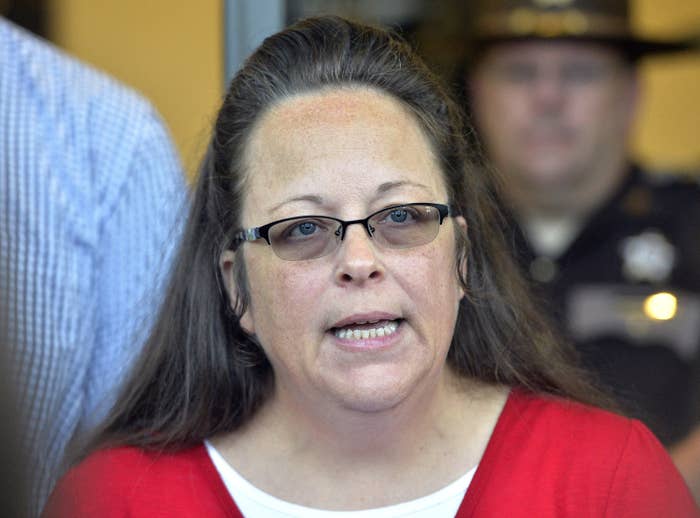 Rowan County Clerk Kim Davis interfered with her deputy clerks by altering marriage licenses after she was released from jail for contempt of court, according to a court filing Monday by four Kentucky couples represented by the ACLU.

"Davis immediately began interfering with the Deputy Clerk's issuance of marriage licenses upon returning to her office on September 14," the lawyers wrote in the filing.
The couples are asking U.S. District Court Judge David L. Bunning to order Davis to begin issuing marriage licenses without recent changes — she had modified the forms to say they were issued by a "notary public" and "pursuant to a federal court order." Those alterations raise questions about the licenses' validity and stigmatize same-sex couples, the plaintiffs argue.
Davis has protested her office issuing marriage licenses due to her religious objections to same-sex couples marrying, a position that led her to be jailed after being held in contempt for failing to follow Bunning's initial order that she end her "no marriage licenses" policy.

If Davis were to disobey the further order requested by the plaintiffs on Monday, their lawyers argue that Bunning should fine Davis and temporarily reassign marriage license duties to another entity in a receivership. The couples do not request that Davis be sent to jail.

"The marriage licenses currently issued by the Rowan County Clerk's Office are so materially altered that they create a two-tier system of marriage licenses throughout state," says the motion filed in a U.S District Court for the Eastern District of Kentucky. "The adulterated marriage licenses received by Rowan County couples will effectively feature a stamp of animus against the LGBT community, signaling that, in Rowan County, the government's position is that LGBT couples are second-class citizens unworthy of official recognition and authorization of their marriage licenses but for this Court's intervention and Order."
Mat Staver, a lawyer for Davis, countered in a statement Monday evening, "Kim Davis has made a good faith effort to comply with the court's order and has not prevented the issuance of marriage licenses by Deputy Clerks."
Davis plans to respond to the allegations, the statement said.
"The adulterated marriage licenses received by Rowan County couples will effectively feature a stamp of animus against the LGBT community."
The motion is the latest in a federal lawsuit that centers on Davis's opposition to her name appearing on the licenses of any same-sex couples or any appearance that she authorizes those marriages.
Kentucky law, however, says marriage licenses are to be issued by the county clerk.
After the Supreme Court's decision striking down bans on same-sex marriage, Davis refused to issue marriage licenses to any couple. The four couples filed suit, and on Aug. 12, Judge Bunning ordered Davis to begin issuing the licenses. On Sept. 3, he jailed Davis for failing to comply with his previous order.
While Davis was incarcerated, Deputy Clerk Brian Mason issued licenses, and staff collectively decided to remove Davis's name and replace it with the words "Rowan County."
Bunning issued an order on Sept. 8 releasing Davis from jail on the condition that she "not interfere in any way, directly or indirectly, with the efforts of her deputy clerks to issue marriage licenses to all legally eligible couples." Upon returning to work Sept. 14, Davis said she would not interfere with the deputies issuing licenses.
According to her lawyer, however, Davis modified the licenses to omit her name, title, and the name of the clerk's office.
The licenses issued after Sept. 14 said they were issued "pursuant to federal court order." And while Deputy Clerk Mason's name appeared on the licenses, the form identified him as a "notary public" instead of a deputy clerk.
A marriage license issued Sept. 14: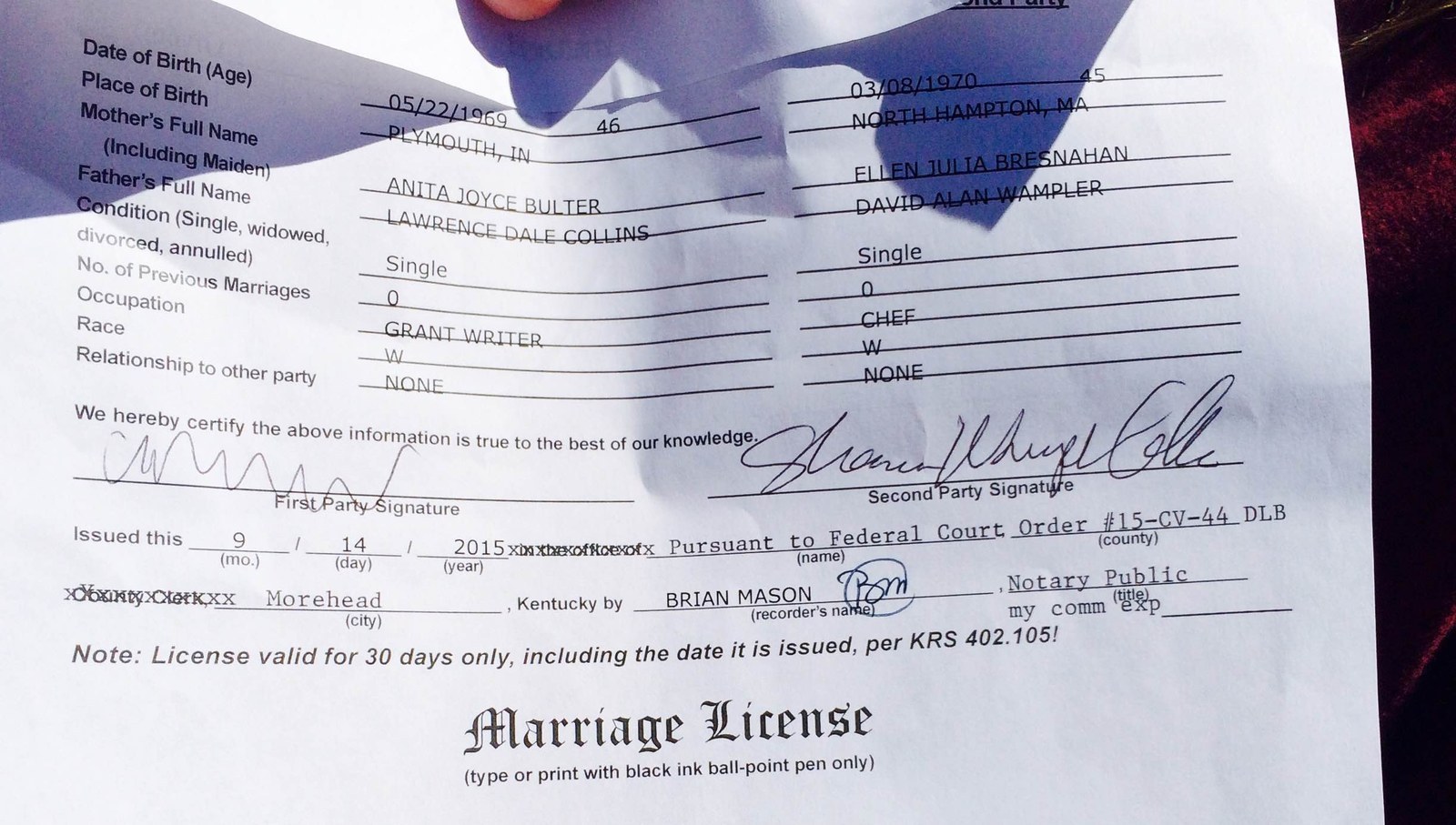 "Davis' decision to significantly interfere with the marriage licenses being issued as of this Court's September 8 Order not only violates the Court's clear directive, but it also has resulted in material alterations to those licenses that render their validity questionable at best," the plaintiffs argue in the motion submitted Monday to Bunning.

The plaintiffs ask Bunning to require deputy clerks to issue marriage licenses "in the same form or manner as those that were issued on or before Sept. 8," and to bar Davis from altering marriage licenses. Violating such an order, the plaintiffs argue, should result in fines against Davis to "coerce" her into compliance — and in Bunning placing the clerk's office in a "receivership for the limited purpose of issuing marriage licenses."
Three of the couples who sued Davis initially obtained licenses from Davis's office before the forms were modified to language about being issued "pursuant to court order" or a "notary public." Those couples' licenses simply said they were issued by "Rowan County" instead of including Davis's name. The fourth couple has not applied for a marriage license at all. The Monday filing notes that the plaintiffs filed Monday's motion on behalf of themselves and the pending class of all couples seeking to marry in the county, another request still pending before Bunning.

The state's top officials have not said the licenses were invalid. On Sept. 14, Kentucky Gov. Steve Beshear said the licenses issued were valid. The same day, WHAS reported that Attorney General Jack Conway concurred, according to a spokesperson for Conway.