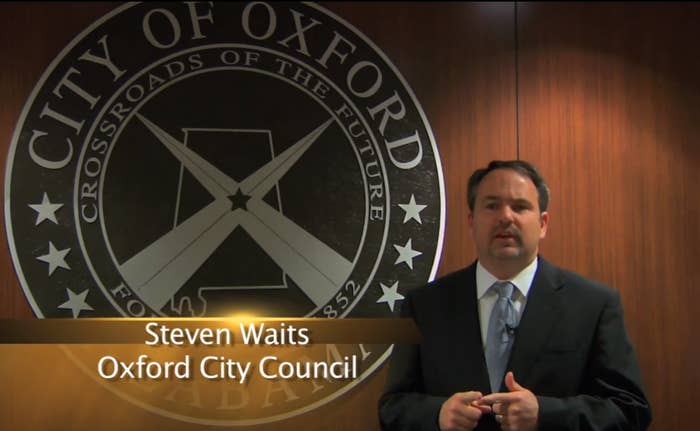 The American Civil Liberties Union is considering a legal challenge to a city ordinance in Oxford, Alabama, that bans transgender people from using public restrooms that match their gender identity — including in restaurants, theaters, and other businesses open to the public.
Violators face up to up to six months in jail or a $500 fine.

Randall Marshal, legal director of the ACLU of Alabama, said the affiliate is "looking at the ordinance and is interested in any potential challenge." He added that criminal penalties prescribed by the ordinance passed Tuesday night "increase the chances of a constitutional challenge."
There is apparently no comparable city or state law in the United States, said Chase Strangio, a staff attorney for the ACLU's national office, who noted that it applies in a wide range of public venues.
"It seems that this kind of law comes pretty close to just criminalizing the status of being transgender, which simply cannot be squared with Constitution or, I would hope, our basic moral decency as human beings," Strangio told BuzzFeed News on Wednesday.
The ordinance makes it a crime to use a restroom designated for those with a different sex listed on their birth certificate.
He added that the ordinance "raises serious legal questions," saying, "It is plainly sex discrimination when the government acts to expel transgender people from engaging in public life solely because trans people by definition don't conform to expectations of gender norms."
The Oxford ordinance makes it a crime "for a person to utilize a multiple occupancy or changing facility" in facilities "designated for use by the opposite biological sex." It defines biological sex as "the physical condition of being male or female, which is stated on a person's birth certificate."
Violators could be fined $500 or jailed. It provides exemptions to those accompanying children, providing medical services, or performing custodial duties.
The ACLU has repeatedly displayed an appetite for legal battles over transgender restroom access, most recently filing a lawsuit in March that argued a North Carolina law violates the 14th Amendment and civil rights laws that ban sex discrimination. Unlike the Oxford ordinance, however, the North Carolina statute applies only government-run buildings.
On Tuesday night, the Oxford City Council unanimously voted to apply the ban to "any business or location open for utilization by members of the general public," saying restrooms are places where people risk molestation and assault.
The Anniston Star reported the Oxford City Council was reacting to an announcement from the retailer Target, which has a store in the city, to let customers use restrooms corresponding with their gender identity. Council President Steven Waits said he was acting "not out of concerns for the 0.3 percent of the population who identify as transgender," but "to protect our women and children."
Conservatives have amped up a similar message nationwide with efforts to ban "men in women's bathrooms," based on a claim that transgender women may actually be male sex predators prowling restrooms.
However, in 17 states and more than 200 cities that protect transgender people in public facilities, there are no documented cases of nondiscrimination laws being used to promote or defend predatory behavior in restrooms.
"It is plainly sex discrimination when the government acts to expel transgender people from engaging in public life."
Oxford police did not return a call from BuzzFeed News asking how the ordinance could be enforced, nor did Mayor Leon Smith. None of the city council members immediately responded to questions about a legal challenge, enforcement, or examples of public safety problems in restrooms.

But the ACLU's Strangio argued "there is no way to enforce this type of law without intruding upon people's private medical information and bodily autonomy."
There is also no precedent for such a policy at the state or city level, he said.
"I am not aware of another law or ordinance that explicitly targets transgender people and attaches a criminal penalty to the act of using a restroom that matches a person's gender identity where that gender identity is not reflected on a person's birth certificate," said Strangio.
The Oxford ordinance says that restrooms, showers, and changing rooms are places "of increased venerability [sic] and present the potential for crimes against individuals utilizing those facilities which may include, but not limited to, voyeurism, exhibitionism, molestation and assault and battery."

"The City Council finds that its citizens have a right to quite [sic] solicitude [sic] and to be secure from embarrassment and unwanted intrusion into their privacy," the ordinance says.